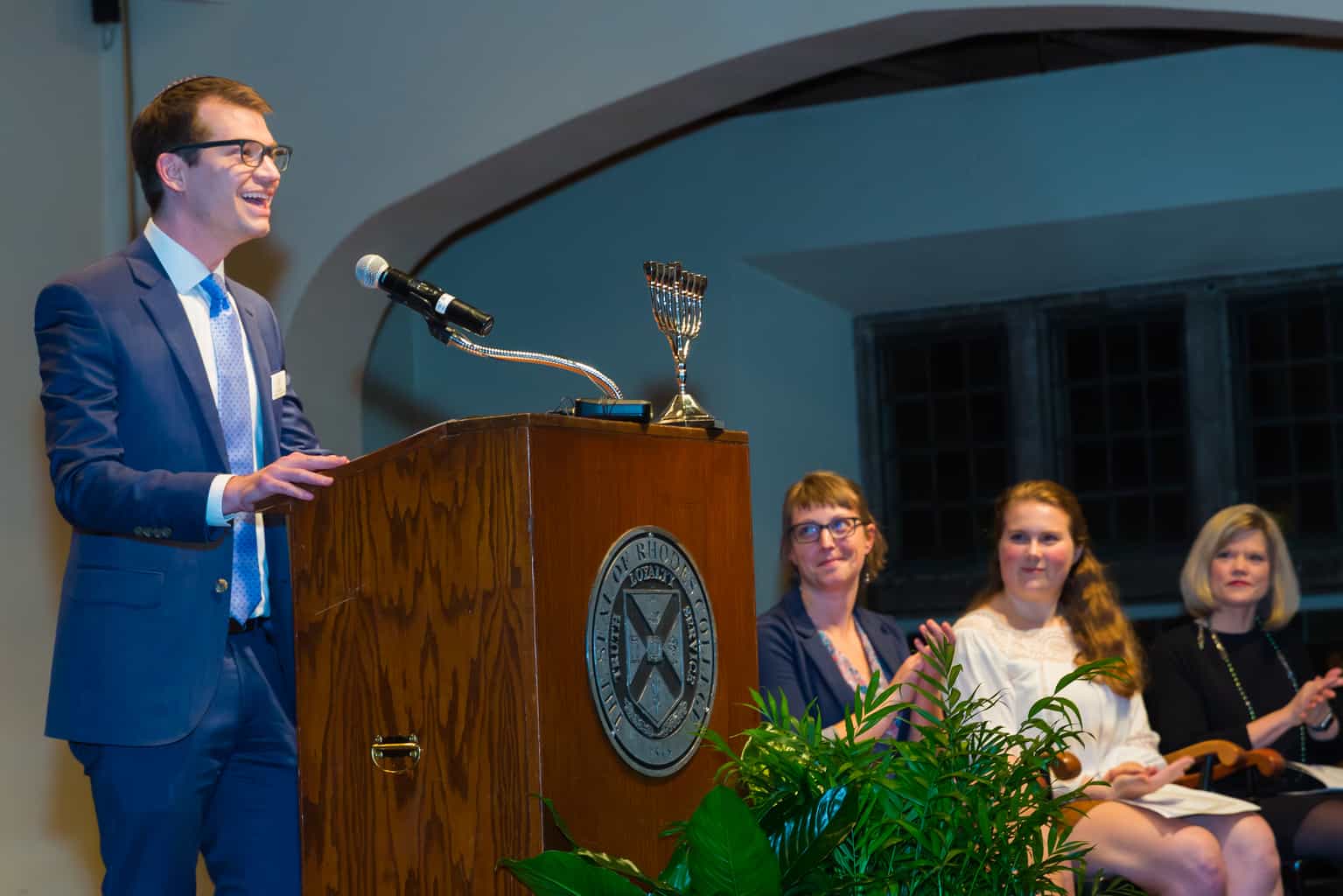 Photos by Ronnie Booze
The evening of January 22, a large crowd gathered in stately Palmer Hall on the Rhodes College campus to celebrate an historic milestone for the community.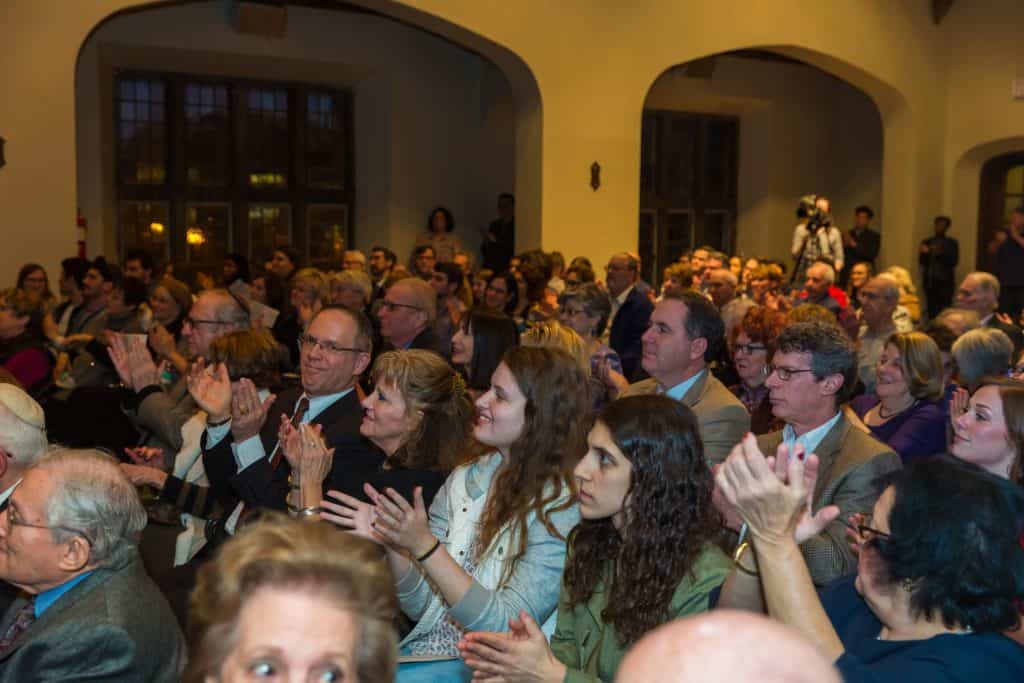 A standing-room crowd gathered for the official launch of Hillel at Rhodes College, representing all corners of Memphis; college students, academics, clergy, Memphis Jewish Federation donors and lay leaders, and Jewish community members. Touchingly, Jewish Memphis was joined by the broader Memphis community attending to show support to their Jewish classmates, neighbors, and friends.
"It was a remarkable show of support from such a wide variety of people," said Laura Linder, President and CEO of Jewish Community Partners, whose Memphis Jewish Federation fundraising efforts support Hillels of Memphis and its two campus programs. "Especially moving was interacting with Jewish alumni who came to the event. Several mentioned how proud they were that the college now has a Jewish student population of nearly 70 students."
"This is a very meaningful day for me, personally. Some might say it's coincidence, I might say beshert– fated- for my inaugural year to coincide with the beginning of our Hillel," said Hass. "Hillel is important in my life, personally. My parents met at the University of Illinois Hillel, and my husband and I regularly attended services there, years later, when we were graduate students."
"As Rhodes' first Jewish president, when they said to me 'we're bringing this organization, perhaps you've heard of it', I was able to say 'Yes, I know all about it." The audience erupted in knowing laughter.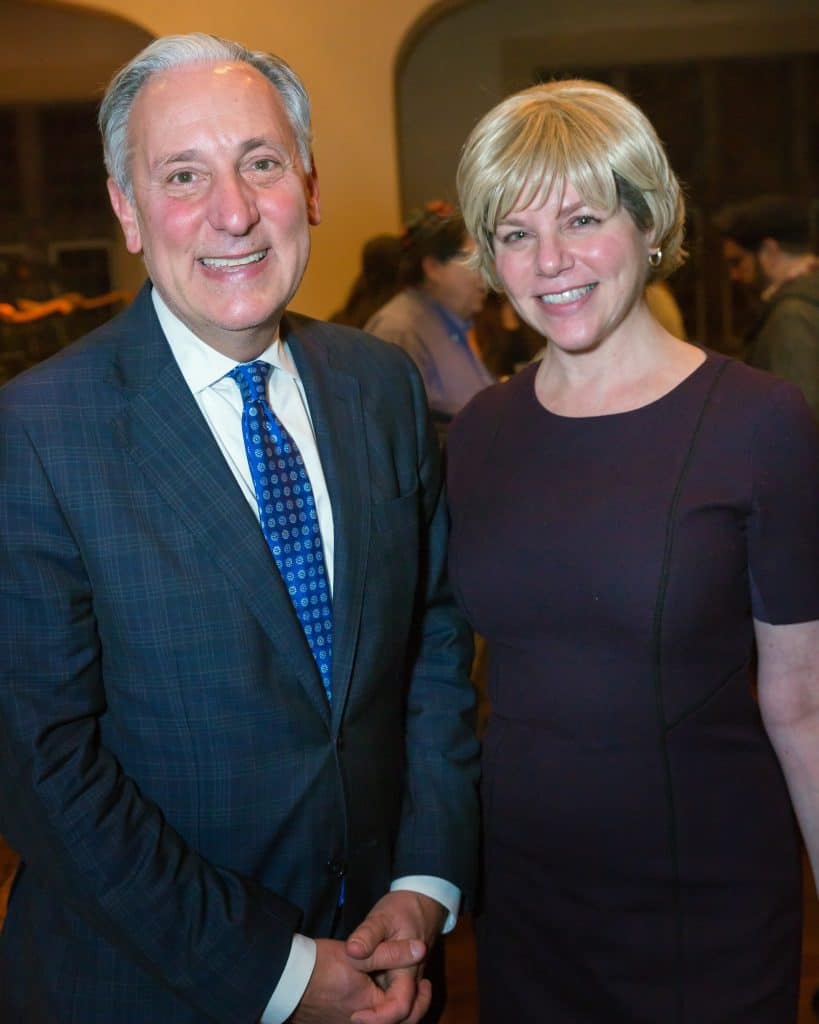 After remarks from Dr. Hass, Rhodes Hillel Student Board President Merit Pinker introduced keynote speaker and Hillel International President and CEO Eric Fingerhut.
"It's been a privilege meeting the warm and welcoming Memphis Jewish community, whose generosity and leadership provides for Hillel at Rhodes and also at the University of Memphis," Fingerhut told the audience. "I can only tell you how it warmed my heart to see the building at the University, that's been there for so many years and cared for with such love. Thank you to Harry Samuels and Hal Fogelman and all the others for your leadership. And to the students, faculty, and leadership here at Rhodes, thank you for welcoming Hillel, for joining our missions together."
He then led the crowd in reciting the Shehecheyanu, the many voices echoing loudly and proudly in the packed room.
"The Hillel reception brought me to tears upon walking into the room and seeing all of the Jewish community members of Memphis who wanted to help and support Rhodes College," said Sydnie Schindler, a junior from Dallas majoring in psychology, with a minor in Spanish.
"In all my years at Rhodes, I never found myself surrounded by more than ten Jews at a time," Schindler said. "Hearing the Shehecheyanu ringing from the walls inside Rhodes College was so beautiful. I am truly blessed and honored to be a part of this community that cares so much about the Jewish students on campus."
Rabbi Jeremy Simons, Director of Hillels of Memphis, closed the evening by offering a small but symbolic gift to Rhodes College. Revealing a shining silver menorah, he placed it on the podium.
"This Chanukiah is meant to be lit and displayed publicly," said Rabbi Simons. "Historically, that hasn't always been easy for Jews to do. We give this knowing it has a place on this campus and that generations of students, of all faiths and of no faiths, will gather proudly by its light far into the future."
Rabbi Simons concluded his remarks with a final thank you. "There's more than one way to fund a Hillel. Here in Memphis, ours are funded by Memphis Jewish Federation. I may be biased but I think our way is best. Our Hillels are not just isolated islands populated with mysterious millennials. Our Hillels belong to all of us. And we, as Jewish Memphis, recognize we are responsible for them."
After the ceremony, the energized crowd was in no rush to leave. Small groups gathered to share their favorite bits. Old friends posed for photos and embraced, new friends shook hands and exchanged cell numbers.
"Several people commented to me about how wonderful it was to come out for something that benefits the entire Memphis Jewish community as opposed to it being an event of a particular denomination or school, or agency," said JCP's Director of Community Impact, Bluma Zuckerbrot-Finkelstein. "Everyone really felt a strong communal feeling."
"Everybody I talked to had their own reason for going," added Sheryl Alexander, JCP's Financial Resource Development Director. "But everybody was just so pleased and excited, moved by this happening. I can't tell you how many people said 'I never thought this day would come. How did this happen?' It was an amazing time, surrounded by amazing Memphians."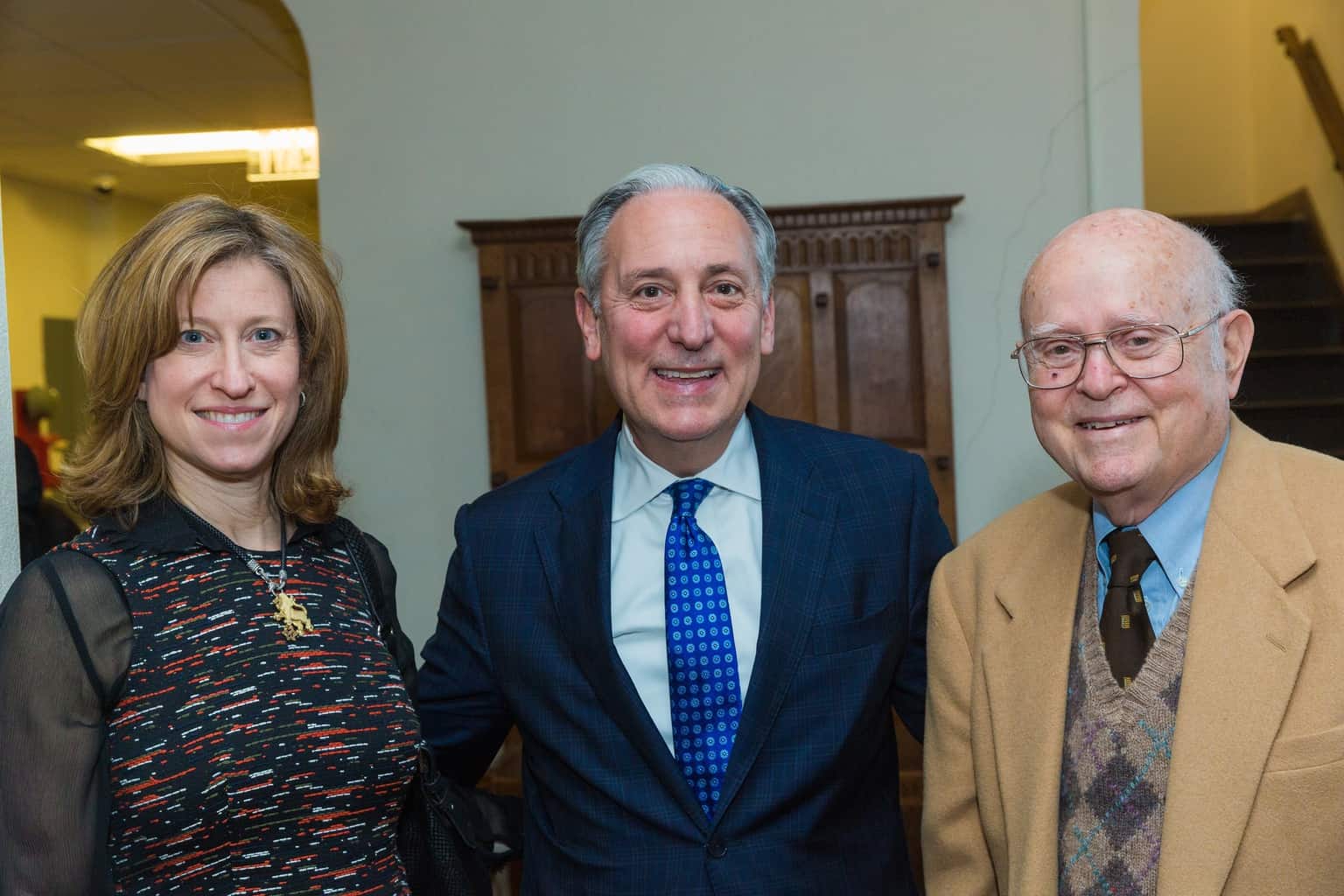 10total visits,5visits today
Tags:
Dr. Marjorie Hass
,
Eric Fingerhut
,
Hillel at Rhodes College
,
Hillel International
,
Hillels of Memphis
,
Hillels of Memphis Rhodes
,
Hillels of Memphis Rhodes College
,
Jewish Community Partners
,
Jewish Foundation of Memphis
,
Jewish Memphis
,
Marjorie Hass
,
Memphis Hillel
,
Memphis Jewish Community
,
Memphis Jewish Federation
,
Memphis Jewish life
,
Memphis Jewish Population
,
Memphis Jews
,
Rhodes College
,
Rhodes College Hillel
,
Rhodes Hillel