News, People
From the Vaults: Jewish Student Union Honors Benefactors at Dedication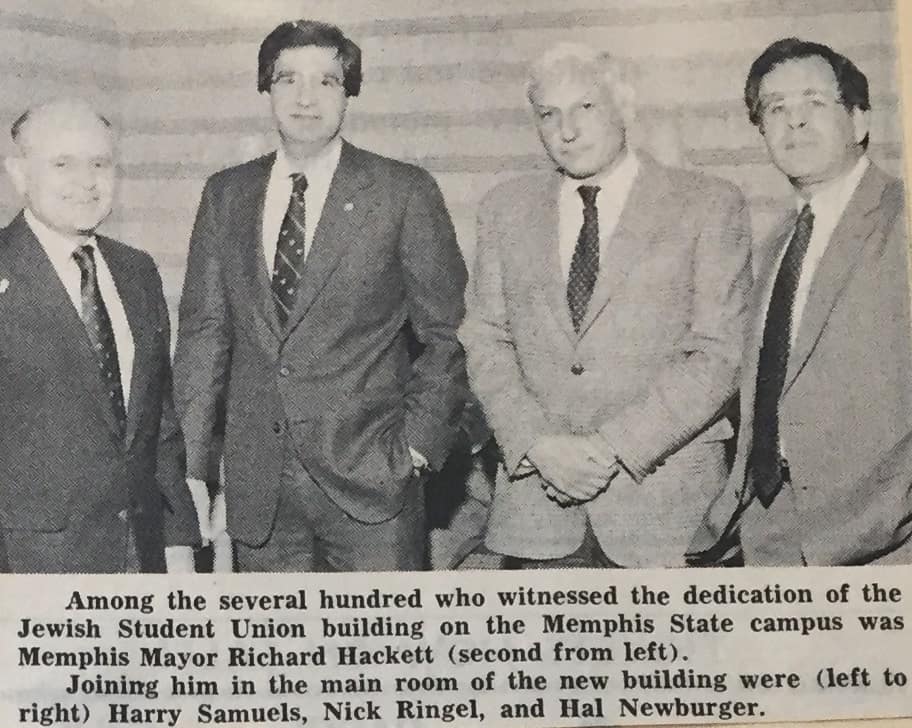 This article was published in The Hebrew Watchman in December, 1984. 34 years later, we've expanded Hillel to its second Memphis college, increasing the number of Jewish college students in Memphis who have access to meaningful Jewish connections, relationships, and experiences. We hope you enjoy this throwback story from the vaults. 
By Barry Markowitz
December, 1984
In its 16-year history in Memphis, the Jewish Student Union has had many temporary homes.
Accepting keys to a permanent home for the organization at last Sunday's dedication ceremony, Mark Moskowitz, JSU president, expressed gratitude to the Memphis Jewish Federation, the Memphis Jewish Community Center, and to the individuals who were responsible for providing the new home.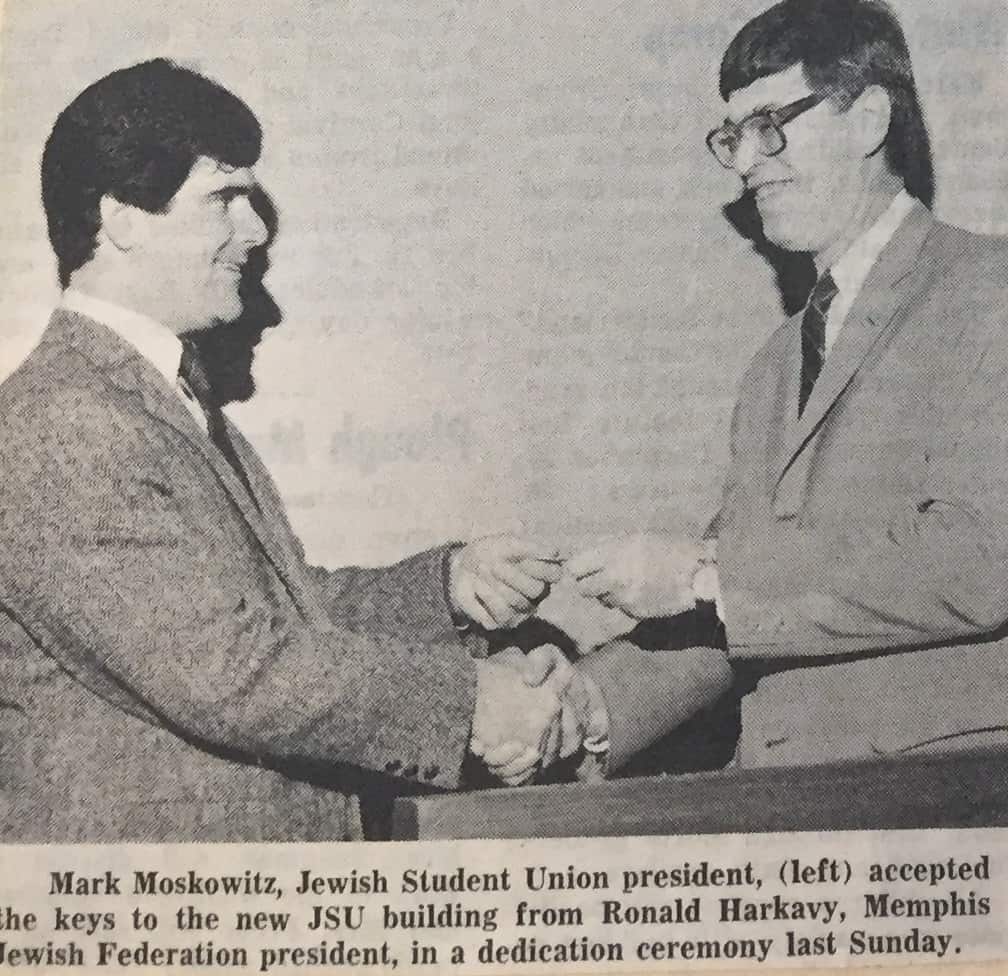 "For years we were 'wandering Jews,' never knowing where we were going to be from year to year," he said, acknowledging the community's "permanent deep commitment."
More than 200 people crowded the JSU building at 3581 Midland Ave. on the Memphis State University campus, and over 100 people were reported to be waiting outside the doors during the afternoon program, which reached its high point as Baron Hirsch Rabbi Cantor David W. Skopp affixed two mezzuzahs, which he had designed and carved, to the doors of the new facility.
Entering what Barrie Weiser, JCC executive director, later dubbed "the house that Harry (Samuels) built," the visitors discovered high, vaulted ceilings, a great room with a fireplace and a large conversation pit, a kitchen, a playroom, a library and an office.
Parking is available for nearly two dozen cars, and an area has been set aside for an outdoor sukkah and for cookouts.
Harry Samuels, JCC president, recognized benefactors who made the land purchase possible and presented them plaques.
When the land became available, it was Morris Fogelman who first pledged his support and said to buy it, promising that his friend Philip Belz would also be an early contributor, Samuels stated.
Other benefactors, in addition to Mr. and Mrs. Fogelman and Mr. and Mrs. Philip Belz, were Mr. and Mrs. Harold Newburger, Mr. and Mrs. Louis Kirschner, the Lichterman-Loewenberg Foundation, Harry "Skip" Pepper (of blessed memory) and Mrs. Pepper, Dr. and Mrs. Gerald Rosen, the Goldsmith Foundation, the Lit Family, Mr. and Mrs. Ira Lipman, and Mr. and Mrs. Harry Samuels.
The JSU was built over a period of years and a large number of people were involved, but the one necessary ingredient was the support of the Memphis Jewish Federation, Samuels added.
Ronald Harkavy, Federation president, observed that Federation was involved in the JCC's move to East Memphis, was the catalyst in the creation of Plough Towers, and has now added the first real home for JSU on the Memphis State campus.
He praised the report of MJF's ad hoc committee, chaired by Rabbi A. Mark Levin of Anshei Sphard-Beth El Emeth Congregation, which called the campus the threshold students cross from family to institutional and community ties. The report recommended the matter be given attention and a high level of community involvement.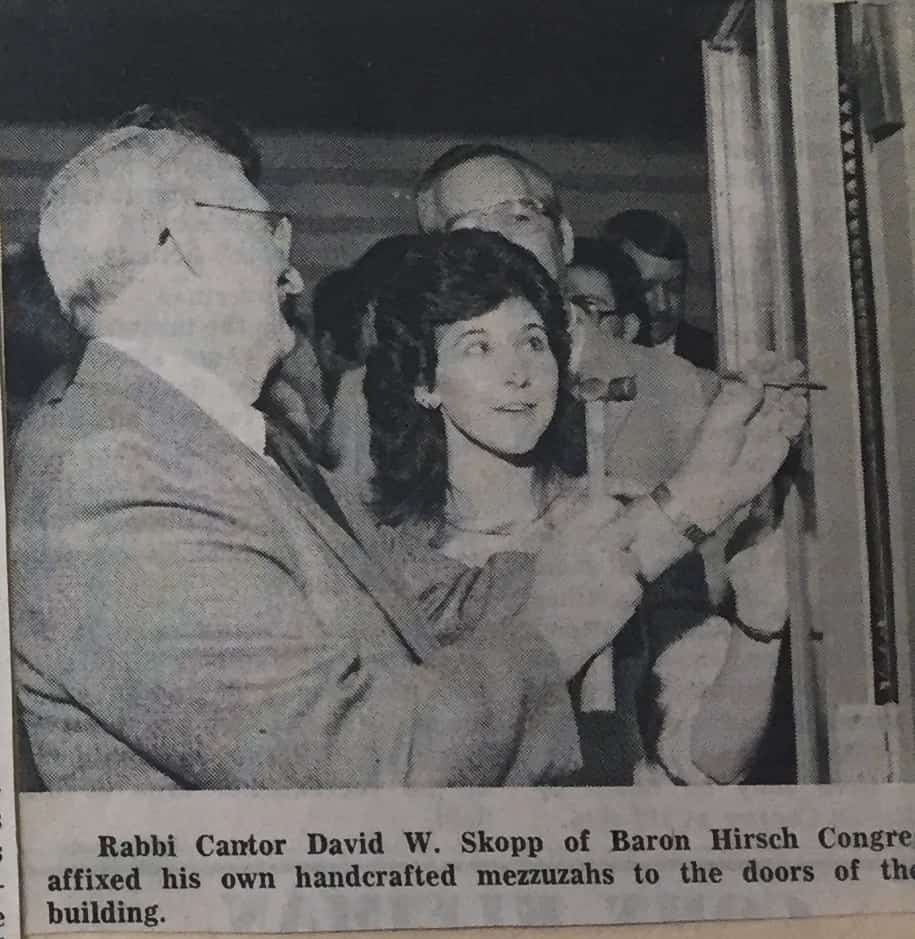 Presenting Samuels and his wife Flora with their benefactors' plaque, Harkavy reminded the students, "but for Harry Samuels there would be no student union . . . he has been the one person here from day one to today."
In addition, Harkavy credited Marcia Marx, who became JSU director in 1981, with making the organization flourish. Federation then had to decide whether to give full financial support he said, noting that MJF contributions have risen from $2,000 in 1969 to about $20,000.
Dr. Morris Klass, chairman of the JSU advisory board, praised the Jewish community for "studying, knowing, and responding to the needs of its membership."
Hal Newburger, dedication chairman, who welcomed Mayor Richard Hackett in his opening remarks, credited a community-wide effort for making the JSU building a reality and labeled Harry Samuels, JCC president, "one of the dreamers" responsible.
Samuels gave special credit to Newburger and his wife Ronna and to Barry Lichterman, a past JSU president and currently a JCC vice-president and a member of the JSU advisory board, who joined the effort early and helped persuade others to join.
The Newburgers took it upon themselves to see the building had landscaping and Nick Ringel, chairman of the building committee, and his wife Judy obligated themselves to acquire furniture after funds ran low, Samuels revealed.
In addition to serving MSU students, JSU is available to other area college students and Jewish college-age military personnel at Millington Naval Air Station.
Jim Lindy was architect for project. Michael Weiss was builder. Joyce Steinberg was in charge of decorations.
376total visits,2visits today
Tags:
Hillels of Memphis
,
JCP Memphis
,
Jewish Community Partners
,
Jewish Foundation of Memphis
,
Jewish Memphis
,
Memphis Jewish Community
,
Memphis Jewish Federation
,
Memphis Jewish life
,
Memphis Jewish Population
,
Memphis Jews
,
Rhodes College Hillel
,
University of Memphis Hillel