People
Stanley and Dot Bilsky – A History of Helping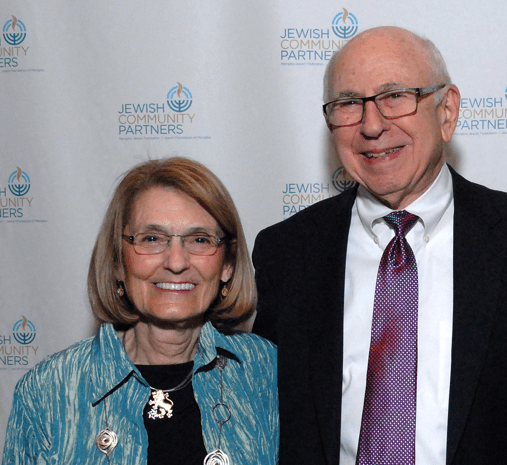 "You can help people by yourself, but if you work with Memphis Jewish Federation and Jewish Foundation of Memphis you can do so much more, you can impact so many more people," said Dot Bilsky. "They find people that I don't even know who need help. To me it's a no brainer, anything you do has so much more of an impact when you're working with other people and through these organizations."
Stanley and Dot Bilsky met in college at the University of Michigan and have been by each other's side ever since. Since moving to Memphis in 1968, they have become important and generous members of our Jewish community. Their involvement in Federation has helped fuel the Annual Community Campaign for decades, and the Foundation has given them the necessary tools to provide meaningful and lasting support to their beloved Beth Sholom Synagogue. Most recently, the Bilskys made a significant gift to the campaign to endow the Wendy & Avron B. Fogelman Jewish Family Service, helping to permanently fund this vital organization for generations to come.
Stanley's family has deep ties to Memphis, beginning with his great-grandparents settling in the city in 1869. Raised in Atlantic City, Dot is a first generation Memphian.
Once Stanley and Dot established themselves in Memphis, they started careers, a family, and made a life for themselves here. Their first experiences in philanthropy were with the United Way during the mid-1970s, where both Stanley and Dot served on the Allocations Committee. The lessons they learned came with them when they connected with Federation shortly thereafter.
"It was good coming over to Federation, because we had all this experience listening to various agencies and assigning money as decision-makers at United Way," said Stanley. "We were able to bring a lot of ideas to the Federation. It was an interesting experience."
"I love the fact that Jewish people take care of themselves," said Stanley. The pair wanted to work with causes closest to their hearts, and one of the organizations that they care most about is Beth Sholom Synagogue. Through the Jewish Foundation-led Life and Legacy program, Stanley and Dot were given the opportunity to ensure the future sustainability of Beth Sholom.
"Beth Sholom Synagogue brought Conservative Judaism to Memphis and there was a need for it. I certainly think that we played a little part in helping it grow," said Stanley.
"We couldn't have done it without the Foundation," said Dot, who took on a board position at the Jewish Foundation in 2017, representing Beth Sholom. In this role, Dot asked Beth Sholom congregants to finalize their legacy commitments to the synagogue and volunteered her time. Her perseverance has showed, as Dot played a vital role finalizing legacy commitments.
Stanley is just as involved as his wife, as he currently sits on the Jewish Community Partners Investment Committee and is an active member of the Jewish Foundation's Professional Advisory Group. With 52 years of experience as a financial advisor, Stanley not only brings his financial expertise to Jewish organizations but also encourages his clients to think about philanthropy.
Their kindness efforts did not stop during the pandemic. "The Federation gave out iPads to people that were living alone when Covid-19 hit. Someone went to the home and taught them how to use it. Teaching someone how to use an iPad and getting them to understand what is taught is a different story," said Dot. She continued, saying, "I worked with people who did things in the Jewish community before the pandemic, and now they couldn't. However, if you can get on Zoom, then you can go to book clubs, services, and study groups at the synagogues. It was amazing to witness their progress."
Stanley and Dot were certainly role models to their children in regards to giving to philanthropy and helping their community. This has become apparent in the time since their children moved away from Memphis and made careers for themselves.
"All of our children are different, but they are all currently involved in one way or another," said Dot when speaking on their children's relationship to philanthropy. Their oldest, Maxine, was the Director of the Alzheimer's Unit at the Memphis Jewish Home and is now the Activities Director at a nursing home in Colorado. She has been involved in raising funds for Alzheimer's for many years. Their middle child, Mark, is a neurosurgeon at Memorial Sloan Kettering Cancer Center in New York who also participates as an active member on the New York Runners Board and is active in the Mount Sinai Parent's Endowment Scholarship Fund. Their youngest daughter, Susan, has spent 25 years as a professional fundraiser with several organizations in the Boston area such as Combined Jewish Philanthropies, Jewish Family Service, and is currently Senior Director of Leadership, Annual Giving at Brandeis University.
Over the decades, the Bilskys' philanthropy has greatly impacted the Memphis Jewish community, and has helped countless people. The pair contributes money, time, effort, and love into the causes that they hold most-dear, and are cherished members of the Memphis Jewish community for these reasons. They are grateful to Federation and Foundation for providing them with opportunities to be philanthropic and to be involved.
Total Page Visits: 874 - Today Page Visits: 5
Tags:
Bilskys Memphis
,
Dot Bilsky
,
JCP Memphis
,
Jewish Community Partners
,
Jewish Foundation of Memphis
,
Jewish life in Memphis
,
Jewish Memphis
,
Jewish philanthropy
,
Memphis Jewish Community
,
Memphis Jewish Federation
,
Memphis Jewish life
,
Memphis Jewish Population
,
Memphis Jews
,
philanthropy
,
Stanley Bilsky