People
A Summer in Israel to Remember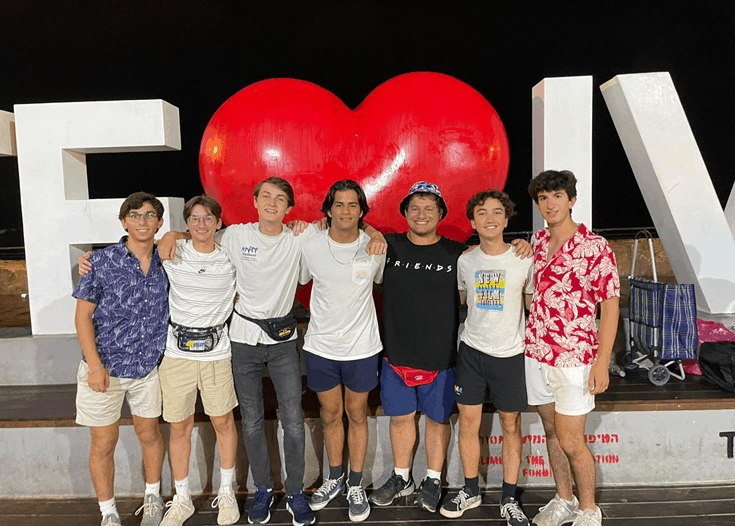 Pictured from left to right: Jordan Infeld, Gabe Freedman, Drew Harris, Jacob Shapiro, Louis Reagler, Jack Benjamin, and Michael Hirsch are seen posing at the Tel Aviv Port statue.
"The most inspiring part of my Israel trip was spending two nights in the desert," said Michael Hirsch, a senior at Lausanne Collegiate School who recently returned to Memphis from a summer NFTY Israel program, supported by a grant from Memphis Jewish Federation's Lemsky Endowment Fund.
Federation's Teen Israel Experience program roared to life again this summer after missing a year to the pandemic, and dozens of Memphis teens were able to experience the magic of Israel and forge deeper relationships with the State and its people. Established through the generosity of the late Abe Lemsky, z'l, the Lemsky Endowment Fund enables Federation to strengthen bonds between Memphis Jews and Israel through a variety of programs like Teen Israel, which has brought hundreds of Memphis Jewish teens to Israel for the past quarter of a century.
This summer, 24 Memphis teens from across the Jewish community received a non needs-based Teen Israel grant for an immersive summer Israel experience. With support from the $3,000 granted by the Lemsky Endowment Fund per teen, this year's teenaged travelers participated in 12 different Israel programs, including trips through NFTY, Ramah, BBYO, NCSY/JSU, and B'nei Akiva.
"Initially, it helped me realize just how beautiful Israel is. But, on a deeper level, it made me feel small in comparison to everything around me," said Michael, the son of Geoffrey and Marci Hirsch. "Seeing stretches of desert in every direction is something that made me feel more in tune with Earth. Being able to see so many countries from one point was another really cool moment that just left me in awe."
"My husband and I both want our children to have a connection with Israel," said Marci Hirsch, Michael's mother, who herself participated in a Federation-sponsored women's trip to Israel in 2018. "Experiencing that you are part of something larger than your local community changes your global perspective. I hope that having this experience will instill a lifelong connection to Judaism that goes beyond our synagogue and region. Taking this trip with camp friends gave Michael the opportunity to see Israel from a teenager's perspective. He was able to connect with Israeli teens and learn more about life in Israel through their eyes. We appreciate the Lemsky Endowment Fund of Memphis Jewish Federation for its support in sending Memphis teens to Israel every year."
Memphis Jewish Federation considers immersive Israel experiences the key to developing and strengthening teens' Jewish identity and connection to Israel. Teen Israel applications for summer 2022 will open in November 2021 for rising high school juniors or seniors interested in participating in a recognized summer program or semester in Israel.
Total Page Visits: 498 - Today Page Visits: 11
Tags:
High Schoolers
,
Israel
,
JCP Memphis
,
Jewish Community Partners
,
Jewish Foundation of Memphis
,
Jewish life in Memphis
,
Jewish Memphis
,
Lemsky Endowment Fund
,
Memphis Jewish Community
,
Memphis Jewish Federation
,
Memphis Jewish life
,
Memphis Jewish Population
,
Memphis Jews
,
Teen Israel Experience