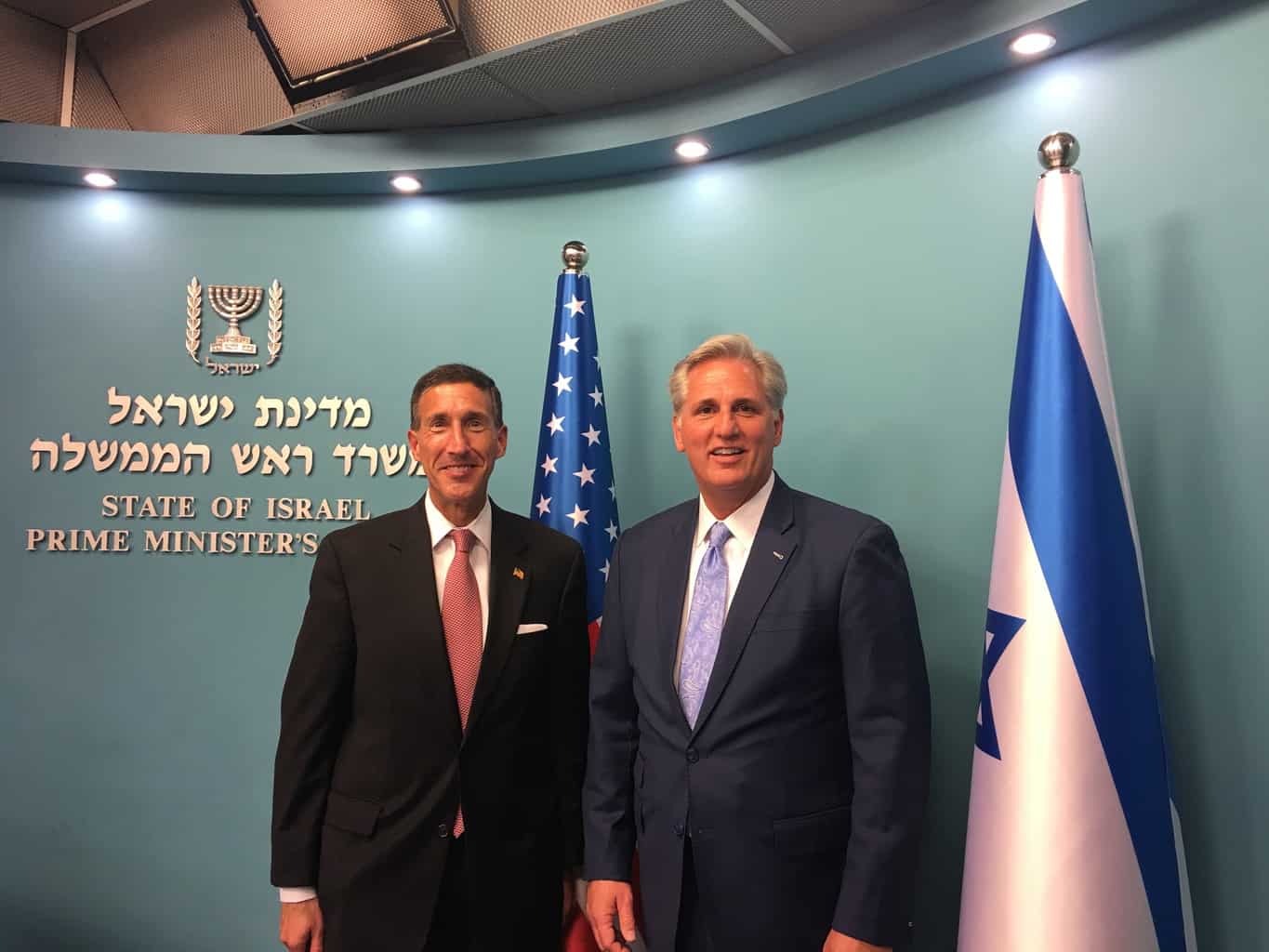 We've reached the end of the My Israel Story series, with this 70th entry from one of our community's members of Congress, Representative David Kustoff.
70 Memphians from all corners of the Mid-South have shared their stories for this special series celebrating Israel's 70th birthday, showing us that there are as many ways to experience Israel as there are people to make the journey. Read the full series here. 
Pictured above: Congressman Kustoff, left, pictured at the Israeli Prime Minister's Office with House Majority Leader Kevin McCarthy. 
What Israel Means to Me
Last August, I had the incredible opportunity to visit Israel for the first time as a Congressman. The adage about "walking a mile in someone's shoes" to understand what they are going through was truly put to test on this trip. Personally, this adventure to Israel was a life-changing experience, and I gained a new perspective as well as deeper appreciation for the Holy Land.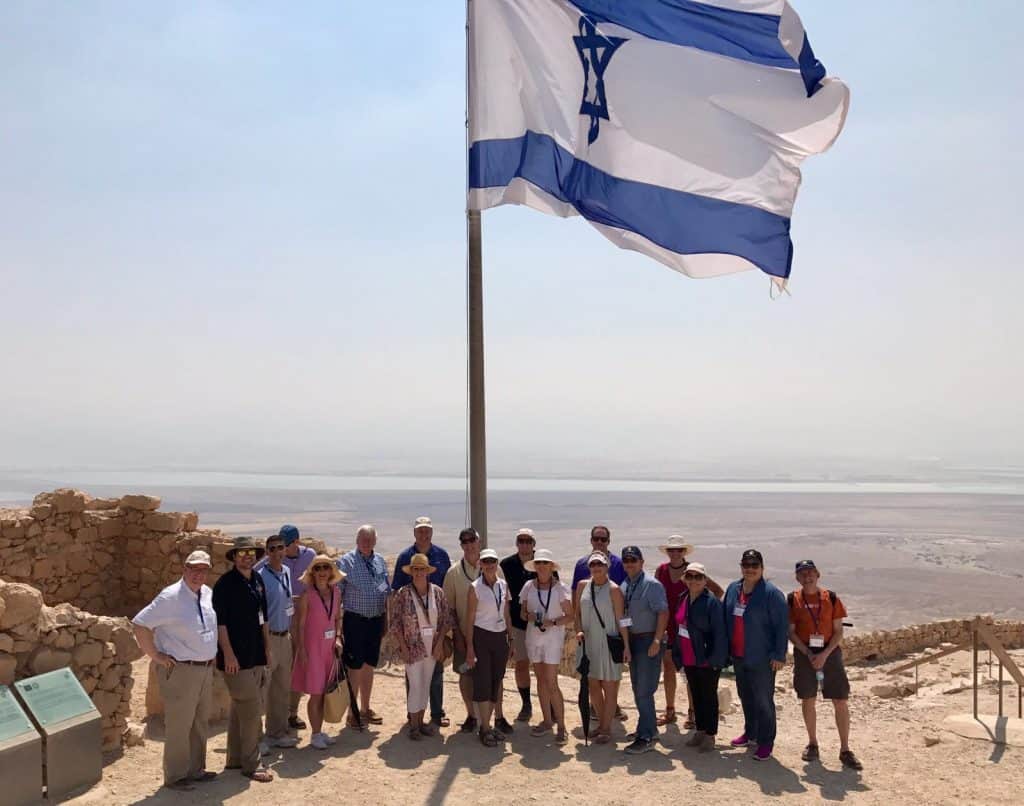 One Friday morning, hours before Shabbat began, our delegation traveled to Masada, where we viewed and touched the ruins of the royal citadel. While I have studied the story, standing on the actual ground where the Jewish people decided they would not succumb to Roman suppression was surreal. The significance of Masada's history proves heroism exists in even the darkest moments. More importantly, this story proves that our Jewish legacy cannot and will not be erased. It was at Masada where I felt this spectacular story come to life. I realized that, while we have faced many trials and tribulations along the way, the Jewish people have and will always prevail and continue to be a light for the world.
Almost every day, you hear about the constant security threats that Israel faces being surrounded by so many hostile neighbors. Whether it is Hamas in Gaza, or Hezbollah and other Iranian proxies in Lebanon and Syria, Israel's adversaries are persistent and much closer than many assume. I saw this with my own eyes as we traveled up to Northern Israel and looked out into Lebanon and Syria. I stood on the border, shocked, confirming in my mind that the threat to Israel is undoubtedly real and extremely serious.
I cannot imagine living in a country that faces so many security challenges on all its borders and beyond. At our meeting in Jerusalem with Israeli Prime Minister Benjamin Netanyahu, I learned even more about the challenges Israel faces, including the disturbing inculcation of hatred toward Israel and Jews propagated by some of the region's religious and political leaders. This moment gave me a deeper appreciation for and understanding of the importance of protecting Israel, our friend and closest ally. The Prime Minister's message to us was that he appreciates all of the work we have done so far and hopes we can continue to bolster our support for the Jewish state.
On the last night of our trip, each Member of Congress was asked to share moments that personally affected them while being in Israel. As the sole Jewish member in attendance, it was heartening to hear how Israel moved so many of my Christian colleagues and that we all are committed to preserving the sanctity of the Holy Land. Ultimately, traveling to Israel enabled me to become a more knowledgeable advocate for her and her people. This perspective will allow me to fight for Israel effectively in Congress. For 70 years, this small but resilient country has stood the test of time and has fought off its enemies with great strength and compassion. It has developed into a thriving and modern country, one where people of all faiths can live and prosper. Like the story of Masada, Israel has proven to its enemies and the world that the Jewish people will never stop fighting for our right to exist. By traveling to Israel, my eyes were opened, and I gained a new perspective—one that has shaped both my work in Congress and my life as a Jewish man.
Total Page Visits: 6592 - Today Page Visits: 7
Tags:
Congressman Kustoff
,
David Kustoff
,
David Kustoff Memphis
,
JCP Memphis
,
Jewish Community Partners
,
Jewish Foundation of Memphis
,
Jewish Memphis
,
Memphis Celebrates Israel at 70
,
Memphis congressman
,
Memphis Jewish Community
,
Memphis Jewish Federation
,
Memphis Jewish life
,
Memphis Jewish Population
,
Memphis Jews
,
Memphis to Israel
,
Memphis to Jerusalem
,
My Israel Story
,
Rep. Kustoff
You May Also Like