People
Plough Towers Resident Robin Snyder Finds Community Among Friends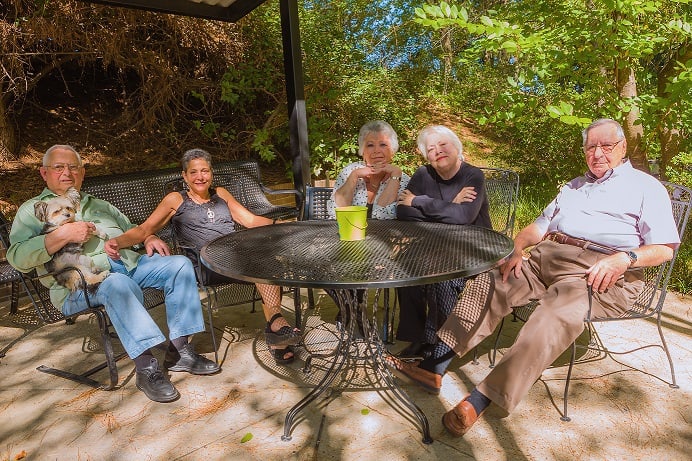 By Vicki Woods and Robin Snyder
This month's Plough Towers spotlight article will be a bit different from my usual format. Robin Snyder in apartment 1008 came to me asking if she could do a "Why I love Plough Towers" article. Always in the mood to shake things up, we decided that this would be a great idea. As a result, the following is Robin's article in her own words.- V.W.
We were down and out.  Both Conrad and I lost our jobs due to the recession. Then I was in a very serious car accident, which left me in a leg cast for six months. After my leg healed, I had back surgery. During this time, I was forced to apply for Disability. We owned a lovely home in Cordova, with beautiful flowerbeds and landscaping. After the accident, we paid our mortgage with our dwindling savings. Dealing with our mortgage company and hospital bills was extremely stressful, and Conrad and I felt very alone.
We eventually lost our home to foreclosure. I knew of Plough Towers because of working with the Jewish Federation earlier in my career, and working closely with Jewish Family Services. After being on a long waiting list, we were finally called to move in. We were not sure what to expect when we arrived. On the day we moved in, we felt overwhelming love from the residents. Many told us how much they loved Plough Towers, and we knew that Conrad was in a good space to tell his jokes! We went from feeling all alone to feeling welcomed. I felt happy for the first time in a very long time.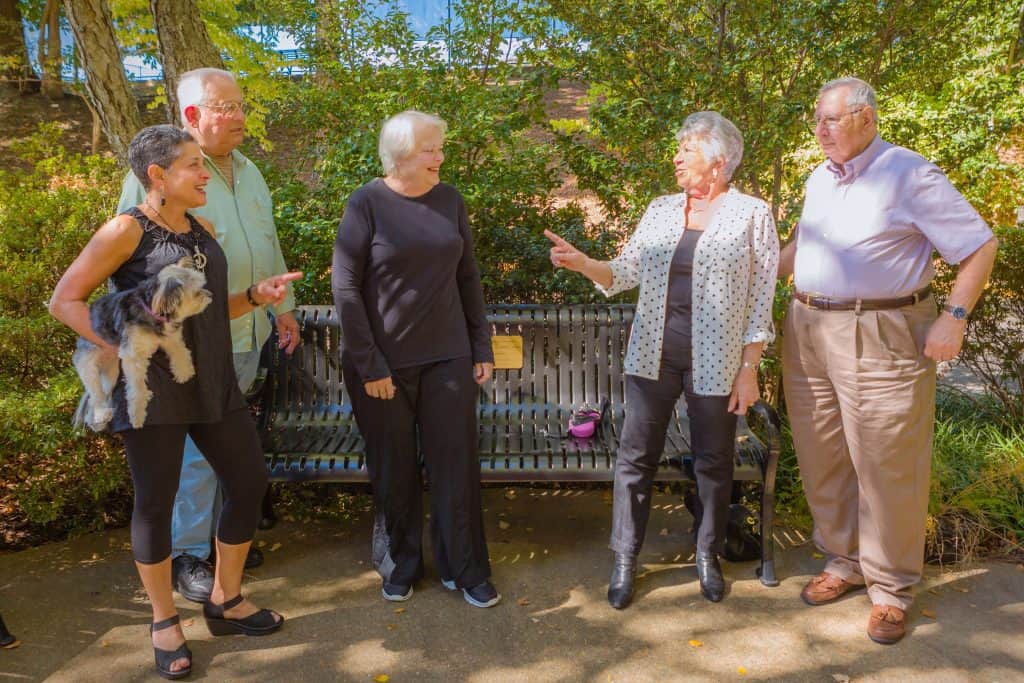 Before Plough Towers, I had never been around people with disabilities. At first, I felt uncomfortable, but that feeling is long gone. I am now able to assist people with disabilities, and I feel good being able to help. I also love the diversity in the building. We have learned to love people from all over the world, and from all walks of life. There are so many reasons that I love living here. I love complaining to other residents in the laundry room about how much I hate doing laundry. I love to chitchat with my neighbors. I love my little apartment. I love when the power goes out that I can switch on an emergency light and have air conditioning or heat. I love that work orders are handled in a timely manner. I love that when I am bored; I can play Bingo, watch a movie, go to the computer lab, or visit. I love being asked to teach an exercise class. I love that the facility provides parties and celebrations for all of us. I love how beautiful the building is, both inside and out. I love the kind, caring staff. I love the location that is convenient to everything. I love the fact that I can attend Shabbat services each month without having to leave the building. I love cooking fresh dinners in my apartment every night (with no microwave). I love to dance around my apartment with Macy. I really love that Plough Towers recognizes the need for pets, and has welcomed Macy with open arms. Mostly, I love not being down and out! However, without the troubles in our life, we might have never moved to Plough Towers.
I have gotten involved in the activities of the building, almost from the beginning of living here. I work out at the Jewish Community Center three to four times per week. The cost for our residents is awesome! I serve as a hall monitor on the tenth floor, checking on my neighbors. This year, I was elected to serve as Secretary of the Resident Council. I also help with the Annual Meeting each January. Plough Towers has allowed me to grow as a person, as I become acquainted with different cultures. Conrad has had some health concerns recently, and I love the number of concerned residents and well-wishers that greet me at the front door. Plough Towers is my safe haven, and I absolutely love living here!
Plough Towers is one of many partner agencies in the Mid-South that benefits from your gift to the Memphis Jewish Federation Annual Community Campaign, where your generosity impacts the lives of members of our community, like Robin.  
1178total visits,2visits today
Tags:
Annual Community Campaign
,
Campaign
,
JCP Memphis
,
Jewish Community Partners
,
Jewish Foundation of Memphis
,
Jewish Memphis
,
Memphis Jewish Community
,
Memphis Jewish Federation
,
Memphis Jewish Federation Campaign
,
Memphis Jewish life
,
Memphis Jewish Population
,
Memphis Jews
,
Plough Towers
,
Plough Towers Memphis