We're marking the 70th anniversary of the founding of Israel with a year-long celebration! Keep an eye out for "Memphis Celebrates Israel at 70" branding at your synagogue, at events around town, and online. In this series, we're asking Memphians to tell their personal Israel stories. Do you have a story to tell?
After having been in Israel for under 48 hours, my group drove to the Negev, where we would spend 3 nights sleeping in the desert. On the bus ride to our first campsite, the guide told everyone to look out the window and taught us our Hebrew phrase for that day: "Eze yofi". Although we learned different Hebrew words and phrases for each day we spent together in Israel, this one, which means "How beautiful!", was easily the one I used the most. Thanks to the beautiful landscape, culture, and people of Israel, I had a lot to say Eze yofi about every day.
After years and years of learning in Sunday school about the Western Wall and all that it stands for, I finally had my first opportunity to touch it with my hands and pray at it, not just towards it… eze yofi.
I hiked and biked almost 40 miles from the Sea of Galilee to the Mediterranean Sea on a four-night camping trip. While the journey was totally incredible and unforgettable, the sight of the beach and the air-conditioned buildings near it…eze yofi.
I visited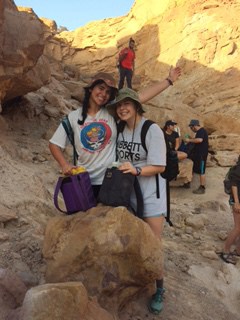 Independence Hall, where, in 1948, Israel became a nation. Sitting in the same room where some of the most famous Zionists sat…eze yofi.
My group had the opportunity to meet with some Arab-Israelis and listen to their stories. The co-existence that is rarely shown in media, but definitely occurs… eze yofi.
I visited Yad Vashem and read and learned more information about the Holocaust than I knew existed. The fact that such an incredible place stands as a living monument to ensure that "Never again" truly means never again…eze yofi.
The stars in the Negev…eze yofi. The fish in Eilat…eze yofi. The shuk bustling as everyone prepares for Shabbat…eze yofi. The art in Tzfat…eze yofi. The murals in Tel Aviv…eze yofi. Israel as a whole…eze yofi.
I am so grateful that I was able to go on such an amazing trip with the help of the Lemsky Endowment Fund. The fact that such an awesome scholarship is available to help teens go to Israel…eze yofi.
 Hayley Royal, the daughter of Natalie and Paul Royal, is a junior at Houston High School. Memphis Jewish Federation's Lemsky Endowment Fund provided her with a Teen Israel Experience grant to help offset the costs of her Summer 2017 NFTY program in Israel. All rising juniors and seniors in the Memphis Jewish community are eligible for grants of up to $3000 to attend a recognized teen summer program in Israel. Teen Israel Experience applications for summer 2018 are available on our website.
Total Page Visits: 610 - Today Page Visits: 1