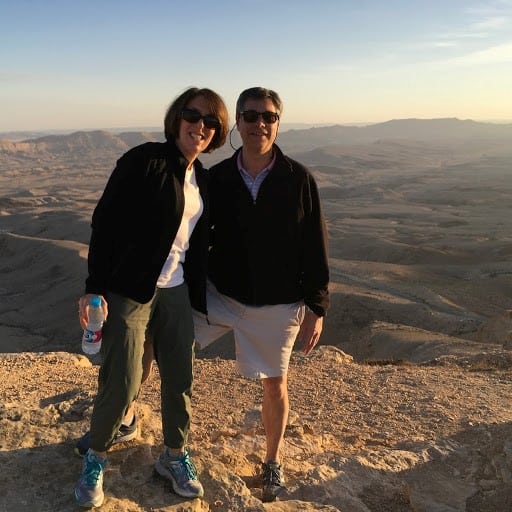 We're marking the 70th anniversary of the founding of Israel with a year-long celebration! Keep an eye out for "Memphis Celebrates Israel at 70" branding at your synagogue, at events around town, and online. In this My Israel Story series, we're asking Memphians to tell their personal Israel stories. Do you have a story to tell?
Israel via Poland: A Q & A with Rayna Greenberg
When did you go to Israel?
My husband and I, along with 16 other Memphians and one participant from Atlanta, went to Poland and Israel in the fall of 2017. We went on the Kehillah trip that was put together by Jewish Community Partners and MJCC. We spent four days in Poland first and then five days in Israel.
What did you do in Poland?
Our time in Poland was spent exploring our collective Jewish history. We started our trip with a guided walking tour of Warsaw, beginning at the Jewish cemetery. Afterward, we visited Polin, the Museum of the history of Polish Jews, which is a fairly new museum. The outside of the museum is modern and beautiful. We didn't have a lot of time inside the museum, but the exhibits we saw were amazing. One exhibit listed Polish communities that were wiped out during the Holocaust, and among those listed was the community Makova, which is where my grandfather lived before coming to Memphis in the 1920's.  We also visited the site of the Warsaw Ghetto. The next day, we went toured Majdanek, which is a concentration camp situated in the middle of a town. Some of the barracks are less than 50 yards from villagers' homes. Majdanek remains fairly intact as the Nazis didn't have time to destroy it before the Allied forces liberated it. From there, we rode to Lublin and visited the Yeshiva where the Talmud was first printed. The last city we visited in Poland was Kraków, where we walked around the Jewish quarter and visited the JCC.  Our last stops in Poland were Birkenau and Auschwitz 1. They were every bit as horrible and unbelievable as I had read about and heard about.  The one bright moment of the day came as we were heading back to the bus and passed a group of teenagers wrapped in Israeli flags!
We literally got on a plane after we left Auschwitz and landed in Israel a few hours later. The juxtaposition was just amazing, because Poland was everything I thought it was going to be – it was cold,  it was gray, and it was ugly – then we landed in Israel just as the sun was rising, and it was the complete opposite of Poland.  It was warm, beautiful and sunny! Our first stop was the Wall!
That must have been amazing.
Yes, and it was just such a completely different experience and feel! It was great to have experienced Poland first and then to arrive in Israel. I had wanted to visit Israel for so long, and since my grandfather was from Poland, I felt like this was the perfect trip for me. Israel was really everything I thought it was going to be. I was just so happy to finally be there!
Tell us about something that surprised you.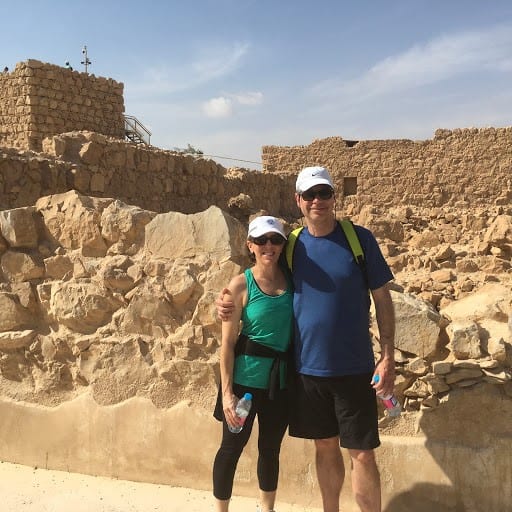 Nothing really surprised me. I have been hearing about Israel for as long as I can remember, from family, from friends, and from my own children. But one thing I found interesting was a talk by Gadi Ezra who is a lawyer and soldier in the IDF elite brigade. He spoke about the ethical dilemmas faced by the IDF and went through a few different scenarios. That was really interesting to me because at the heart of it all, the Israeli soldiers have compassion for human life, and they weigh their decisions carefully, despite sometimes having very little time. They are taught to think through their decisions, and not just to go into a situation and shoot. It's overwhelming to think about the intense situations these young IDF soldiers face!
What was your favorite part?
I loved everything about Israel, but it was so neat to be around so many Jewish people. I had never experienced that before.  It was just a really comfortable feeling. I also really loved learning about the  history of Israel, visiting Masada, hiking in the Negev, experiencing Kabbalat Shabbat at the Wall, shopping on Ben Yehuda Street after Shabbos, walking around our sister community of Shoham, and walking along the beaches of Tel Aviv! It was all wonderful! We did a lot in just a few days. I loved meeting and listening to the different people we came in contact with…the Moroccan Jewish woman who ran a restaurant out of her home, the shop owners on Ben Yehuda street, the kids from Shoham…
Ok, but what about the food?!
We had about an hour at Machane Yehuda on Friday afternoon, so we went and got great falafel. Afterward, went to a place called Marzipan that's famous for rugalach and pastries that are hot out of the oven. We ate at a delicious kosher restaurant in Shoham. Of course, we had glida, ice cream, on the beach in Tel Aviv! The food in Israel was delicious!
Do you have plans to go back?
I don't currently have plans to go back but I'd like to go back soon. I want to go back because I feel like we didn't spend enough time there, and we didn't get to do everything. I want to go to Tzvat, I want to go to Haifa, and I just want to spend more time in Jerusalem and Tel Aviv. There's so much to do!
6total visits,1visits today
Tags:
JCP Memphis
,
Jewish Community Partners
,
Jewish Foundation of Memphis
,
Jewish Memphis
,
Memphis Celebrates Israel at 70
,
Memphis Jewish Community
,
Memphis Jewish Federation
,
Memphis Jewish life
,
Memphis Jewish Population
,
Memphis Jews
,
Memphis to Israel
,
Memphis to Jerusalem
,
My Israel Story