News, People
Kandy Gallery Opening and Olymbec, USA Team Up to Benefit Memphis Jewish Federation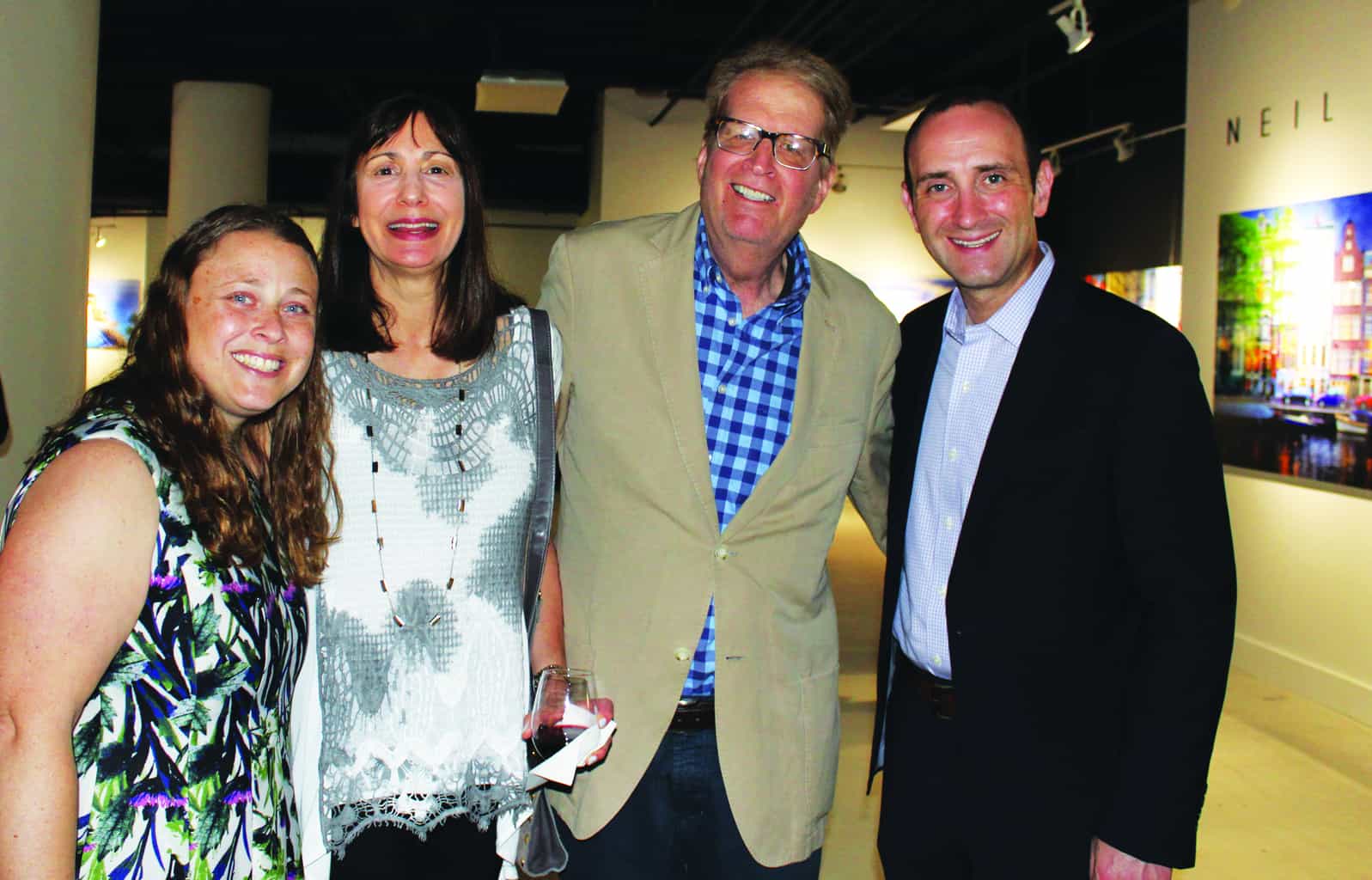 By Susan Nieman
Above: Jordana and Jason Berger (far left and far right) of Olymbec USA greet Memphis Jewish Federation Special Projects Coordinator Mark Wender and his wife, Sally, at the grand opening of Kandy Gallery, which features the work of fine art photography of Neil Dankoff. The gallery is located in the lower level of Brinkley Plaza, owned and operated by Olymbec USA.
Tuesday, May 21, 2019, marked the grand opening of the Kandy Gallery at 80 Monroe Ave. The gallery exclusively features the work of fine art photographer Neil Dankoff. Proceeds from the evening benefited Memphis Jewish Federation and Le Bonheur Children's Hospital.
The Memphis Kandy Gallery is the third Dankoff has opened with co-owners Derek and Kirsty Stern. The first was opened in Montreal in 2015 followed by Toronto in 2018, a fourth is to open soon in Dallas.
Dankoff, originally from Montreal, lives in Toronto with his wife and three children. His office is nestled among the largest of his collections displayed throughout Hotel X Toronto. The hotel's lobby and every floor display the culmination of a once-in-a-lifetime experience for him. Shortly after opening Kandy Gallery Montréal, Hotel X commissioned Dankoff for a three-year stint to travel the world and capture extraordinary images.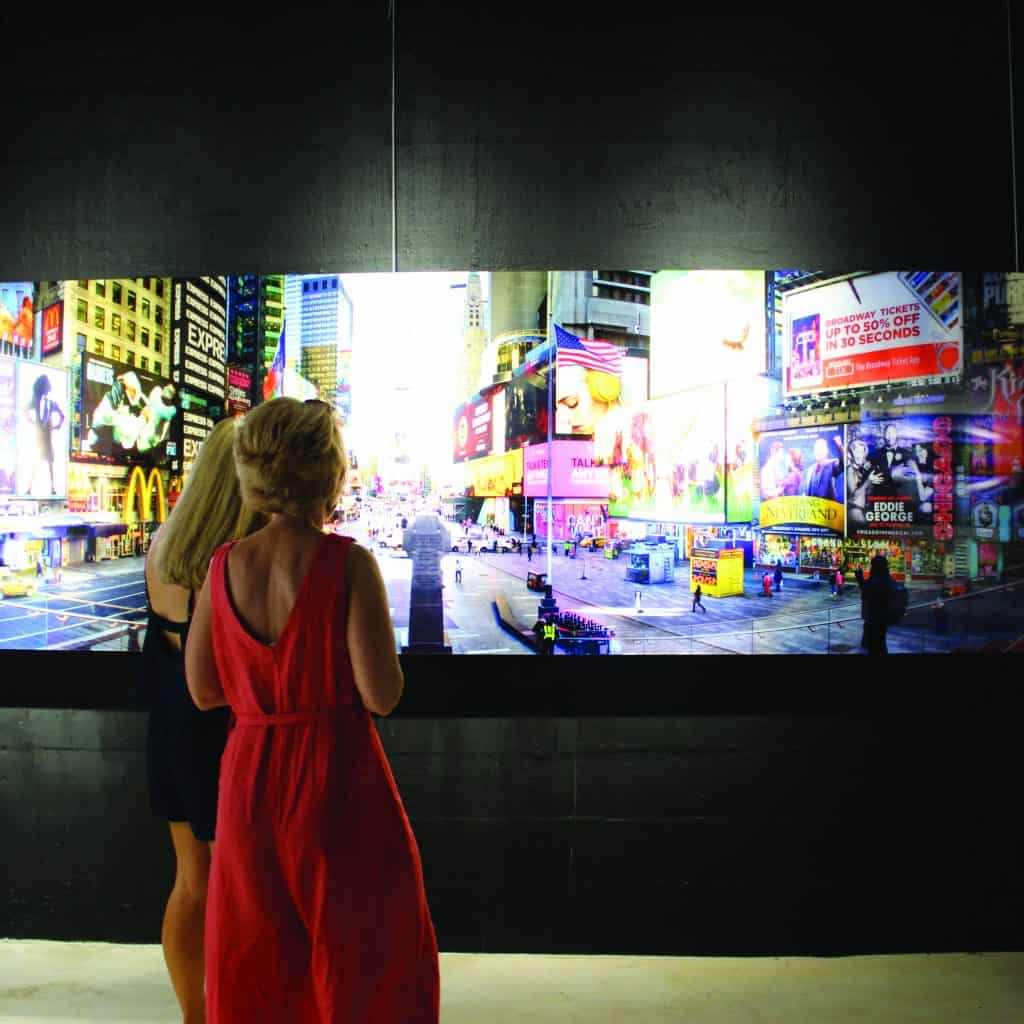 "They told me I could travel anywhere on the globe I wanted to visit," he said. "At the age of 40, I began a bucket list of places to go."
He shot more than 800 pieces in about two-and-a-half years. It became the largest fine art photography transaction in Canadian history.
So why Memphis?
"Derek's brother, Richard Stern, president of Olymbec Corporate Group, and I are childhood friends," said Dankoff while taking a short break from the flow of visitors waiting to talk to him about the massive photographs. "Derek is the vice president of Olymbec, is an amateur photographer, and is licensed to fly planes and helicopters, so we travel the world quite often together."
Olymbec owns, operates and manages a diverse portfolio of industrial, office, retail, and residential properties in North America. Headquartered in Montréal and Memphis, the company owns real estate in key markets across Québec and the United States including, Dallas, Atlanta, Nashville, Las Vegas, Cincinnati, Dayton, Columbus, St. Louis, Hartford, Indianapolis, Omaha, and West Virginia. Among their Memphis properties is the building at 80 Monroe Avenue, formerly the B. Lowenstein & Brothers Building that housed Lowenstein's Department Store until the late 1960s. The building was renamed Brinkley Plaza after elaborate renovations were made by a new owner prior to acquisition by Olymbec.
"While visiting Memphis on a trip with Derek, I saw the building and knew this would make an amazing gallery," said Dankoff. "I immediately fell in love with Memphis and wanted to become a part of the city."
Jason and Jordana Berger also fell in love with the city when they moved to Memphis in 2016 to operate Olymbec USA headquarters. Mr. Berger serves as executive vice president and Mrs. Berger oversees general management and human resources. The two immediately became immersed in Jewish Memphis.
"The incredible sense of the Jewish community differentiates Memphis from any other place we have lived," said Mrs. Berger. "The Jewish community really cares about each other and will do anything possible to assist anyone at any time. The quality of life in Memphis is excellent. We feel that our two daughters are growing up with strong Jewish values, a love for Israel and an understanding of what it means to be a part of a community. We have found that much like ourselves, there are many other young Jewish families with no ties to Memphis and no family close by. These friends have become our Framily (friends who are family), and we all assist each other with the challenges of parenting in the modern world. We are proud Memphians. This city has so much to offer, and we are excited for what the future holds both for us and the city."
In addition to donating proceeds from the grand opening of Kandy Gallery, Olymbec USA became a corporate sponsor of the 2019 Taste of Israel, a signature event of Jewish Community Partners (JCP), the umbrella organization that oversees Memphis Jewish Federation and Jewish Foundation of Memphis.
"Olymbec USA LLC is proud to be a responsible corporate citizen, and to give back to the community," said Mr. Berger.
"We're delighted to have found such a generous corporation and caring family, and I'm proud we were able to help welcome them to Memphis," said JCP's Fundraising & Database Analyst Abbey Cowens, who was instrumental in connecting the Bergers and Olymbec USA to Memphis Jewish Federation.
The gallery is open 8 am until 6 p.m. or by appointment and is available for events by calling 901-398-2093 ext. 7005 or 7055.
Total Page Visits: 1099 - Today Page Visits: 4
Tags:
Abbey Cowens
,
Jewish community
,
Jewish Community Partners
,
Jewish Community Partners staff
,
Jewish Federation Memphis
,
Jewish Foundation of Memphis
,
Jewish life in Memphis
,
Jewish Memphis
,
Jews in Memphis
,
Kandy Gallery
,
Kandy Gallery Memphis
,
Memphis Jewish Community
,
Memphis Jewish Federation
,
Memphis Jewish Foundation
,
Memphis Jewish life
,
Memphis Jewish Population
,
Memphis Jews
,
Neil Dankoff
,
Neil Dankoff photography
,
Olymbec
,
Olymbec inc
,
Olymbec Memphis