People
Faces of Memphis and Shoham: David Bearman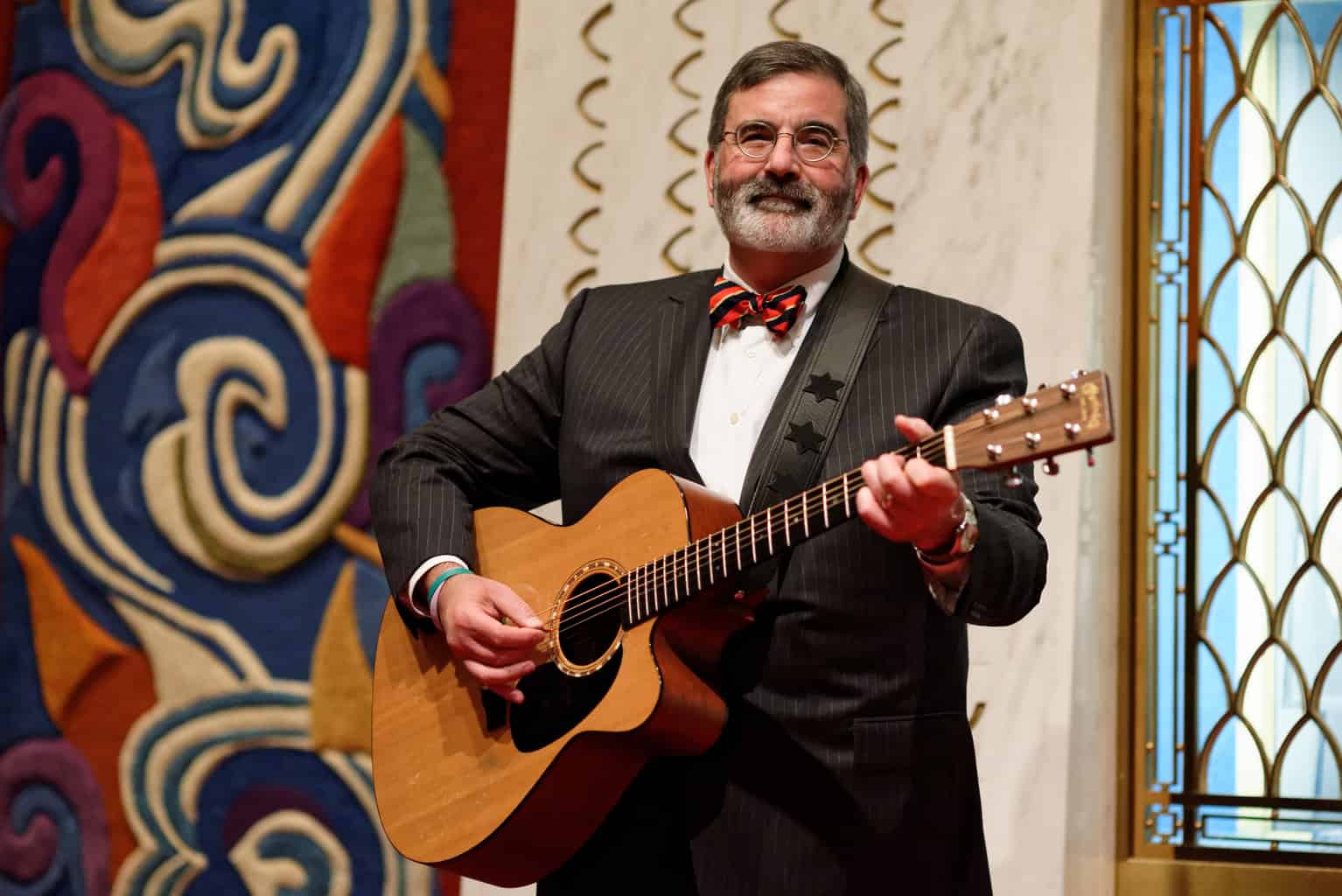 Part of Memphis Jewish Federation's ongoing efforts to connect Memphis and Israel, the 70 Faces of Memphis and Shoham project was designed to form real connections between the people of Jewish Memphis and the people of Shoham, Israel, Memphis's partner city through the Jewish Agency for Israel's Partnership 2Gether program. The project serves as a way to connect Jewish Memphians to each other by showcasing their unique character and contributions to the community.
Interview and photo by Amir Sharabi
I'm a sixth-generation Memphian; one of my ancestors was a signer of Temple's charter in 1864. I have been a member of Temple Israel all my life.
I took guitar lessons as a kid, but then stopped playing. In junior high school, I picked it up again and have continued since then. Before I graduated from college, I thought that I could be a full-time musician because I was thinking, at the time, that I'm pretty good.  So, one day I went to a bar in Superior Wisconsin, and there was a band playing on the stage. The guitar player was a young boy, not even old enough to be in a bar. He was so much better than I was, and he made me rethink my career as a musician. 
When I was a student in Minnesota, there wasn't a Jewish organization to be part of, so for several years I wasn't involved. I was dating my girlfriend, who was raised Catholic, back then, and she was thinking of converting to Judaism. It seemed right to be more active myself, so we started going to services weekly and having Shabbat dinners and such. Eventually, my kids attended synagogue weekly. My oldest daughter became a rabbi, and she's now serving as Rabbi of Temple B'nai Chaim in Georgetown, Connecticut.
At Temple Israel, I try to be available whenever they need a guitar player. There was a group named Ruach (spirit) that Rabbi Greenstein started about 15 years ago, designed so that younger people would bring in more contemporary Jewish music. Really, the music was a way for me to be more connected to the service through feeling and spirituality, and if it helps other people, that's fabulous!
Nowadays, I sometimes will play by myself in services, sometimes with other musicians. Sometimes I'll be part of a group that supports singers who are coming to town. It is challenging to play different styles, but is a lot of fun at the same time.
I also taught Sunday school for twenty-one years. I have been Temple's attorney for seventeen years. I hope my years of service have been as rewarding to Temple as they have been for me. I appreciate the trust that the Temple and the people put in me.
The Temple Community is very important to me. I'd like to think that we are open, inclusive, welcoming, and tolerant, and that our door is open to everyone. I think that everybody here experiences Judaism in a different way and that hopefully, everyone can get something from the services here.
My family members belong to Baron Hirsch, Beth Sholom, and Temple. I think that while everyone has a different view on Judaism, it is more important to find what is held in common for all of us and be focused on that.
Total Page Visits: 3922 - Today Page Visits: 2
Tags:
70 Faces of Memphis
,
70 Faces of Memphis and Shoham
,
David Bearman
,
Jewish Community Partners
,
Jewish Community Partners staff
,
Jewish Federation Memphis
,
Jewish Foundation of Memphis
,
Jewish life in Memphis
,
Jewish Memphis
,
Jewish philanthropy
,
Jews in Memphis
,
Memphis Celebrates Israel at 70
,
Memphis Jewish Community
,
Memphis Jewish Federation
,
Memphis Jewish life
,
Memphis Jewish Population
,
Memphis Jews