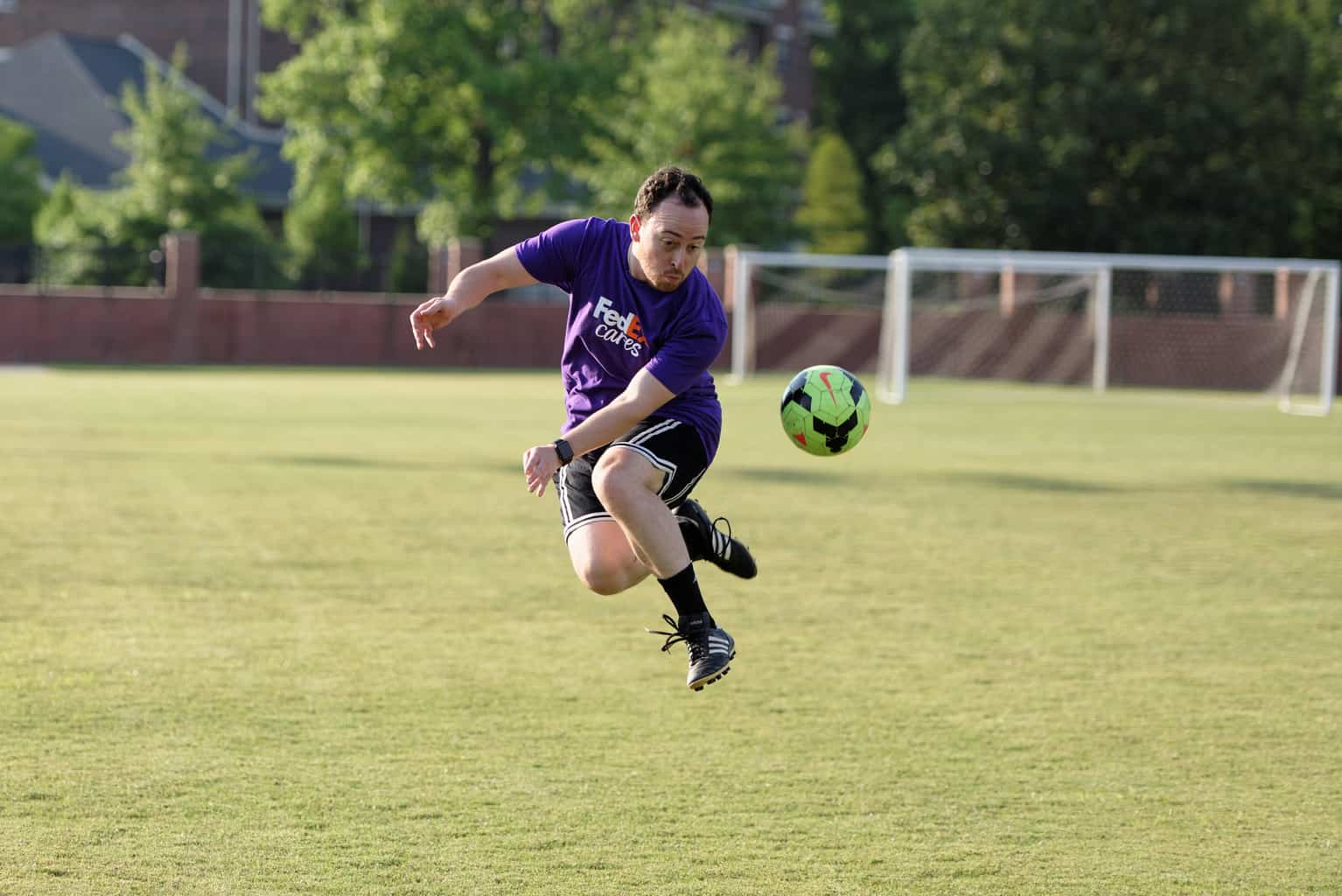 Part of Memphis Jewish Federation's ongoing efforts to connect Memphis and Israel, the 70 Faces of Memphis and Shoham project was designed to form real connections between the people of Jewish Memphis and the people of Shoham, Israel, Memphis's partner city through the Jewish Agency for Israel's Partnership 2Gether program. The project serves as a way to connect Jewish Memphians to each other by showcasing their unique character and contributions to the community.
Interview and photo by Amir Sharabi
Meet Daniel: I brought the purple FedEx shirt – "FedEx cares" – because I care. I'm 27 years old, from Crystal Springs, Mississippi. I was the only Jewish kid in town, like in Adam Sandler's Chanukah song. My parents came from the northeastern part of the US, but my father's profession as an agriculture researcher brought them to Mississippi.
I was always active in sports, but because of my speed, foot skills, and size, soccer was the better fit for me, so I've been playing it continuously since I was five years old. My hometown didn't have a JCC, so when I came to Memphis I excitedly visited the MJCC in the first week. I was very impressed with everything that the MJCC has to offer, and I approached the front desk and told them that I'm interested in volunteering to coach soccer. Moving forward, they got me with a team three days a week. I've coached this team three years in a row, and I've seen some of them grow from third to sixth grade.
Currently I'm taking a break from coaching, and I'm busy with multiple other community related functions. I serve as an adviser on the Hillel board at the University of Memphis. I'm using my experience as one of the Hillel founders at Mississippi State University, the first ever Jewish group at MSU, that started with about ten students and it's about twenty-five students now.
I'm a member of ConnecTI, a young professional group at Temple Israel. I'm also teaching at the Temple Sunday school and preparing Bnei Mitzvah to give their Dvar Torah, and playing piano for Temple Israel's Unplugged Shabbat group.
I'm the chairman of a group in FedEx for young professionals. I got involved in the building committee. After a survey, we decided to get a fitness center for the employees. It looks like the best return on the money for employee morale, stress relief, and better health. Eight months ago we started from nothing; today we have 700 people registered for the fitness center. It opened in May, and now I see pilots, engineers, maintenance people, and other parts of the employee community meeting in a casual environment. Today, people know me around as the Gym Guy.
For me, a community is a cohesive group of like-minded people who are pushing in the same direction for common goals. You need people who are volunteering to help this organization or community to move forward toward those goals. I like a quote from my university president: "You never know what stands on the other side of an opportunity, so when you have an opportunity, take it."
Total Page Visits: 3435 - Today Page Visits: 1
Tags:
70 Faces of Memphis
,
70 Faces of Memphis and Shoham
,
Daniel Snyder
,
Jewish Community Partners
,
Jewish Federation Memphis
,
Jewish Foundation of Memphis
,
Jewish life in Memphis
,
Jewish Memphis
,
Jewish philanthropy
,
Memphis Celebrates Israel at 70
,
Memphis Jewish Community
,
Memphis Jewish Federation
,
Memphis Jewish life
,
Memphis Jewish Population
,
Memphis Jews