Arts & Culture
Despair and Depression Hang on the Guarded Gates: JCP Connects Young Poets to Memories of the Holocaust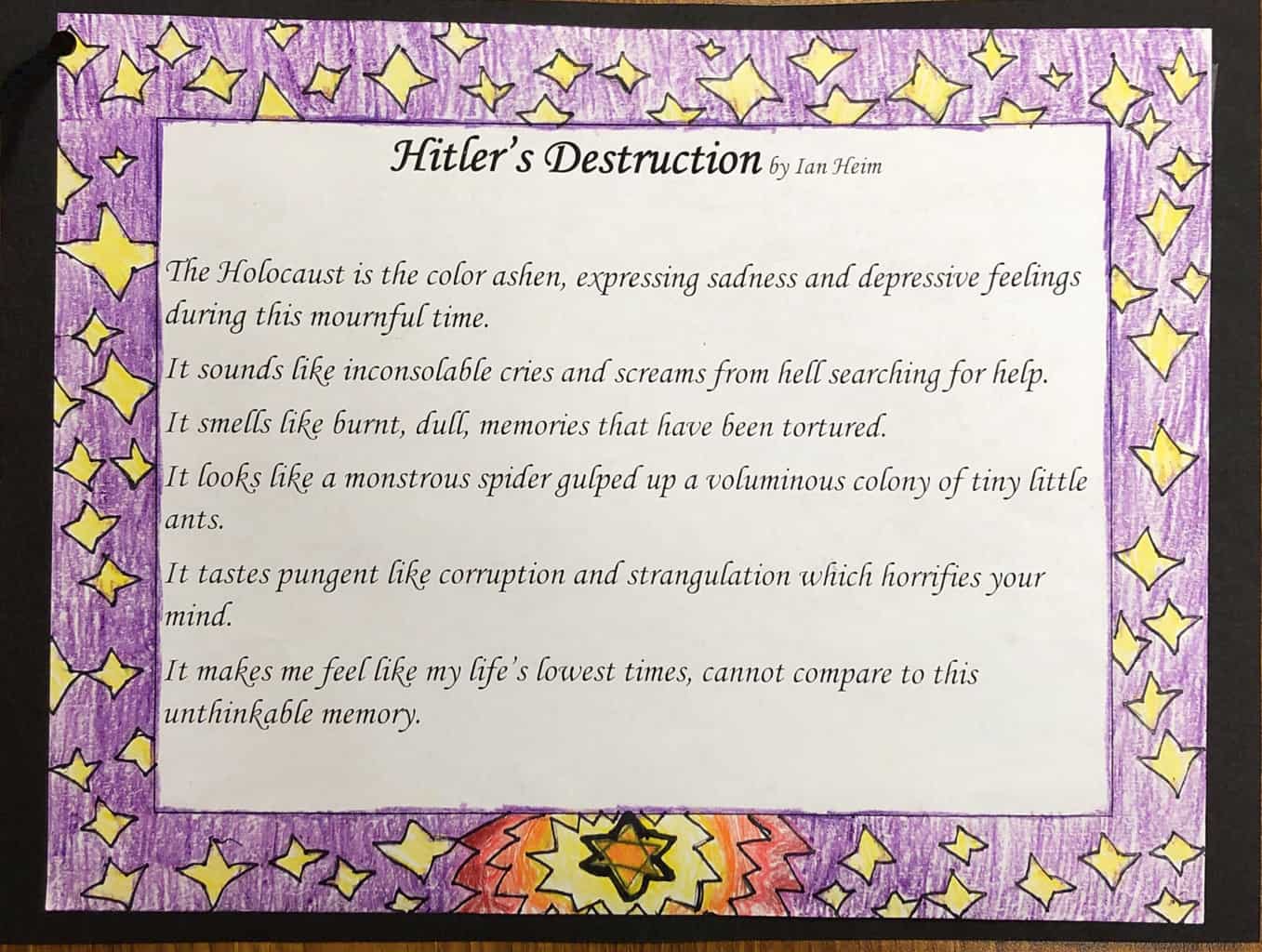 By Gila Golder
Despair and depression hang on the guarded gates, while the beating wind often knocks the people down into the muddied waters of tears.
More people should have helped fight for the Jews' freedom.
These impassioned words are taken from poems written by young students in Memphis who learned about the Holocaust in school— and from someone who experienced the atrocities firsthand.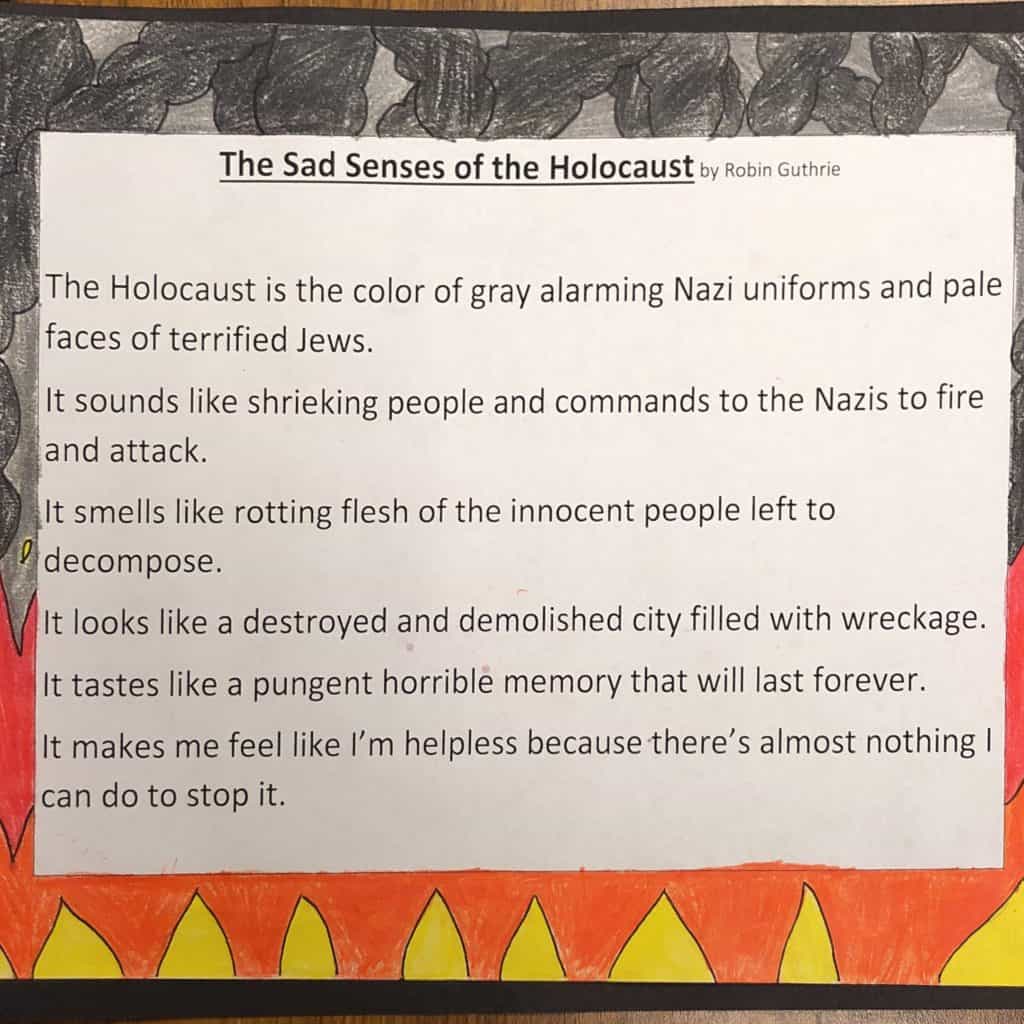 Karen Cooperman, a teacher at Riverwood Elementary, reached out to Jewish Community Partners for help connecting with a Holocaust survivor who could speak to her students. We arranged for 99-year-old survivor Sam Weinreich to come to the school to share his story.
"Sam Weinreich at 99 touched the souls of 10 and 11 year olds in a way that they will never forget," said Ms. Cooperman. "He inspired deep thoughts about the true meaning of the Holocaust and the mark that it left on our world."
The impact of Sam's personal interaction with the students can be seen from the poetry they chose to write in response, as they struggled to make sense of the tragedy of the Holocaust.
It makes me feel like my life's lowest times cannot compare to this unthinkable memory.
The students illustrated their poems with poignant imagery, including fire, smoke, and ash; tombstones; and yellow stars.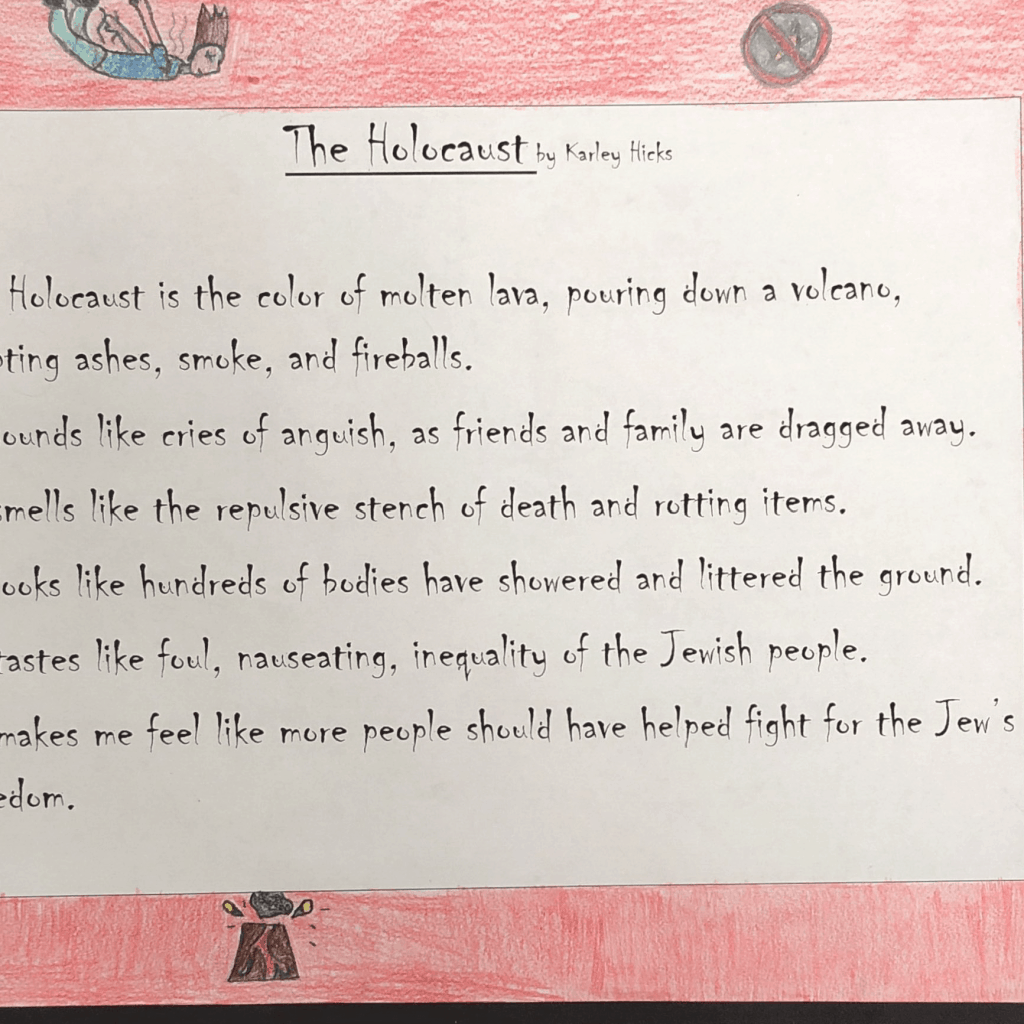 More student artwork was on display last week at the MJCC in advance of Memphis Jewish Federation's 57th Annual Yom HaShoah Commemoration. MJF's annual Holocaust Art and Essay Competition drew entries from a diverse array of schools in the Mid-South. Students responded to the theme "Sustaining Culture and Community: The Many Faces of Resistance in the Warsaw Ghetto," drawing from historical source materials to create thoughtful, evocative artwork and essays. Over 500 people viewed the art exhibit, heard 12th grade Nashville student Jake Bengelsdorf read his first-place essay, and listened to the firsthand story of another survivor, 86-year-old Rachel Goldman Miller, who came in from St. Louis for the observance.
JCP has organized speaking engagements like the one at Riverwood for other schools in the past, and continues to serve as a resource for local teachers interested in bringing Holocaust education to their students in a dynamic way. Survivors and second-generation survivors are available to speak; in one instance, JCP arranged for a second-generation survivor to speak over Skype to students in a Gulf Coast area school. The annual Holocaust Art and Essay Competition is another way for teachers to engage students in intensive study of the Holocaust.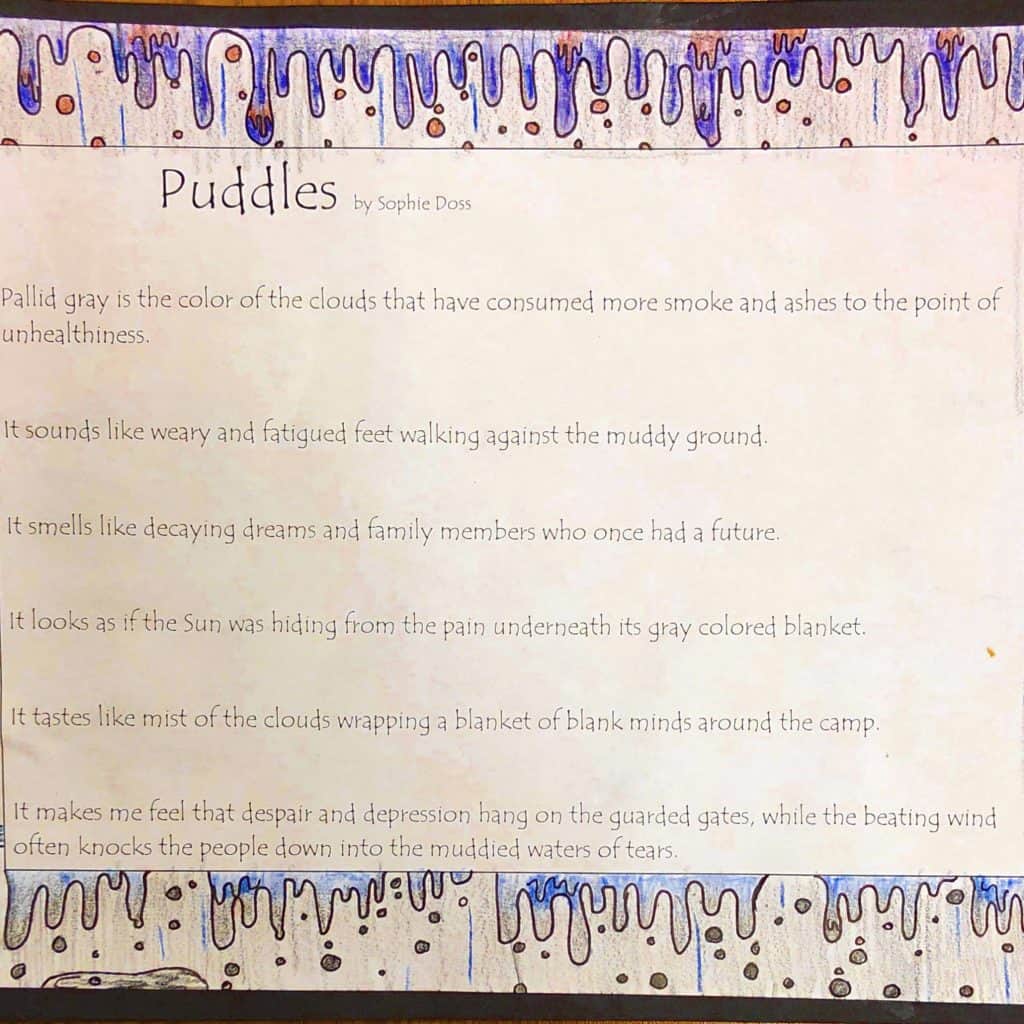 "I find this contest such a great teaching opportunity," enthused Hal Harmon, a teacher at Snowden School whose students participate in the contest annually. "I am honored to know we have had winners for the past two years!" This year, one of his 8th graders, London Ibrahim, took home the 3rd place award for her painting, while Snowden student Noah Broadway won 1st place in last year's contest.
For more information about the Holocaust Art and Essay Contest, or to arrange for a survivor to speak to students about the Holocaust, contact Gila Golder at ggolder@jcpmemphis.org.
Total Page Visits: 2124 - Today Page Visits: 3
Tags:
Jewish community
,
Jewish Community Partners
,
Jewish Community Partners staff
,
Jewish Federation Memphis
,
Jewish Foundation of Memphis
,
Jewish life in Memphis
,
Jewish Memphis
,
Jewish philanthropy
,
Jews in Memphis
,
Karen Cooperman
,
Memphis Jewish Community
,
Memphis Jewish Federation
,
Memphis Jewish Federation Campaign
,
Memphis Jewish Foundation
,
Memphis Jewish life
,
Memphis Jewish Population
,
Memphis Jews
,
Riverwood Elementary