News
Religious Hate Harms People of All Faiths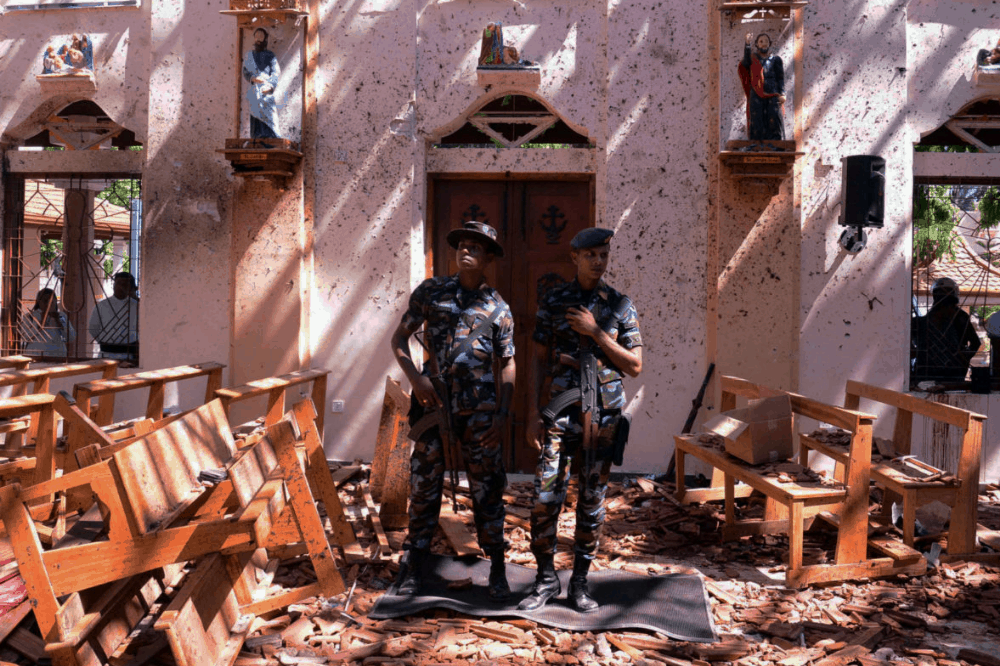 We were horrified by the news over the weekend of the attacks on Christian worshipers in Sri Lanka on Easter Sunday, the latest global example of religiously motivated violence. The bombings, which killed almost 300 people and injured more than 500, are being attributed to the National Thowheed Jamaath, a local Islamist militant group, with suspected international assistance.
Sadly, this large-scale episode of hate-based violence was not an isolated example. Last October, a gunman killed eleven and injured seven in the deadliest attack on the Jewish community in the United States at Tree of Life Synagogue in Pittsburgh. Last month, two consecutive terrorist attacks at mosques in Christchurch, New Zealand, targeted Muslims, killing 50 and injuring 50 more. This month, anti-Semitic incidents in Russia, France, Poland, and Canada are stark reminders that religiously motivated violence continues to be a global concern.
We share the sentiments of Jewish Federations of North America, who released this statement earlier today: "Our houses of worship of all faiths must be safe and welcoming spaces for all. Our deepest condolences go out to the families of those who were slain and the communities who are grieving. Our prayers go out to those who are recovering from injuries. We must not rest until this hate is ameliorated from our world – completely."
Sri Lanka attacks
Explosions at churches and hotels in Sri Lanka killed 290 people and injured more than 500 on Easter Sunday.
The government says the attack was carried out by the National Thowheed Jamaath, a local Islamist militant group whose name roughly translates to National Monotheism Organization. The Sri Lankan prime minister says elements of the government had prior intelligence about the attacks.
At least a dozen of the dead were foreigners, including from Britain, India, Japan, and the United States.
Russian Yeshiva arson
On Friday, an arson fire was set at Moscow's largest yeshiva, Yeshiva Torat Chaim, as people were gathering for a Passover meal celebration. Swastikas were also spray painted on the seminary. No one was reported injured in the fire in an eastern Moscow suburb.
Moscow's chief rabbi's office says the fire was set in a storage area for kosher meat and that swastikas were drawn at the yeshiva's entrance. There were about 60 students, rabbis, and guests there at the time.
French anti-Semitic stabbing
A man in northern France said he stabbed his neighbor because he "wanted to kill a Jew."
The attack in the northern French town of Bourdon and was first reported on April 8. The 58-year-old victim was stabbed 15 times, injuring his liver and gallbladder. He was saved by a friend, who was with him at the time of the assault, who came between the victim and the attacker.
The attacker, 18, told witnesses that he "wanted to kill a Jew." According to the report, the victim is not Jewish.
He was indicted for attempted murder due to race or ethnicity.
Jewish Effigy in Poland
During an Easter ritual residents of the southeastern town of Pruchnik, among them children, beat and burned an effigy on Good Friday. The figure was made to look like a stereotypical Jew and was hanged and burned in a Polish town as part of an Easter ritual.
Residents, among them children, beat and burned the effigy in on Good Friday.
Many Poles also expressed their disgust at the revival of this anti-Semitic ritual, contrasting photos of the recent ritual with photos showing similar scenes playing out in the years leading up to World War II.
Assault and vandalism in Canada
A woman was assaulted and a Winnipeg restaurant was vandalized Thursday.
The inside of the restaurant was almost entirely destroyed, with plates and glasses smashed to pieces, tables and chairs flipped over and other items scattered across the floor. Anti-Semitic graffiti was also spray-painted on the walls. The same restaurant has been targeted with similar crimes four times in the past five months.
"It's the most brazen act of anti-Semitism that we've seen in our community, and perhaps ever. We hope this is not a sign of things to come," said Adam Levy, communications director of the Jewish Federation of Winnipeg.
Total Page Visits: 1498 - Today Page Visits: 1