Arts & Culture, News
Persona Non Grata: Tennessee Film Premiere Tells Untold Holocaust Story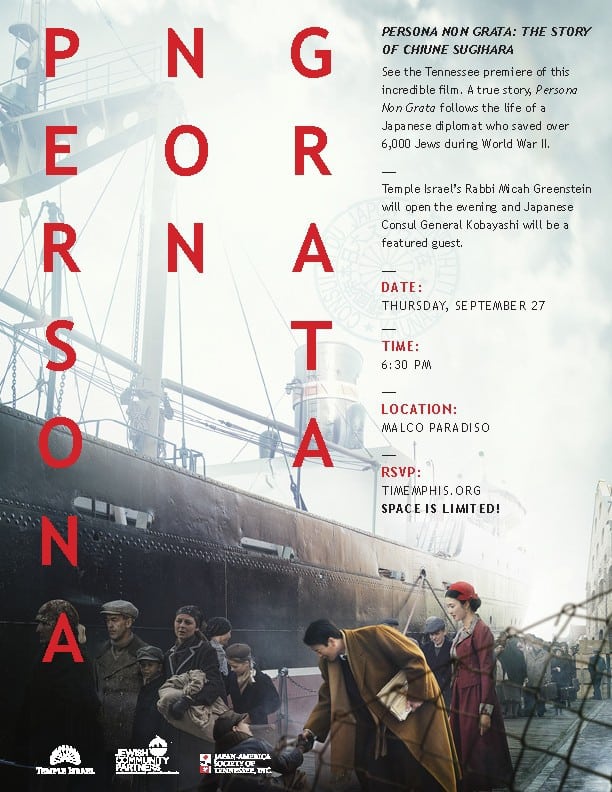 During the chaos of the Second World War, a Japanese diplomat working in Lithuania concocted a desperate plan to save as many Jews as he could, ultimately securing the safety of some 6,000 Jewish refugees. A powerful film depicting this important but lesser-known story will have its Tennessee premiere at an upcoming event at Malco's Paradiso Cinema, co-sponsored by Temple Israel, Jewish Community Partners, Japan-America Society of Tennessee, Inc., and the City of Memphis. The screening is part of Japan-Tennessee Week celebrations in Memphis.
Persona Non Grata: The Story of Chiune Sugihara will be screened Thursday, September 27, at 6:30 P.M., at Malco's Paradiso Cinema, after a brief program featuring Temple Israel Rabbi Micah Greenstein and Japanese Consul-General Kobayashi.
Risking not only his prestigious job but also his family's very lives, Vice Counsel Chiune Sugihara ignored restrictions enacted by his government and issued visas to an estimated 6,000 Jews, allowing them to flee the Nazi occupation of Eastern Europe to Japanese territory, and on to freedom.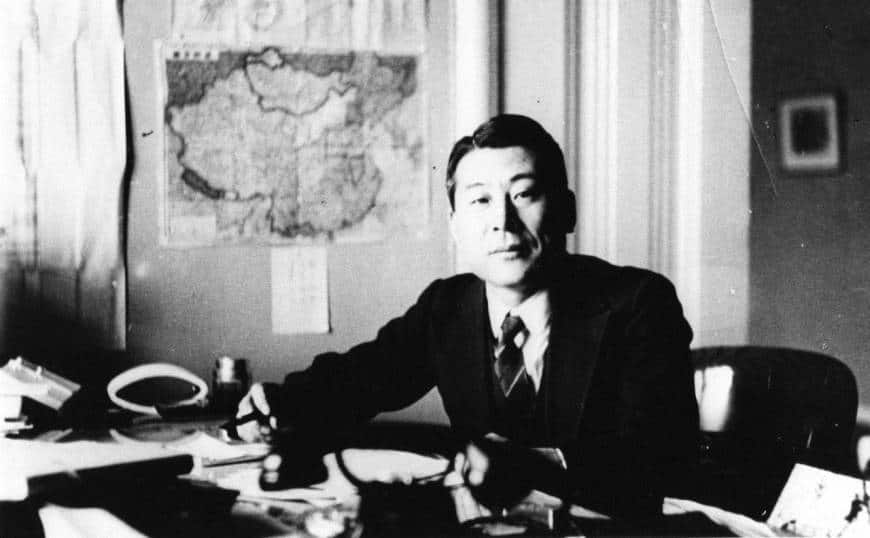 "While serving in Lithuania in 1939-1940, a Japanese diplomat, Chiune "Senpo" Sugihara made a vitally important decision, even at the risk of losing his job, to save the lives of more than 6,000 Jewish people," marveled Japanese Counsel-General Kobayashi, who will offer thoughts in a short appearance before the screening of the film. "As a fellow Japanese diplomat, and even more so as a human being, I myself am deeply moved, inspired, and encouraged by his humanitarian beliefs and actions. I am looking forward to viewing this film together with new friends in Memphis."
Sugihara hand-wrote visas, spending 18–20 hours a day on them and producing a month's worth of visas each day, until he was forced to leave his post before the consulate was shuttered in 1940. By then he had granted thousands of visas to Jews, many of whom were heads of households and legally permitted to take their families with them. According to witnesses, he was still writing visas as he traveled from his hotel and after boarding the train, throwing visas into the crowd of desperate refugees from the train's window as it pulled away.
In 1985, the State of Israel honored Sugihara as one of the Righteous Among the Nations for his actions. He is the only Japanese national be so honored.
"In an age of bad stories and even fewer role models, the unbelievable story of Sugihara is both inspiring and reassuring," said Rabbi Greenstein. "This Japanese diplomat saved thousands of Jewish strangers from death even when his country was an ally of the Nazis. He exceeded Oskar Schindler's daring deeds but unlike Schindler, went unnoticed until now. Temple is honored to co-host the movie premier of Sugihara's life as the kickoff to Japan-Tennessee week in Memphis. Just as we welcome guests into the Sukkah for our fall festival, so do we warmly welcome dignitaries, the Japanese-American community, and the entire community to Temple for this historic evening."
Laura Linder, President and CEO of Jewish Community Partners, sees the event as a wonderful example of community collaboration, not only within the Memphis Jewish community, but across cultures.
"This event was brought to our attention by long-time supporter Arnold Perl," said Linder. "Through his deep and meaningful connections to the nation, government, and people of Japan, as well as his decades-long relationships with both Temple Israel and JCP, he was able to connect these disparate groups and create a deeply meaningful event for Memphis, and Jewish and Japanese/Japanese-American Memphians in particular."
The event is sold out. 
Total Page Visits: 8782 - Today Page Visits: 2
Tags:
Chiune Sugihara
,
JCP Memphis
,
Jewish Community Partners
,
Jewish Foundation of Memphis
,
Jewish Memphis
,
Memphis Holocaust remembrance
,
Memphis Holocaust survivors
,
Memphis Jewish Community
,
Memphis Jewish Federation
,
Memphis Jewish life
,
Memphis Jewish Population
,
Memphis Jews
,
Sugihara
,
Temple Israel
,
Vice Counsel Sugihara