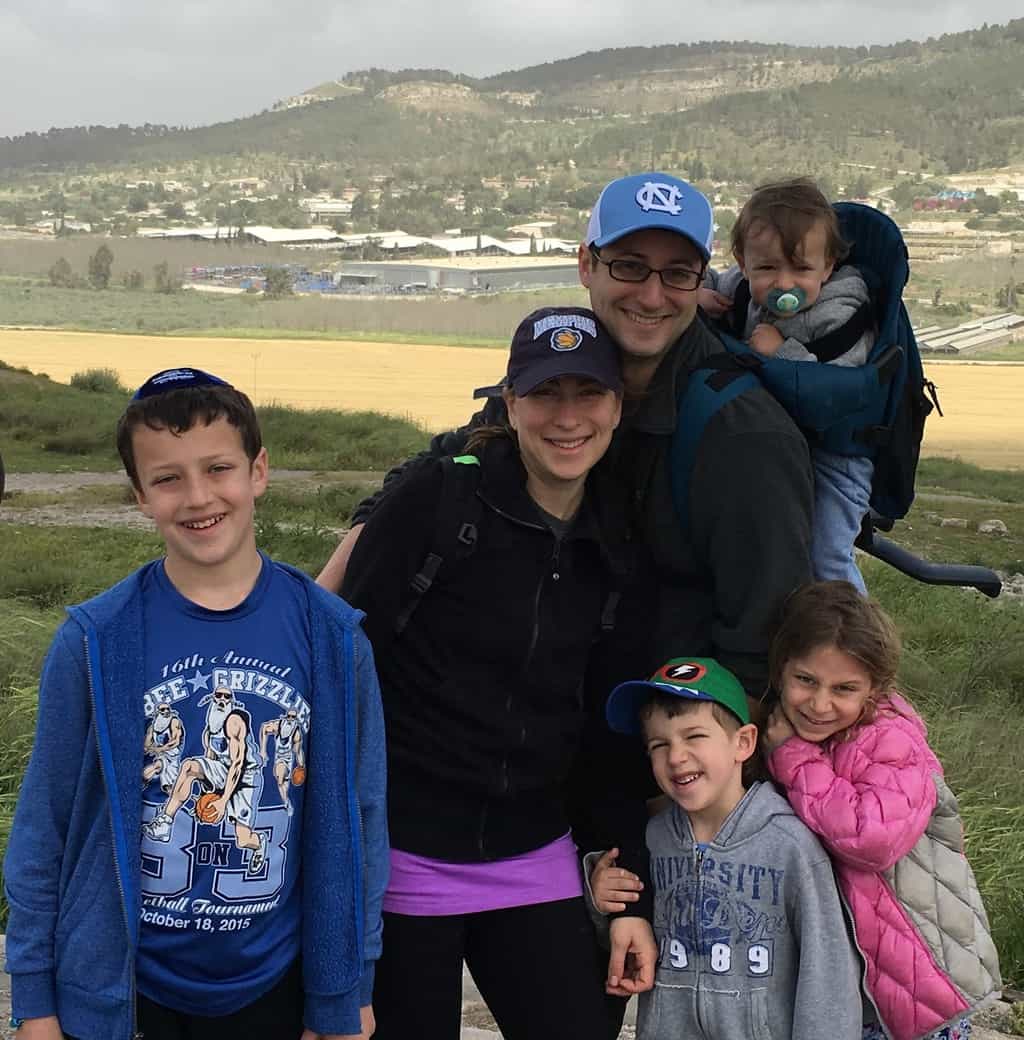 We're marking the 70th anniversary of the founding of Israel with a year-long celebration! Keep an eye out for "Memphis Celebrates Israel at 70" branding at your synagogue, at events around town, and online. In this My Israel Story series, we're asking Memphians to tell their personal Israel stories. Do you have a story to tell?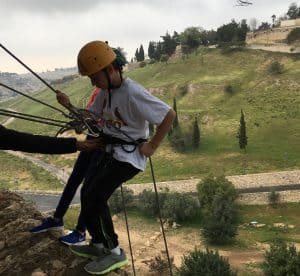 My husband and I embarked on a trip of a lifetime. We left Memphis on March 26, 2018 with six carry-ons, four kids, four suitcases, three car seats, two strollers, and one hiking backpack. It took three flights and three days until we arrived at our final destination – Ben Gurion airport in Tel Aviv, Israel. Not only did we make it, but our luggage did too!
We know we are crazy for traveling almost 7,000 miles with four young children but Israel has been calling for us. My husband had not been to Israel since his gap year between high school and college. I have a brother in Israel who I had not seen in ten years and never met five of his eight children. My husband had been saying we had to go since we got married but it always seemed impossible. First he was in medical school and residency and had no time off. Then we had children. If we went alone, who would watch our kids? If we take the kids, how do we manage the logistics and cost? But he was adamant that it was time. The question was when and how. We decided on Passover 2018.
In ten days, our family walked, hiked, swam, climbed, rappelled, rode in Jeeps, drove ATVs, ate delicious food and prayed. There is no way to squeeze our experiences into 500 words for an article so we will share some highlights from our four children.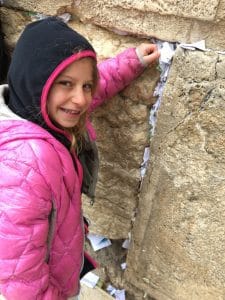 Ethan, age 9. "Rappelling 70 feet off a cliff into Gai Ben Hinnom, which is the Hinnom Valley surrounding the walls of the Old City of Jerusalem. Even though it was raining and slippery, it was the coolest thing I've ever done."
Nava, age 7. "In Jerusalem we got to go to the Kotel. I put a letter in the Wall and I hope my wish comes true. I also loved how much kosher food there was in Israel. Eating kosher for Passover chicken nuggets at McDonalds was really cool and seeing all the kosher gummy candy in Machane Yehuda was awesome. I wanted to bring it all home with me to Memphis!"
Ezra, age 4. "Going in the Dead Sea was my favorite. I thought I would be scared but I just floated on my back!"
Eli, 18 months. Who knows? Probably being carried in the hiking backpack while the rest of us were exhausted!
As parents, it was incredible to see the love our kids have for Israel. The value of our kids' Jewish day school education was apparent everywhere we went! They ordered food in Hebrew, gave tzedakah willingly, and felt comfortable davening at many holy sites. While traveling with 4 kids was quite the endeavor, it was worth it. My husband was right (although it's rare!) that Passover 2018 was our time to visit Israel.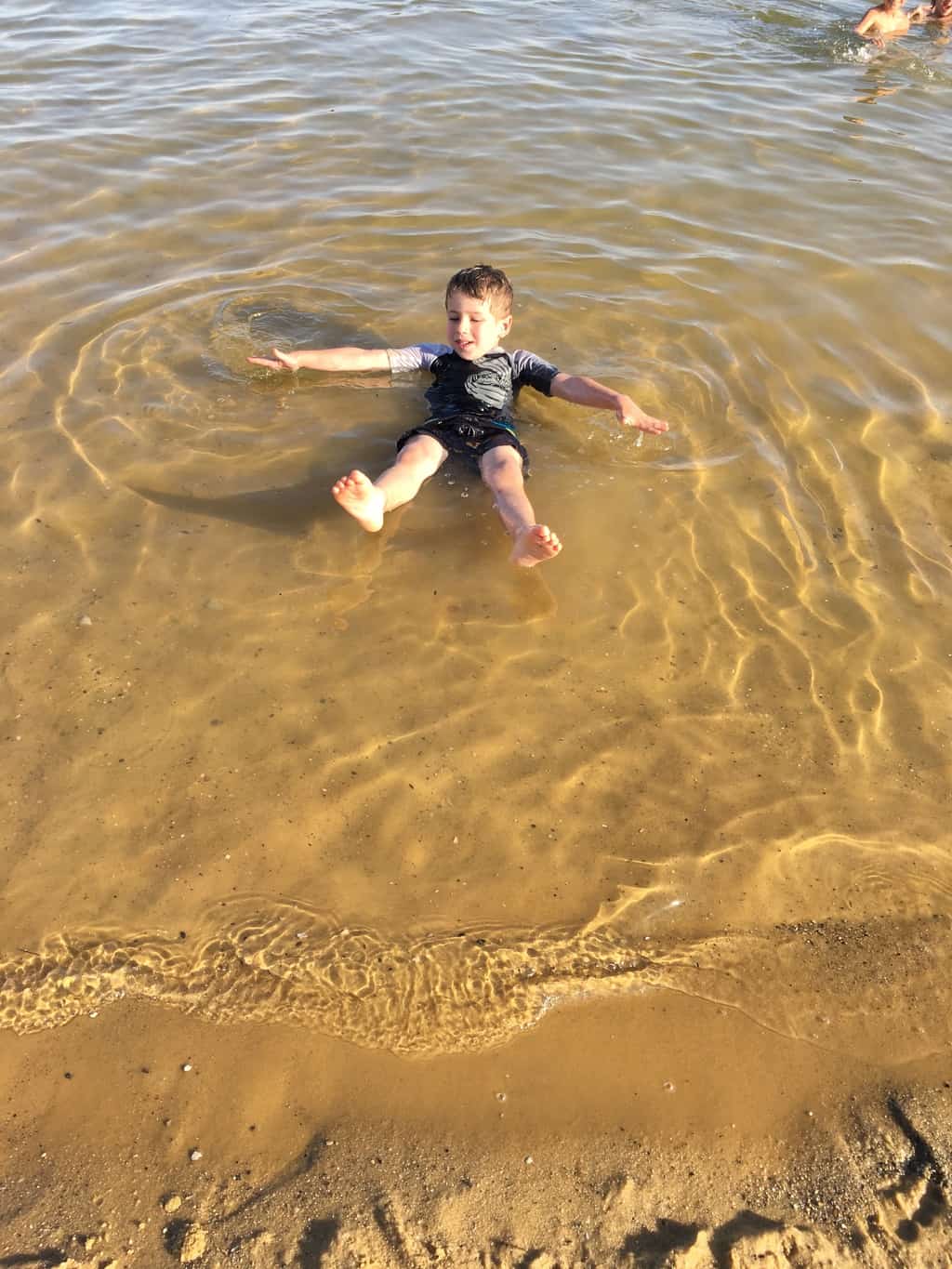 1544total visits,1visits today
Tags:
JCP Memphis
,
JCP Staff
,
Jewish Community Partners
,
Jewish Community Partners staff
,
Jewish Foundation of Memphis
,
Jewish Memphis
,
Memphis Celebrates Israel at 70
,
Memphis Jewish Community
,
Memphis Jewish Federation
,
Memphis Jewish life
,
Memphis Jewish Population
,
Memphis Jews
,
Memphis to Israel
,
Memphis to Jerusalem
,
My Israel Story
,
Noam VanderWalde
,
Sarah VanderWalde