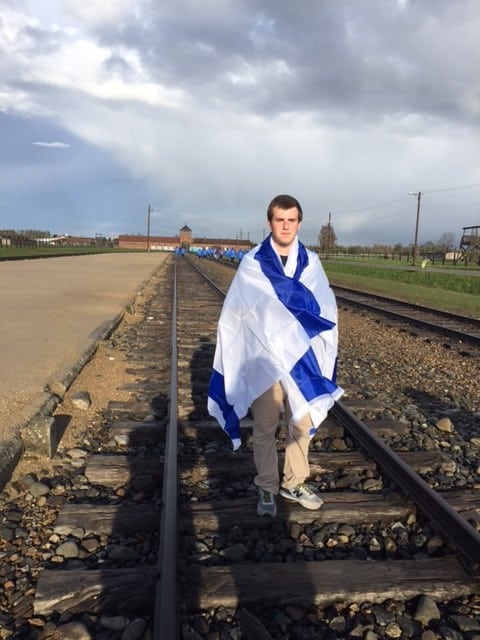 We're marking the 70th anniversary of the founding of Israel with a year-long celebration! Keep an eye out for "Memphis Celebrates Israel at 70" branding at your synagogue, at events around town, and online. In this My Israel Story series, we're asking Memphians to tell their personal Israel stories. Do you have a story to tell?
Last summer, I had the opportunity to go on March of the Living. I had no idea what to expect when I boarded the plane to Poland. These are a few of my experiences as I recorded them in my journal…
I was more mad than sad when I saw Auschwitz and Birkenau. What I don't understand is how one man could gain all this power and create so much hate that he could delegate thousands of people to enforce. That doesn't make sense to me now, and I don't know if it ever will.
Auschwitz was laid out as I imagined it would be. It was brutal to stand in an oven where millions of Jews had been killed. I haven't wrapped my head around how I really feel about all of this yet. I am very glad that I have had the first-hand experience to see the camps that some people refer to as "fake" and "propaganda".
The march yesterday was sadder than I thought it would be. I thought it would be a happy and proud march. Even though I was proud to be marching and it was very powerful and important, I still felt sad as I stood on the land where millions of people had perished. I walked in complete silence the entire time, while others talked or sang. I just thought about how surreal it was that I have the opportunity to march for those who can't, when I've always wanted to do something for the people who suffered in the Holocaust. The March itself, and seeing the concentration camps and death camps, is something I will never forget, and I will take my knowledge and educate those who don't know or don't believe. I have pictures; I have proof. I was there.
The ceremony after the march was meaningful. The speakers were very powerful and intelligent people. The one that stood out most to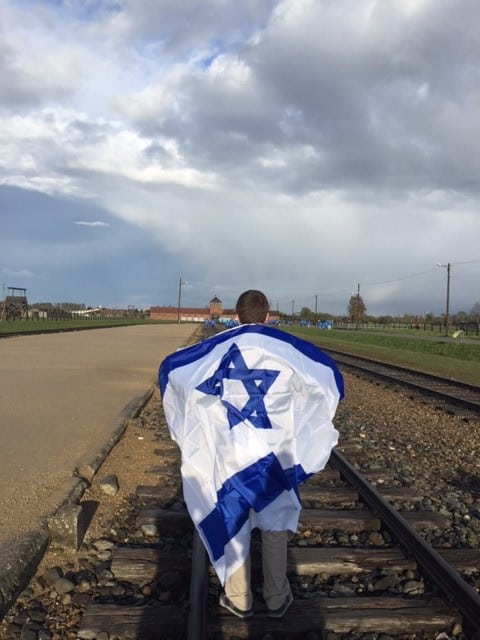 me was the rabbi who spoke at the beginning. He was a previous Chief Rabbi of Israel. I can't remember what he said, but I just remember I was so locked in and his remarks were so moving. The old man who was a survivor was very passionate when he was speaking. He was actually shaking on the stage. He lived through the terrors, and the fact that some people don't believe that the Holocaust really happened makes him so mad. I saw his passion.
It's been a very important and powerful two days, that's how I'd describe it as this point. Majdanek was different from the other camps I saw. It was somewhat scarier. It was a straight-up extermination camp, and they would kill thousands of people every day just because they wanted to and could. One of the worst parts was that the whole town could see in, it wasn't hidden. I don't understand why the people who lived there didn't say anything or believe there was anything wrong with what was happening. They could see smoke rising and watch innocent people get killed every single day. It makes no sense to me how they just sat back and did nothing. This camp is not talked about as much as some of the others, and it is huge and scary. It is filled with crematoria and ovens. The Nazis would gas, burn, and shoot Jews right there in the open. Something that I will always remember were the ashes that were left at the camp. There is a huge memorial of the ashes of about 80,000 people that can be seen by everyone. 80,000 people's ashes are sitting there solely because the Germans didn't have time to get rid of them. The Nazis were cruel in every way, but one way was that they actually convinced the Jews that they were getting showers but then a few minutes later, they would be getting gassed. That's brutal. This camp still had tons of shoes and beds everywhere. It's crazy to think of how much evidence there is and how people can still deny the truth of the Holocaust.
After a long and tough week in Poland, we went to Israel. Israel was truly incredible. Every time I visit, it is totally different. The last time I was there was five years ago. The amount that Israel has changed and developed over the last five years is incredible. We had an eventful schedule planned for Israel. We climbed Masada, swam in the Dead Sea, visited Jerusalem, marched for Israel's independence, celebrated Israel's Independence Day on Ben Yehudah Street in Jerusalem, and much more, all in one week in Israel. We stayed at beautiful locations. My favorite was definitely the one on the Kineret. It was a beautiful hotel located right on the water. Shabbat in Israel was also very special. We got to pray at the Western Wall, the holiest place on earth.
Israel was an incredible experience, and I think this trip might have been the best one I've ever had there. I think it was so great because you go from a sad but important week in Poland, to then see how far the Jewish nation has come today. It was incredible to see how the Jewish people decided to stand up for our rights after all that hatred and horror. I will never forget either part of this trip, as they were both so impactful and made me so proud to be a Jew.
Jason Shwer, the son of Lara and Brian Shwer, is a 2017 graduate of Lausanne Collegiate School. Memphis Jewish Federation's Lemsky Endowment Fund provided him with a Teen Israel Experience grant to help offset the costs of his Summer 2017 BBYO program in Poland and Israel. All rising juniors and seniors in the Memphis Jewish community are eligible for grants of up to $3000 to attend a recognized teen summer program in Israel. Teen Israel Experience applications for summer 2018 are available at www.jcpmemphis.org/lemsky-endowment-fund.
1597total visits,5visits today
Tags:
JCP Memphis
,
Jewish Community Partners
,
Jewish Foundation of Memphis
,
Jewish Memphis
,
Lemsky Endowment Fund
,
Lemsky grants
,
Memphis Celebrates Israel at 70
,
Memphis Jewish Community
,
Memphis Jewish Federation
,
Memphis Jewish Population
,
Memphis Jews
,
Memphis to Israel
,
Memphis to Jerusalem
,
My Israel Story