News, People
Ken Steinberg Elected 3rd Chair of Jewish Community Partners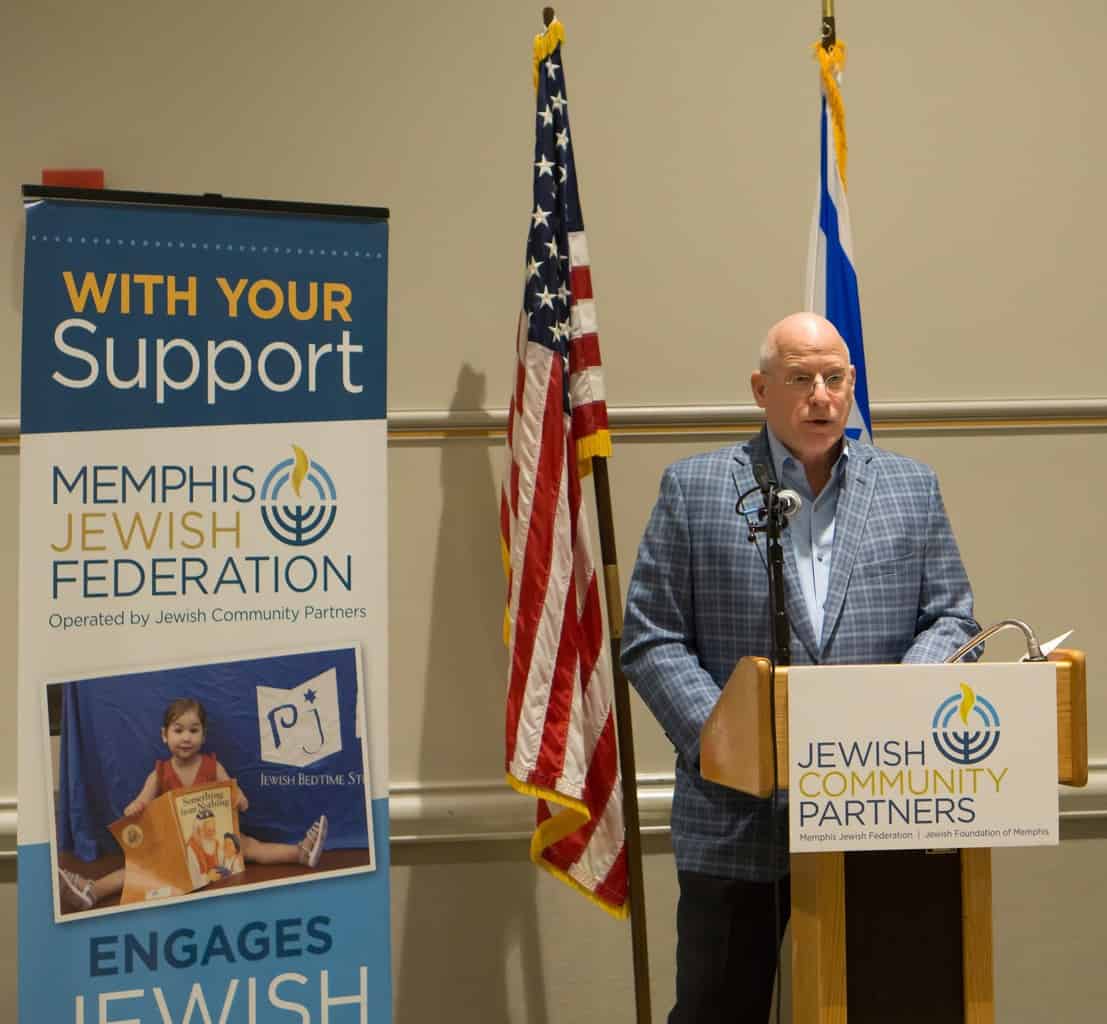 Long-time Jewish communal leader Ken Steinberg was elected the 3rd chair of Jewish Community Partners at its annual meeting, Tuesday, June 18.  Steinberg, a life-long Memphian, served a two-year term as Chair of Memphis Jewish Federation and a one-year term as Chair of Jewish Foundation of Memphis prior to his election to the new role.  
"Ken is remarkable natural leader," stated Laura Linder, President & CEO of JCP. "People are drawn to him and trust him, and he is deeply committed to this Jewish community. I look forward to working with him while he serves in this important role."
Steinberg follows Michael Greenberg who served as JCP Chair for the past two years.
"Ken is taking the helm at an important time in our organization's history," said Greenberg. "We are coming off a record fundraising year exceeding $3.5 million for Federation, the Jewish Foundation will be celebrating its 25th anniversary, we've set up a security infrastructure that we're working hard to sustain, and we are ensuring the most vulnerable members of our Jewish community receive the care and support they need through our efforts to secure permanent funding for Jewish Family Service. Ken is the ideal leader to help guide this important work."
Steinberg's leadership with Memphis Jewish Federation spans decades, and includes serving as campaign chair for three years. In addition, he is a past president of Memphis Jewish Community Center, the Levitt Shell, and has been a long-time board member of Jewish Community Centers Association.
"I am proud to take on this leadership role," said Steinberg. "There are so many great leaders who have come before me who contributed to the strength of our community. I'm ready to continue to carry the torch."
During his term, according to Steinberg, he plans to focus on securing the future of Jewish Family Service and step up JCP's community sustainability efforts with a focus on recruitment and job placement.  
"Memphis is a great place to live – especially if you're part of the Jewish community. We need to make sure we are leveraging our reputation as a great community and attracting families to put down roots here, ensuring our Jewish community continues to thrive."
Also elected at JCP's annual meeting to Chair positions were Cindy Finestone, Memphis Jewish Federation Chair, and Anthony Morrison, Jewish Foundation of Memphis Chair.
Total Page Visits: 1270 - Today Page Visits: 1
Tags:
Jewish community
,
Jewish Community Partners
,
Jewish Community Partners staff
,
Jewish Federation Memphis
,
Jewish Federations of North America
,
Jewish Foundation of Memphis
,
Jewish life in Memphis
,
Jewish Memphis
,
Jewish philanthropy
,
Jews in Memphis
,
Ken Steinberg
,
Ken Steinberg Memphis
,
Memphis Jewish Community
,
Memphis Jewish Community Center
,
Memphis Jewish Federation
,
Memphis Jewish Federation Campaign
,
Memphis Jewish Foundation
,
Memphis Jewish life
,
Memphis Jewish Population
,
Memphis Jews
,
Memphis philanthropy