News
Jewish Foundation of Memphis Featured Among Top Granting Organizations in Memphis, Mid-South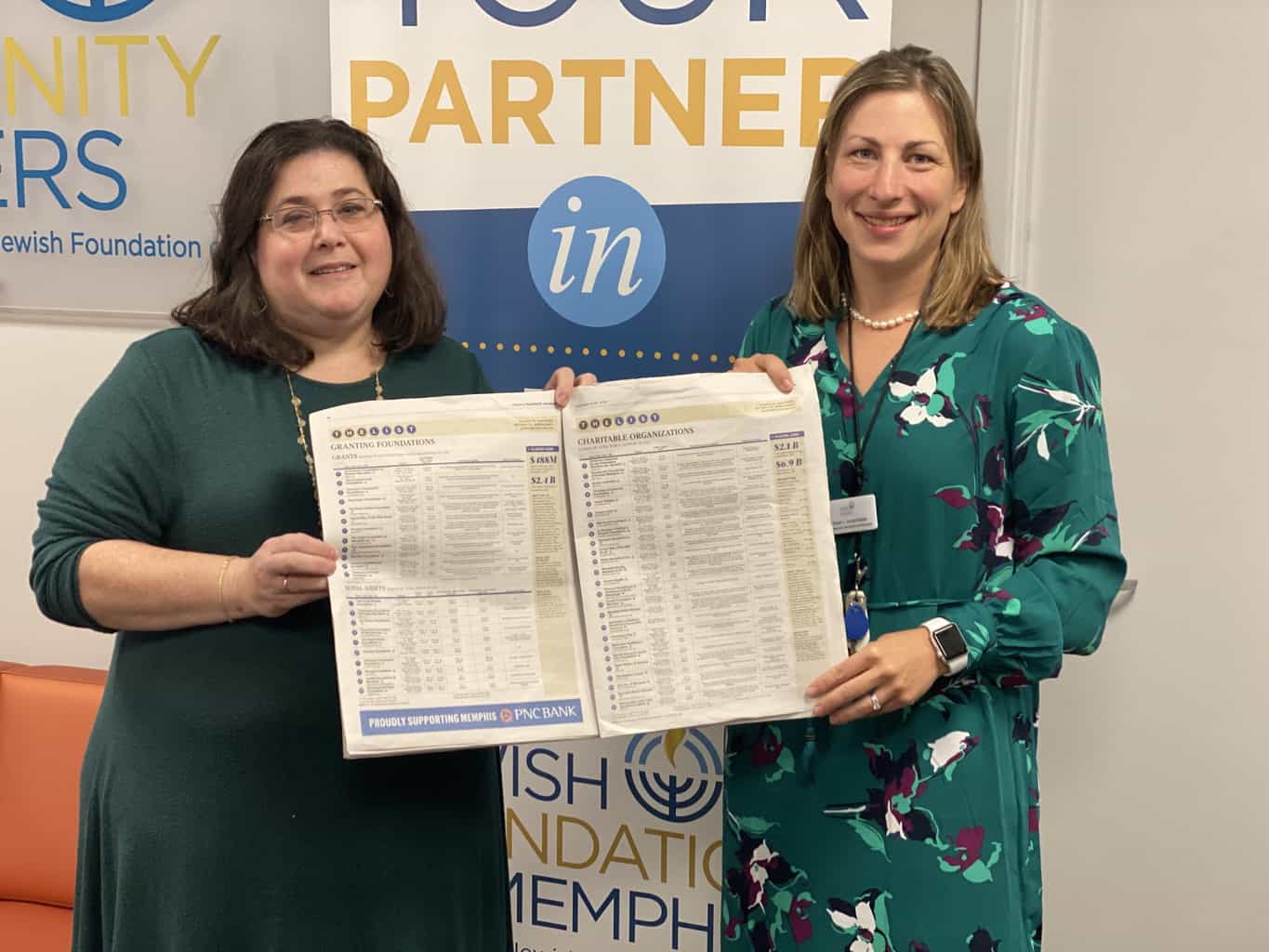 The Jewish Foundation of Memphis ranked among the top granting organizations in Memphis, as reported in the Memphis Business Journal (MBJ)'s weekly feature The List in the October 18-24, 2019 publication. Once a year, The List spotlights charitable organizations with the biggest footprints in the Mid-South.
The Jewish Foundation granted out $6.8 million during the fiscal year of July 1, 2017 through June 30, 2018, with the majority of grants awarded to Memphis synagogues, day schools and Jewish agencies. This achievement places the Jewish Foundation as the 11th most charitable organization in Memphis, coming close behind the Plough Foundation, Assisi Foundation and First Tennessee Foundation. The $6.8 million comes from generous donors in the Jewish community who partner with the Jewish Foundation, working with Laura Linder, CEO & President, Sheri Gadberry, Director of Operations, and Sarah VanderWalde, Endowment Development Manager.
The Jewish Foundation was also listed in the 9th spot in total assets with $81.79 million and ranked 15th in total charitable public support with $9.01 million. "To be listed among philanthropic giants like St. Jude/ALSAC, the Community Foundation of Greater Memphis, and the Plough Foundation shows the commitment our community of donors has to the Jewish tradition of tikkun olam, repairing the world," said Sheri Gadberry Jewish Community Partners' Director of Operations. "We're here to help donors realize their philanthropic goals and we put a lot of energy into making sure we do so."
The mission of the Jewish Foundation is to encourage charitable giving, to support partner agency endowment development and to build and sustain a vibrant Jewish community. From engaging teens in philanthropy through the B'nai Tzedek program, to creating charitable legacies with donors through bequests, to Donor Advised Funds and anything else in between- the array of programs at the Jewish Foundation are geared toward the long term vibrancy and sustainability of our Jewish community.
The Jewish Foundation is proud to be the primary philanthropic resource for Jewish families, their financial advisors and others in the community. This upcoming year the Foundation will celebrate 25 years.
"It's thrilling to see the Jewish Foundation ranked among the largest and most impactful granting organizations in our city, but it certainly isn't a surprise," said Anthony Morrison, Chair of the Jewish Foundation of Memphis Board of Directors. "Foundation donors are serious about tzedakah, it's part of who we are as Jews and as Memphians. And the Jewish Foundation is the perfect partner in charitable giving for our community."
A donor can begin making an impact at any time, by establishing a relationship with the Jewish Foundation of Memphis. To learn more about partnering with the Jewish Foundation, visit www.jcpmemphis.org/foundation, or call 901-374-0400.
Total Page Visits: 1833 - Today Page Visits: 3
Tags:
Jewish community
,
Jewish Community Partners
,
Jewish Community Partners staff
,
Jewish Federation Memphis
,
Jewish Foundation of Memphis
,
Jewish life in Memphis
,
Jewish Memphis
,
Jewish philanthropy
,
JFOM
,
Laura Kepes Linder
,
Laura Linder
,
Laura Linder Memphis
,
MBJ Book of Lists
,
Memphis Business Journal
,
Memphis Jewish Community
,
Memphis Jewish Federation
,
Memphis Jewish Foundation
,
Memphis Jewish life
,
Memphis Jewish Population
,
Sarah VanderWalde
,
Sheri Gadberry