News, People
Jewish Community Partners Brings Mayor of Shoham, Israel to Memphis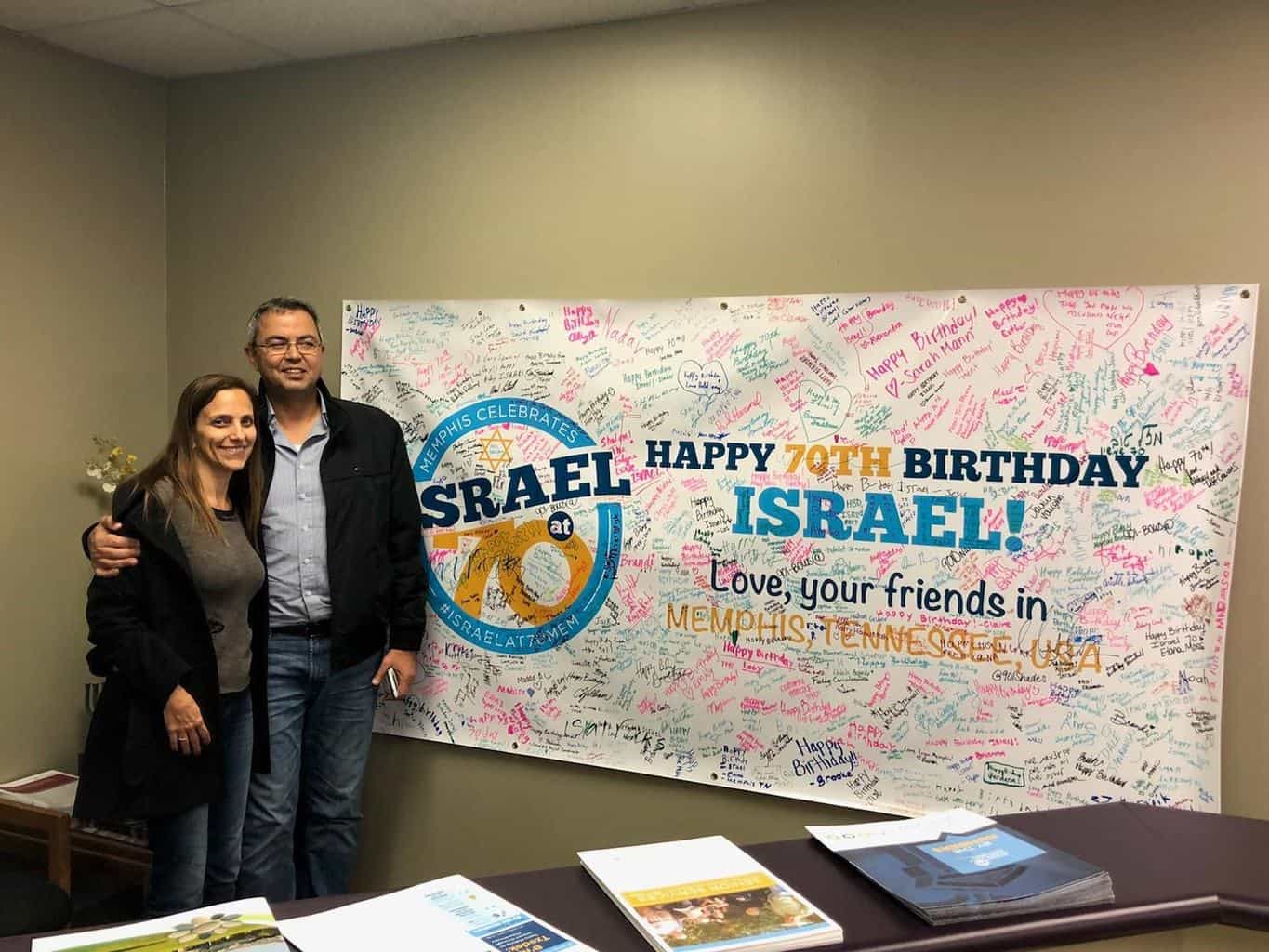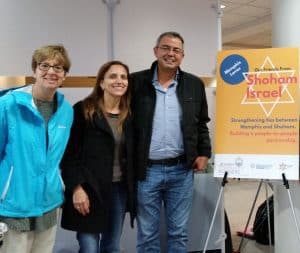 Gil Livne, mayor of Shoham, Memphis' partner city in Israel, recently visited Memphis for a packed four days of engagement with the Memphis Jewish community and Memphis at large. Mr. Livne's trip was a program of Memphis Jewish Federation's Memphis-
Shoham Partnership. He was accompanied by his wife, Anat, and by the Israeli Chair of the Memphis-Shoham partnership, Orly Lahat.
The mayor's itinerary in Memphis included meetings with Memphis Mayor Jim Strickland and Shelby County Mayor Mark Luttrell, a tour of Jewish Memphis, meetings with Jewish community leaders, and a reception with Jewish Community Partners' Board of Directors.
His tour of the Jewish community included significant visits with students and teachers at Bornblum Jewish Community School and Margolin Hebrew Academy (MHA) – two schools that are "twinning" with schools in Shoham. At Bornblum, the Mayor spoke on Friday at the school's weekly Kabbalat Shabbat program.
While visiting MHA, Mr. Livne spent time with the 7th and 8th grade girls who are part of the twinning initiative and he engaged in meaningful discussion with them about their growing relationship with their peers in Shoham, whom they had only met with virtually several months earlier. When asked by the Mayor how to describe the connection to their new Shoham friends, one 8th grader replied: "We are already really close. I can talk to her about anything."
On Friday night, the mayor attended services at Temple Israel, which has formed a relationship with a budding Reform congregation in Shoham. Following services, he enjoyed a festive Shabbat dinner with the Memphis-Shoham Partnership Steering Committee and community rabbis.
Mayor Gil also enjoyed some unique Memphis experiences: a visit to Graceland, a tour of the Belz Museum of Asian and Judaic Art, a private tour of the National Civil Rights Museum with Rabbi Micah Greenstein of Temple Israel, and a Grizzlies game.
"It was wonderful to host the mayor and his wife here in Memphis," said Scott Notowich, Memphis Chair of the Memphis-Shoham Steering Committee. "He very much appreciated getting to meet both of the mayors and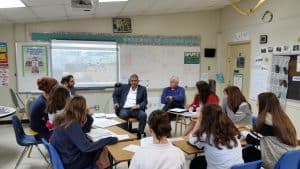 understanding more about our city. I think the visit will help us create even stronger bonds between Shoham and Memphis in the future."
Mr. Livne served as a major in the Israel Defense Force paratroops for four years before attending Bar-Ilan University, where he received a B.A. in Social Studies followed by a law degree. His career has included work in security, civil law, and municipal legislation. He has served as mayor of Shoham since 2003.
The Memphis-Shoham Partnership is part of the Jewish Agency for Israel's (JAFI) Partnership2Gether Peoplehood Platform (P2G) which works to connect the world's Jewish communities with communities in Israel. P2G aims to strengthen people-to-people connections. Memphis joined P2G less than two years ago, becoming the 49th community to join the global network.
The Memphis-Shoham Steering Committee is hard at work planning new partnership initiatives for 2018-2019. For more information about the partnership, visit jcpmemphis.org/memphis-shoham-partnership.
406total visits,1visits today
Tags:
Bornblum Jewish Community School
,
JCP Memphis
,
Jewish Community Partners
,
Jewish Foundation of Memphis
,
Jewish Memphis
,
Margolin Hebrew Academy
,
Margolin Hebrew Academy/Feinstone Yeshiva of the South
,
Memphis Celebrates Israel at 70
,
Memphis Jewish Community
,
Memphis Jewish Federation
,
Memphis Jewish life
,
Memphis Jewish Population
,
Memphis Shoham partnership
,
Memphis-Shoham
,
Shoham Memphis