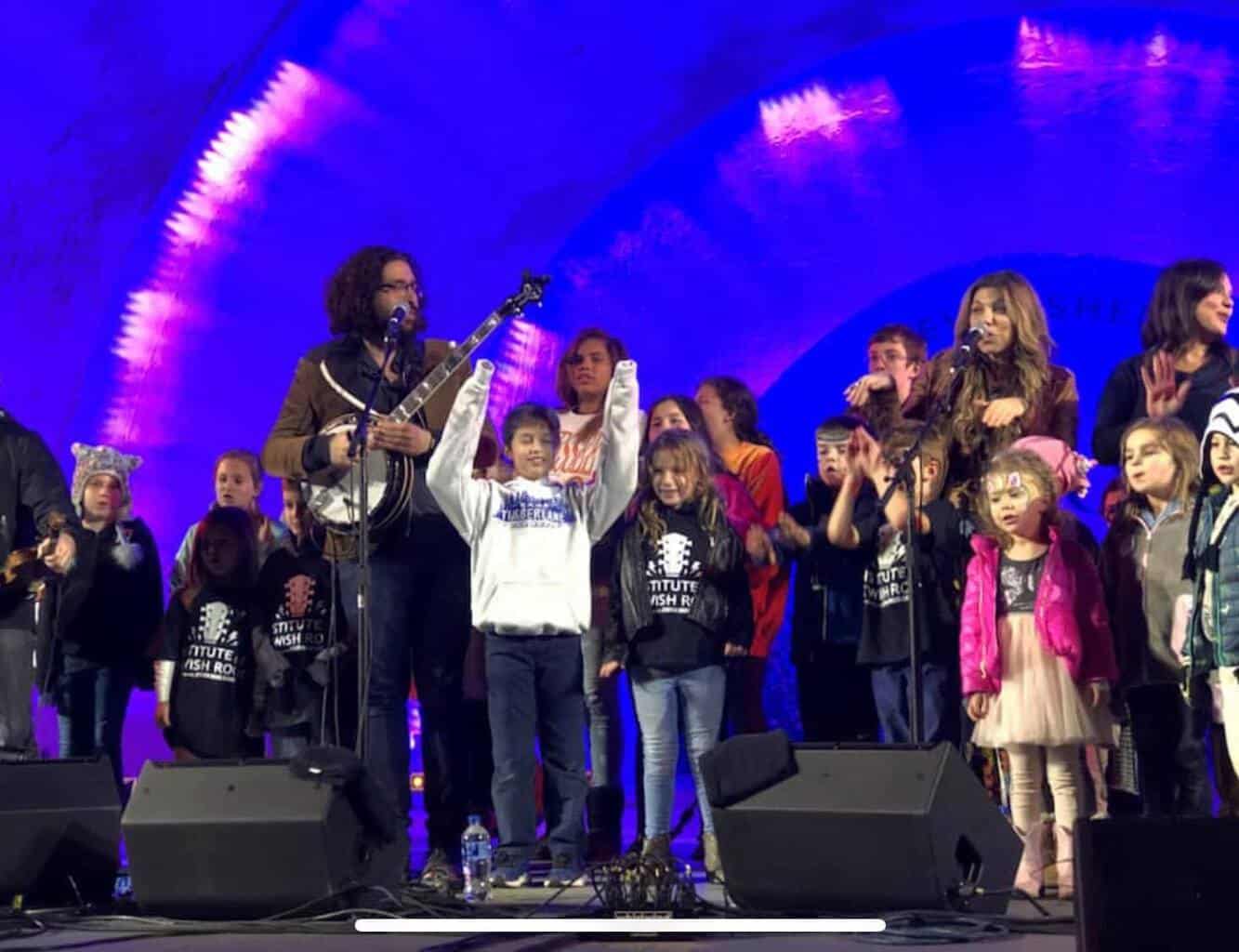 Pictured Above: Temple Israel's Institute of Jewish Rock is one of many programs funded in part by Memphis Jewish Federation's Annual Community Campaign. Pictured here, participating kids joined Nefesh Mountain on the Levitt Shell stage to show off their talents.
Doing yoga four or five times a week was not unusual for Gina. But after years of physical abuse by her boyfriend, Gina wasn't doing yoga any more – in fact, she could barely walk. Her short-term memory was so bad that she couldn't remember what she had eaten for dinner the day before. Thankfully Gina's mother brought her to Memphis' Jewish Family Service who introduced her to equine therapy. Initially Gina was scared, but by the end of class she had a broad smile and was relaxed and happy. What came next surprised everyone – she went to a JFS special needs yoga class. And she hasn't looked back.
Gina is just one of thousands of people who benefit from Memphis Jewish Federation's annual community campaign. Jewish Memphians once again rose to the challenge to help meet the ever-growing needs of Jews in Memphis, Israel, and around the world through the Memphis Jewish Federation (MJF) 2019 Annual Community Campaign.
More than 100 volunteer solicitors, along with dedicated lay leaders and staff, made thousands of phone calls, sent hundreds of texts and emails, and met face-to-face with longtime donors, which resulted in gifts exceeding $3.5 million. Through their generous monetary support, more than 1,100 families helped ensure that Jewish life remains vibrant here in Memphis, and around the world.
"There are similar-sized communities around the United States that never achieve the staggering amount of financial and volunteer support that we do in Memphis," said Laura Linder, President & CEO of Jewish Community Partners (JCP), the umbrella organization that oversees the operations of Memphis Jewish Federation and Jewish Foundation of Memphis (JFOM). "What's amazing about Federated giving as a whole is the concept of collective responsibility. Everyone giving together to maximize impact. I am so proud that Memphis continues to be a leader among the 147 Federation communities that are part of our collective."
"Federation is the only organization that focuses on the well-being of the total community," said Scott Vogel, who co-chairs of the Annual Community Campaign with Cindy Finestone. "Before we closed the campaign, our volunteer grants committees had already started their important work of evaluating needs and carefully granting dollars that were raised."
"Our campaign dollars go to work immediately," said Linder. "Twenty-five grants were awarded from campaign dollars to support programs deemed most critical in order to sustain and care for Jewish families."
She went on to cite specific examples including $30,000 that was awarded to fund Memphis' community-wide security effort, $15,000 to provide weekly food packages to homebound seniors living in Kharkov, Ukraine, and a $20,000 Fedovation grant for Temple Israel's Institute of Jewish Rock. A complete list of grants can be found on JCP's website, www.jcpmemphis.org.
"It is heartwarming to see the community rally around caring for other Jewish families," said Finestone, newly elected MJF Chair. "Everyone benefits from the funds raised through our campaign – without even realizing it."
"We had an incredible campaign team," said Linder referring to Finestone, Vogel, Michelle Katz, and Eileen Posner, who co-chaired the Lion of Judah women's group along with Finestone. "Their dedication and vigilance kept the campaign energized, flowing, and progressing throughout the year."
Those who made new gifts and those who increased their gifts enabled the Federation to again qualify for the Plough Foundation Challenge. For numerous years the Plough Foundation has made a matching grant to the campaign for up to $150,000.
The Annual Community Campaign raises funds for every sector of the Memphis Jewish community, providing essential resources that help keep our community cared for, connected, and engaged. Lives at all ages are enriched through cultural activities, PJ Library's Jewish-themed books, welcoming newcomers to the community, Holocaust remembrance, and student engagement at the University of Memphis and Rhode's College Hillels. Funds provide scholarships for Jewish camps, religious schools, and educational support to both Jewish day schools. Senior services include kosher meals, transportation to doctors' appointments, emergency assistance, and other healthy living programs and initiatives at Memphis Jewish Home and Plough Towers.
"The needs within our community are always growing," said Mrs. Linder. "Every dollar makes a difference. The joy you receive from making the gift is a mitzvah for us all to celebrate. If you have made your gift, we thank you."
To donate to the Memphis Jewish Annual Community Campaign, or to make a contribution in memory or in honor of a loved one, you may visit www.jcpmemphis.org, call 901.767.7100, or mail your check to Memphis Jewish Federation, 6560 Poplar Avenue, Memphis, TN 38138.
Total Page Visits: 2774 - Today Page Visits: 1
Tags:
Annual Community Campaign
,
Jewish community
,
Jewish Community Partners
,
Jewish Family Service
,
Jewish Family Service Memphis
,
Jewish Family Services Memphis
,
Jewish Federation Memphis
,
Jewish Foundation of Memphis
,
Jewish life in Memphis
,
Jewish Memphis
,
Jews in Memphis
,
Memphis Jewish Community
,
Memphis Jewish Federation
,
Memphis Jewish Foundation
,
Memphis Jewish life
,
Memphis Jewish Population
,
Memphis Jewish Seniors
,
Memphis Jews
,
Memphis philanthropy