News, People
Free Jewish Books Bring Families Together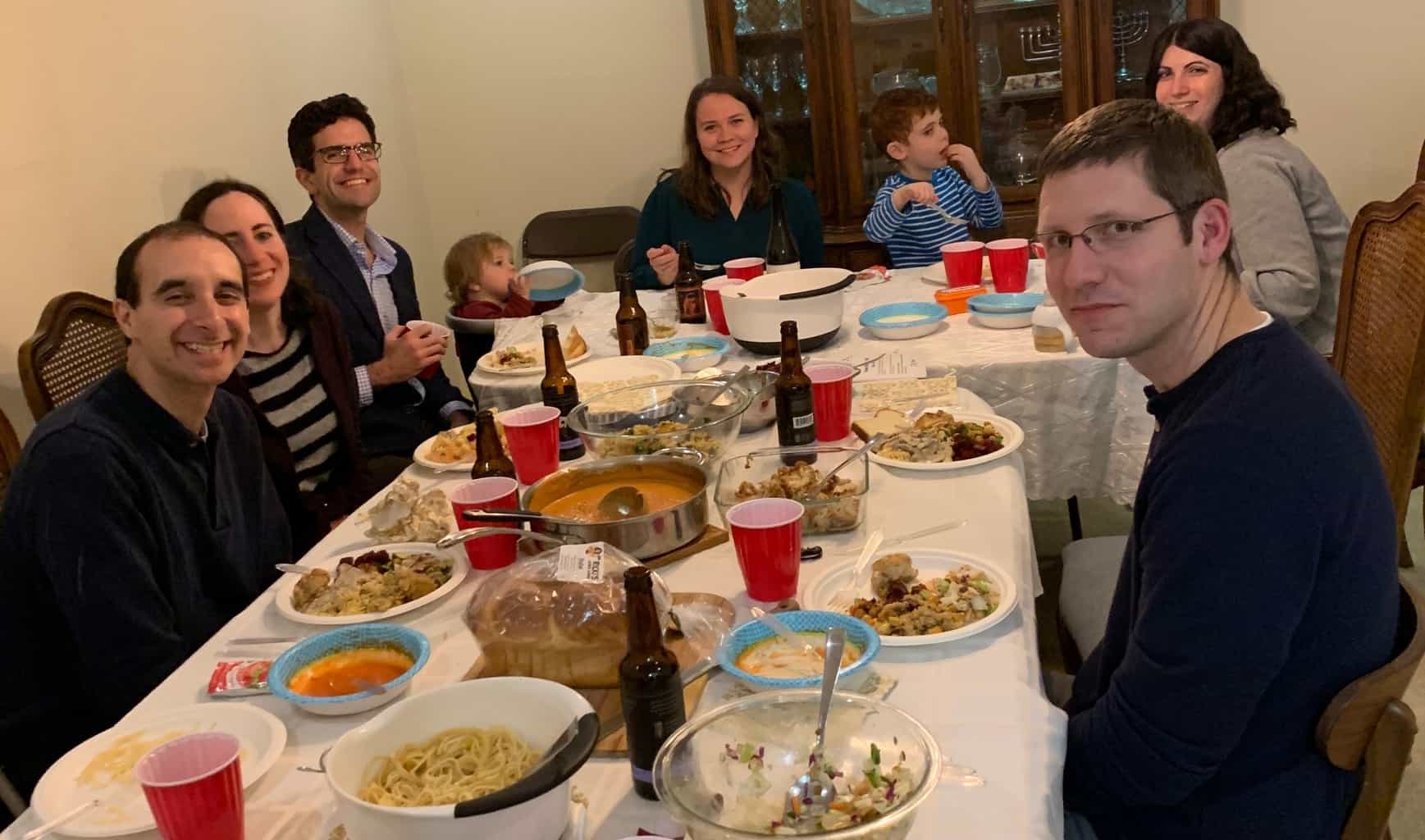 Five Memphis families of diverse Jewish backgrounds gather around a table, little ones wiggling in their arms. Each adult is holding a blessing card and together they sing and welcome Shabbat. The dinner conversation ranges from Jewish values to parenting challenges, with intermittent pauses to clean up spilled milk and chase kids reading books and playing with toys in the living room. This is Memphis Jewish Federation's PJ Library at its finest.
Twenty-six PJ Library families participated in Shabbat Shalom Y'all dinner groups this past year and hosted Shabbat dinners for one another three times throughout the year. Each Shabbat dinner group consisted of the same families with similar-aged children, so participants could develop ongoing connections with one another.
"The Shabbat dinners were a wonderful experience," said one participant. "It was an excellent way to end the week and get our kiddos together to play while the grownups could eat, drink, and laugh together. We made new friends and strengthened other friendships with each dinner. We truly loved this program."
In a post-program survey, 96% of participants said that participation in this program supported their family in having conversations about Jewish traditions, values, and customs. The Shabbat dinners led nearly 70% of participants to have additional social connections with other PJ Library parents.
"It was amazing to have my son interact with other children and experience fun events that help further root him in his journey to Jewish learning," said one PJ Library parent. "Everyone was so kind and welcoming to us here after permanently settling in Memphis this January. We look forward to meeting new people and settling in to the community."
Shabbat Shalom Y'all dinners will continue for the 2019-2020 school year. PJ Library provides host families with everything they need to create a special Shabbat celebration in their home, including a stipend to help cover the cost of the meal.
In addition to Shabbat dinners, 117 families participated in a variety of PJ Library community-wide events throughout the year, such as challah baking, Kiddush cup making at a pottery studio, and programs at Shelby Farms and Novel Bookstore.
The Shabbat Shalom Y'all program is made possible through the Memphis Jewish Federation and a grant from PJ Library, a program of the Harold Grinspoon Foundation.
Created by The Harold Grinspoon Foundation (HGF), PJ Library is funded by local philanthropists Billie and Joe Pierce and Memphis Jewish Federation in partnership with HGF. This national program sends a free, age-appropriate, Jewish-themed book or music each month to children 6 months through 8 years old. Memphis is part of more than 250 participating communities across the globe.
Follow PJ Library on Facebook, and sign up for Shabbat Shalom Y'all Dinners or sign up for free books at jcpmemphis.org/pjlibrary.
Total Page Visits: 1293 - Today Page Visits: 4
Tags:
Jewish community
,
Jewish Community Partners
,
Jewish Federation Memphis
,
Jewish Foundation of Memphis
,
Jewish life in Memphis
,
Jewish Memphis
,
Jewish philanthropy
,
Jews in Memphis
,
Memphis Jewish Community
,
Memphis Jewish Federation
,
Memphis Jewish Federation Campaign
,
Memphis Jewish Foundation
,
Memphis Jewish life
,
Memphis Jewish Population
,
Memphis Jews
,
PJ Library
,
PJ Library Memphis
,
PJ Our Way