People
Five Young Jewish Leaders Represent Memphis at BBYO Leadership Retreat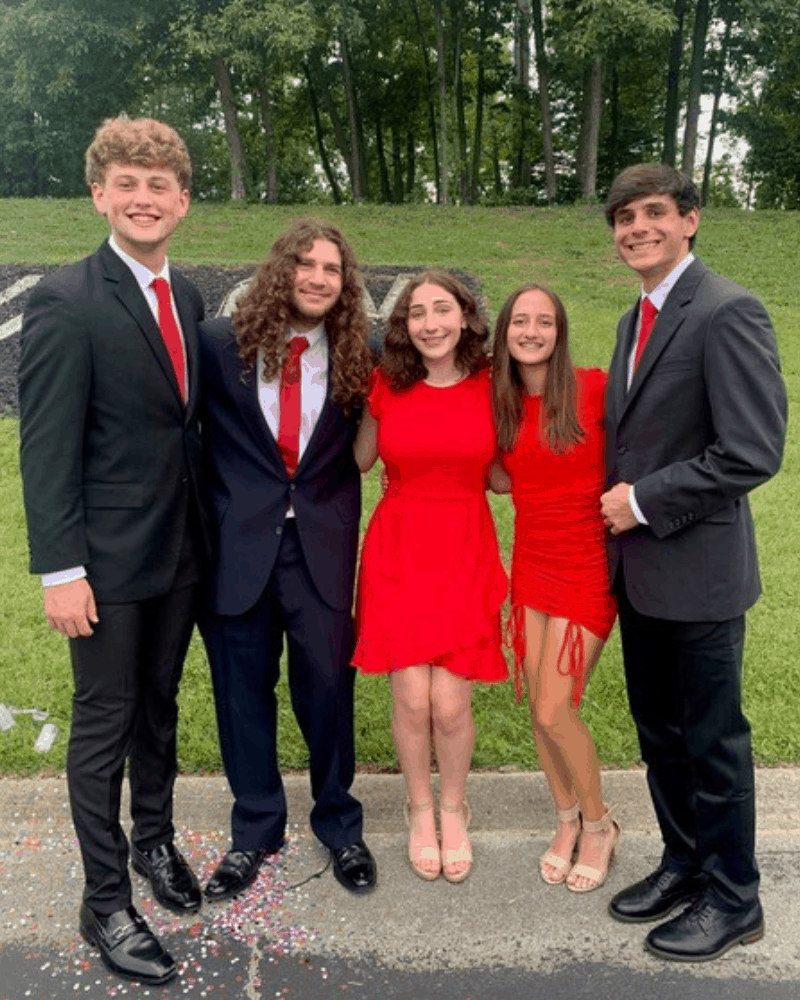 Pictured from left to right: Jonas Kannady, Alex Agranov, Morgan Schrier, Abby Cassius, and Evan Schrier are seen posing together for Memphis BBYO's annual leadership photo for 2021.
"When I moved to Memphis, right before the start of my 9th-grade year, the first thing I did was join BBYO. I hoped that it would bring me a sense of community and help me adjust to this new setting. However, I had no idea that it would one day become one of the biggest parts of my life," said Morgan Schrier, BBYO's Regional Morah and a 12th-grade student at Hutchison High School. "Being a leader in BBYO has taught me so many life skills that I use every day, and it's allowed me to step out of my comfort zone. Through leading on a regional level, I have met so many incredible people and have overcome fears of public speaking, which I couldn't have done anywhere else. I am so grateful for my BBYO experience and am very excited to continue bringing experiences like mine to others."
Over Labor Day weekend, five local teenagers represented the four Memphis BBYO chapters – Okeon, Peres, River City, and Kriger – at a BBYO Regional Board leadership retreat held at the Jewish Community Center in Nashville. The retreat aimed to help BBYO's young leaders learn about engaging with chapter members post-COVID, help them plan effective conventions and events, and learn about the BBYO recruiting process. The skills they honed – public speaking, goal setting, team building, and fundraising – will also help them navigate "real life."
Growing and nurturing the next generation of Jewish leaders is a priority of Memphis Jewish Federation's recently announced TomorrowStrong initiative. Memphis BBYO is a key partner in this critical effort. Your gift to Federation's Annual Community Campaign equips BBYO, and our other Jewish youth groups, with the resources needed to build our future Jewish leadership.
These Memphis teens – elected by their peers to represent their chapters – joined young Jewish leaders from other BBYO chapters across the Delta region, encompassing Tennessee, Alabama, and Louisiana. It is a testament to our community's successful cultivation of talent that Memphis sent more than half of the participants and that all four Memphis BBYO chapters were represented.
"BBYO is a commitment, and it holds our young leaders to committing to something and caring about their Judaism," said Zoë Goldberg, BBYO's Delta Regional Director. "I think a lot of it is that they love being around their Jewish friends, and they want to make sure that they always have a Jewish community they can rely on. Our primary mission at BBYO is to get these young adults ready and transition them from normal teens into mensches; kind people for the world."
"I want to show teens how much fun BBYO is and allow them the opportunity to make lifelong friends and learn more about themselves and their Jewish identity," said Jonas Kannady, a 12th grade student from White Station High School and the 94th Delta Regional Aleph Godol (BBYO Chapter President). "Serving on the Regional Board and being Godol of my chapter is an honor and shows that my peers respect what I have put into BBYO and have faith in me to lead them and this Region to much bigger things to come. Even though Regional Board is a decent amount of work, I don't mind it because I am doing it with my best friends. The 94/74 Regional Board for Delta has already become a family to me, and that's what I'm the happiest about going into the remainder of my term."
Total Page Visits: 533 - Today Page Visits: 1
Tags:
BBYO Memphis
,
BBYO Regional Retreat
,
Delta Region
,
JCP Memphis
,
Jewish Community Partners
,
Jewish Foundation of Memphis
,
Jewish life in Memphis
,
Jewish Memphis
,
Memphis BBYO
,
Memphis Jewish Community
,
Memphis Jewish Federation
,
Memphis Jewish life
,
Memphis Jewish Population
,
Memphis Jews
,
Zoe Goldberg