Uncategorized
Federation Launches New Young Adult Initiative with Clothing Sale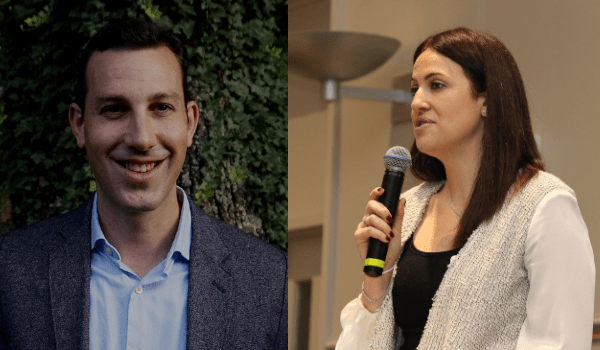 Momentum is swelling behind a group of young adults – some new to Memphis, others born and raised here – committed to Memphis Jewish Federation's efforts to care for, connect, and engage Jewish people of all ages through a wide array of programs and services.
Formerly known as YAD (the Young Adult Division of Memphis Jewish Federation) FedLED emerged this year after a strategic rebranding process. Driven by young professional volunteer leaders from the Memphis Jewish community, FedLED's work focuses on leadership, education, and fundraising. FedLED Co-Chairs Jaclyn Marshall and Martin Klazmer recruited a council whose members Emily Lennon, Jana Weiskopf, Daniel Snyder, and advisors Jason Goldstein and Aviva Freiden, are collaborating to craft opportunities to elevate young adult leadership to the next level.
After a series of popular and well attended FedLED virtual networking breakfasts for young professionals, the first open-to-the public program will be the FedLED Children's Clothing Sale, to be held January 31 under the MJCC Pavilion. Donations of gently used children's clothing and shoes are already being accepted at the Jewish Community Partners offices, inside the MJCC.
"As someone who is a direct product of what this community has provided, I've naturally always had the desire to nourish and nurture the community myself," said native Memphian Martin. "Now as an adult who has returned to Memphis with my own family, the timing is right and the opportunity is here with FedLED. Younger people in this community need to know that older generations are looking to us to step up and be involved in whatever capacity we are able and FedLED will serve as a stepping stone for those who are. I couldn't be more excited to be part of this organization."
Unlike Martin, Jaclyn is a newer Memphian, and had not been involved in Jewish communal activities in California. "There was not much sense of community living in San Francisco," she said. "In Memphis, I met moms with small kids through my own children, and now we see each other all the time."
From these first feelings of belonging to a cohesive Jewish community, Jaclyn eventually made her way to Federation. Her first in-depth conversation with a Federation staff member opened her eyes to the organization's tireless efforts in Jewish Memphis. "It was mind blowing," she said. "I not only wanted to give money but wanted to give more of my time."
She was asked to serve as a co-moderator for a Federation Women's Philanthropy program, interviewing Suzi Weiss-Fischmann, founder of OPI Nail Lacquer, in the MJCC's Belz Social Hall. The well-attended event sparked a new interest in Federation activities throughout the community for Jaclyn, leading her to FedLED.
"Our goal is to hold a series of fundraising events – big and small – that get people excited," said Jaclyn. "By creating exciting events, like wine and whisky tastings, we'll offer fun ways for people to give back while learning about Federation. It's important to introduce our generation to the Federation model of community support through donations, and help cultivate a culture of long-term donors for decades to come."
Having had successful experiences with clothing sales back in California, Jaclyn thought a similar initiative would be a good fit for a key FedLED demographic- Jewish parents. In addition to offering something they need, the event would also be an excellent platform to introduce FedLED to potential members.
FedLED's Children's Clothing Sale will be held Sunday, January 31, 1:00 to 4:00 P.M., under the MJCC Pavilion. Federation is accepting donations of gently used children's clothing and shoes Monday through Friday from 9:00 A.M. to 5:00 P.M. at the Jewish Community Partners office, located at 6560 Poplar Ave, inside the MJCC. Donated items will be sorted and sold at the socially distanced clothing sale at the end of the month. Proceeds from the clothing sale will go towards Federation's Home-Delivered Meals Program for isolated seniors. Masks and social distancing will be strictly enforced.
FedLED is also looking for volunteers to help sort clothing ahead of the sale and to staff the sale itself. Tasks include sorting donated goods into different categories, setting up stations at the sale, and helping with touch-free payment transactions. To volunteer, email or call Sophie Bloch, Director of Young Adult Leadership, sbloch@jcpmemphis.org or 901-452-2453.
Total Page Visits: 3017 - Today Page Visits: 1
Tags:
Jaclyn Marshall
,
Jewish community
,
Jewish Community Partners
,
Jewish Community Partners staff
,
Jewish Federation Memphis
,
Jewish Federations of North America
,
Jewish Foundation of Memphis
,
Jewish life in Memphis
,
Jewish Memphis
,
Jewish philanthropy
,
Jews in Memphis
,
Martin Klazmer
,
Memphis Jewish Community
,
Memphis Jewish Community Center
,
Memphis Jewish Federation
,
Memphis Jewish Federation Campaign
,
Memphis Jewish Foundation
,
Memphis Jewish life
,
Memphis Jewish Population
,
Memphis Jewish Seniors