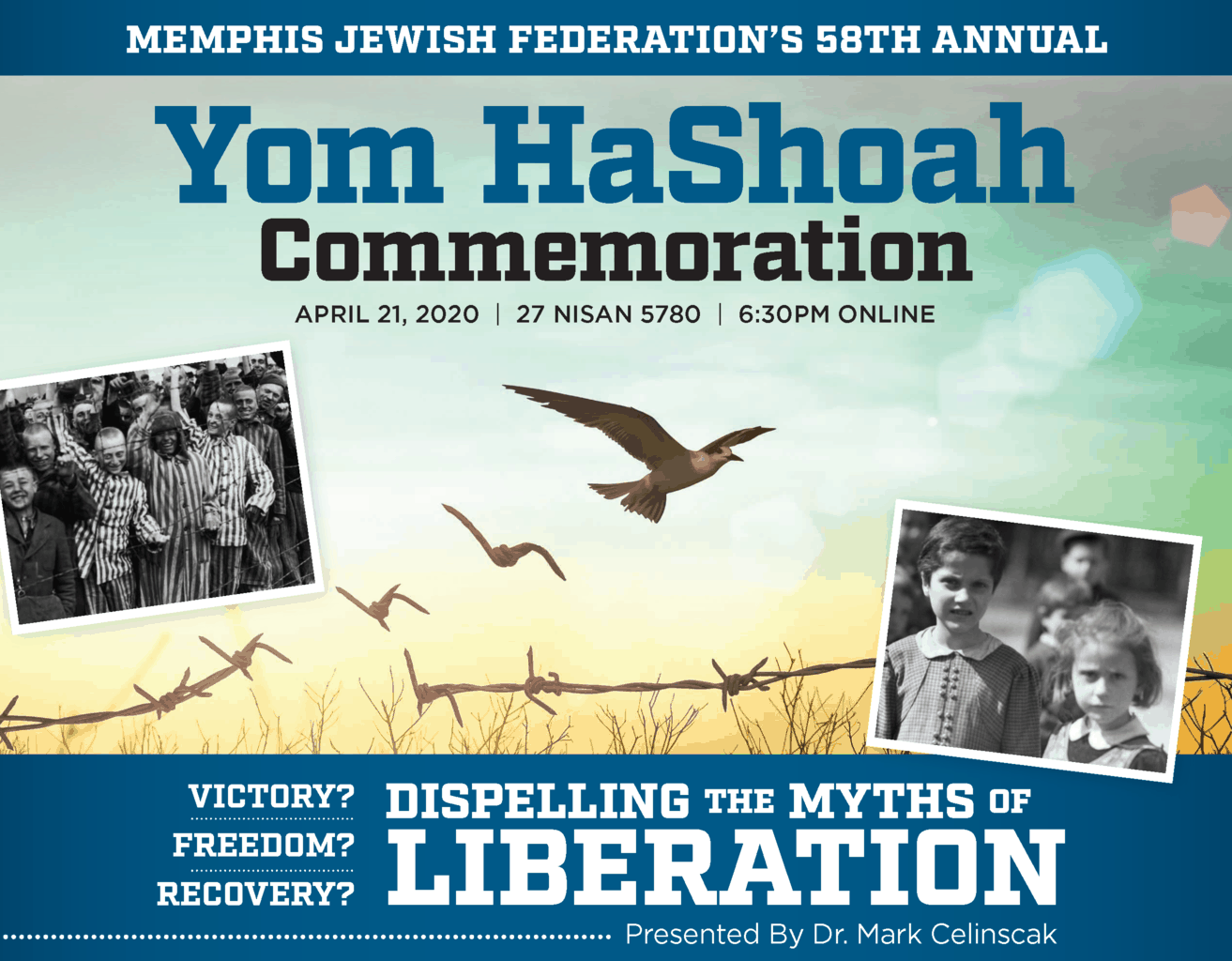 Hundreds of community members united Tuesday night for Memphis Jewish Federation's 58th Annual Yom HaShoah Commemoration, a heartfelt and meaningful observance despite the challenges of taking the event to a digital platform. According to data from Zoom and Facebook, we estimate that as many as 800 people tuned in to the program.
Members of our Holocaust Memorial Committee, chaired by Margo Gruen, worked alongside Federation staff to replicate our traditional program as much as possible, making thoughtful modifications where necessary. For example, recognizing that we would have to forgo the public lighting of six memorial candles by six women survivors, we gathered a list of all the women survivors who have lit candles at Yom HaShoah over the years and published it in a booklet mailed to the community before the observance.
The booklet also included a list of all Holocaust survivors in Memphis, living and deceased, as well as high-quality images of all student artwork entered in our Holocaust Art Contest, in lieu of the physical art exhibit which is usually set up in the Memphis Jewish Community Center.
Celebrated survivor Sam Weinreich, who turned 100 earlier this year, has been singing at Yom HaShoah in Memphis ever since our community's very first observance held in 1962. Mr. Weinreich is currently staying with family in Cleveland, and in a wonderful last-minute surprise, his daughter was able to send us a video of him singing the Ghetto Song to incorporate into the program— and his children and grandchildren watched the program from home.
In addition to Mr. Weinreich's singing, we were able to maintain other beloved traditions of Yom HaShoah in Memphis, with BBYO teens contributing "Voices of the Next Generation" and community cantors and rabbis reciting songs and prayers. Prompted by Margo, who emceed the program, attendees each lit a candle at home in unison.
Keynote speaker and Holocaust scholar Dr. Mark Celinscak joined us from University of Nebraska at Omaha to share some thoughts about liberation, which was also the theme of this year's Holocaust Art and Essay Contest.
Accolades have been pouring in from community members of all ages and demographics, including survivors and their descendants, who found the program moving and powerful. Here are a few:
"Thank you for making this program available under these unusual conditions. It was an excellent and informative program."
"The program tonight for Yom HaShoah was so thought out and interesting. Saying I enjoyed it seems wrong, but I did truly feel inspired and learned more from the program. I can tell you put so much into this."
"We were privileged to watch the amazing program that commemorated Yom HaShoah last night via Zoom. We just wanted to congratulate you, your staff and everyone who participated in this huge effort. It was certainly a job well done with love, compassion and commitment. We are so proud of all who worked so hard. Thank you and Yashar Koach."
"Thank you so much for such a beautiful program. Tonight was moving and executed so well. Thankful to be a part and couldn't have imagined a better way to spend Yom HaShoah."
"Great program last night! Presenter was very interesting. Thank you for putting that together."
"Thanks so much for organizing and facilitating Yom HaShoah under such challenging circumstances. What a treat it was to see and hear Sam. I thought Dr. Celinscak was really enlightening and I learned some facts I didn't know, plus in his brief presentation I think he shed light on the complexity of liberation. So appreciate your hard work and here's hoping next year we will gather together for the 59th Yom HaShoah."
Total Page Visits: 2369 - Today Page Visits: 6
Tags:
Dr. Mark Celinscak
,
Jewish Community Partners
,
Jewish Federation Memphis
,
Jewish Foundation of Memphis
,
Jewish life in Memphis
,
Jewish Memphis
,
Memphis Jewish Community
,
Memphis Jewish Federation
,
Memphis Jewish Foundation
,
Memphis Jewish life
,
Memphis Jewish Population
,
Memphis Jews
,
Yom HaShoah Memphis