News, People
Upcoming Deadline for Memphis Jewish Federation's 11th Annual Holocaust Art and Essay Competition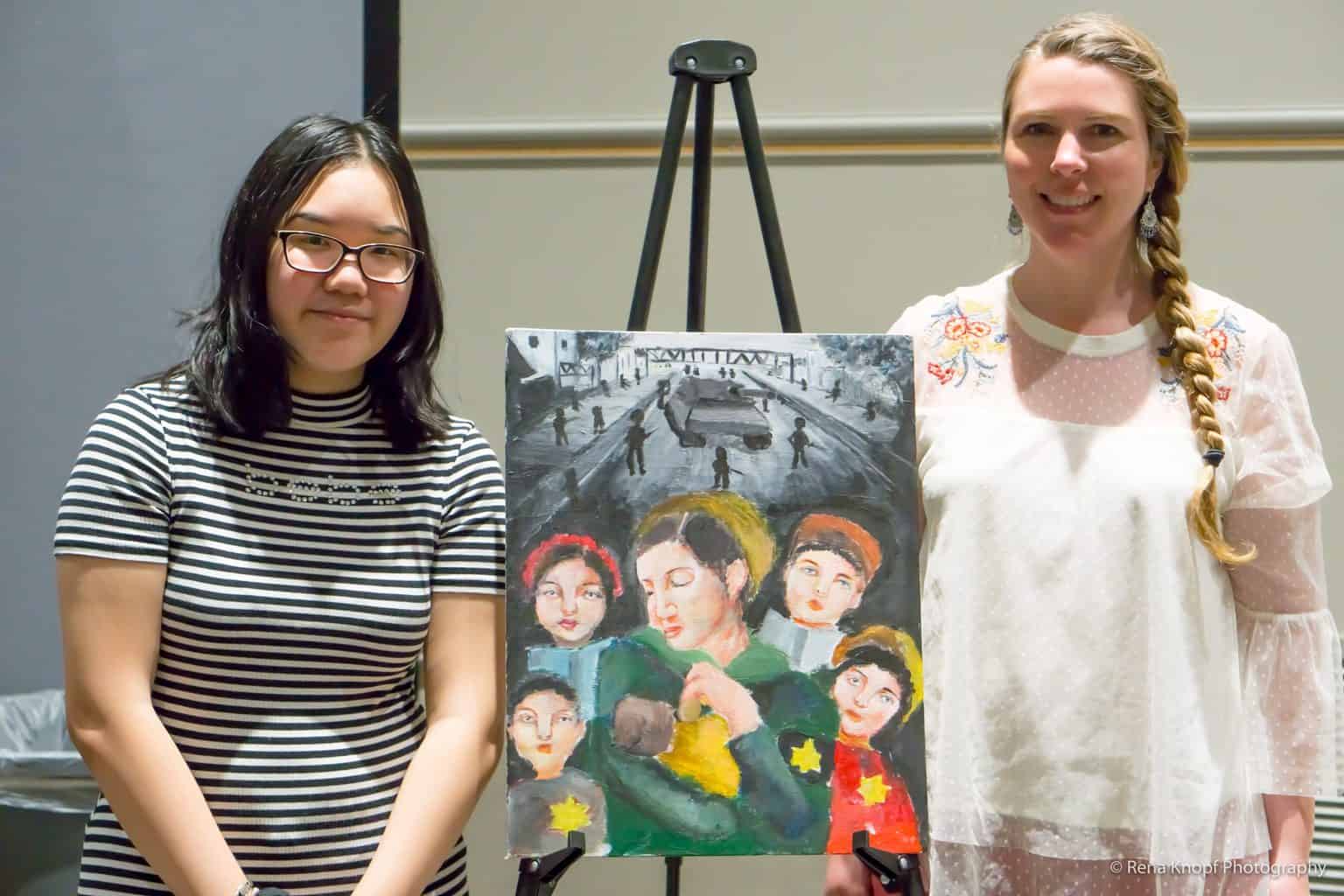 Above: Jennifer Shiberou (right), an art teacher at Colonial Middle School, has participated in Memphis Jewish Federation's Holocaust Art Contest since its inception 11 years ago. Her student Kathy Lam (left) is a two-time contest winnner, as a 7th grade student in 2018 and as an 8th grade student in 2019. Here, she poses with her second-place winning artwork from the 2019 contest.
Mid-South and Tennessee students in grades 6-12 are invited to submit entries to Memphis Jewish Federation's eleventh annual Holocaust-themed art and essay competition. The deadline is Thursday, March 5 at close of business.
This year's contest theme is Liberation & Recovery. In honor of the 75th anniversary of the liberation of Auschwitz-Birkenau and other death camps, students are asked to choose a group impacted by the liberation (e.g. survivors, liberators, caregivers) and explore the challenges and opportunities faced in moving from the darkness of absolute evil to the light of recovery and renewal.
Students in grades 6-8 are invited to submit artwork, and students in grades 9-12 are invited to submit essays. Cash prizes for the winners are made possible by the Kaethe Mela Family Memorial Fund of the Jewish Foundation of Memphis.
As in previous years, all artwork entered into the competition will be displayed in the lobby of the Memphis Jewish Community Center for those attending the 58th Annual Yom HaShoah Community Observance on Tuesday, April 21st at 6:30 P.M.
Contest winners will be recognized at the commemoration, with the first-place winning essay published in the program booklet and a photo of the first-place winning artwork displayed on the cover of the program. The winning essay will also be published in the Hebrew Watchman and here in JCP Connect.
Cash prizes will be awarded for first-place ($250) and second-place ($125) essays, and for first-place ($200), second-place ($100), and third-place ($50) artwork. Honorable Mention winners will receive gift cards.
All entries will be judged according to the following criteria: creativity, passion, and relevance to the topic. Full guidelines and resources for entrants are available at www.jcpmemphis.org/holocaustartandessay.
Students should e-mail their essays to holocaustcontest2020@gmail.com. Artwork should be dropped off at the Memphis Jewish Federation office. All entries are due by the close of business on Thursday, March 5. Please include entrant's name, grade, school, and contact information.
Total Page Visits: 8688 - Today Page Visits: 1
Tags:
Holocaust
,
Holocaust Art and Essay Contest
,
Holocaust art and essay contest Memphis
,
Holocaust survivor
,
Holocaust witness
,
Jewish community
,
Jewish Community Partners
,
Jewish Federation Memphis
,
Jewish Federations of North America
,
Jewish Foundation of Memphis
,
Jewish life in Memphis
,
Jewish Memphis
,
Jewish philanthropy
,
Jews in Memphis
,
Memphis
,
Memphis Jewish Community
,
Memphis Jewish Federation
,
Memphis Jewish Federation Campaign
,
Memphis Jewish Foundation
,
Memphis Jewish life
,
Memphis Jewish Population
,
Memphis Jews