People
Shayna Giles: A Mentor in the Making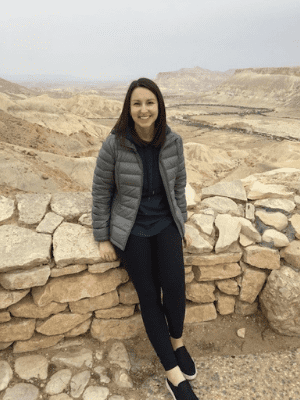 "What's really cool about Federation is that it has its hands in every part of the Jewish community," said Shayna Giles, one of the younger donors to Memphis Jewish Federation's Annual Community Campaign. "It's not just Conservative, Reform, or Orthodox, and they don't just help with one specific need in the community. The Federation exists to identify needs throughout the community and to help in any way people may need it. It is the most comprehensive organization that we have in our community, and it's like an umbrella for everyone. I like donating to organizations that know more than I do about what the community needs."
"Growing up here, it is kind of hard to not get involved in the Memphis Jewish community in one way or another. It has always been ingrained in me," she said. "I don't know if it's because of my Jewish upbringing, or my family's guidance, but it would feel weird to not stay involved. As a member of the community, you should give back to the institutions which have given you so much and help the community that has been and always will be there for you."
Twenty-nine-year-old Shayna's childhood was shaped by the Jewish community of her hometown. Going to Ramah Darom sleepaway camp and attending Jewish day school forged a connection between her Judaism and giving back.
"I grew up attending Beth Sholom Synagogue, and that is where I had my Bat Mitzvah. In middle school, my mom switched to Temple Israel and I went to both synagogues," said Shayna. "I started attending religious school at Temple, so I was raised in both communities. I did Temple activities throughout high school, but I was still connected to Beth Sholom."
"When I was younger, at my Bat Mitzvah age, it was popular to join B'nai Tzedek," Shayna noted, referring to the Jewish Foundation of Memphis' Teen Philanthropy program. "I ended up donating a portion of my Bat Mitzvah money to open a B'nai Tzedek fund, which was matched by anonymous funders of the program, so I was in a sense donating two-fold. It was a really cool way to donate to different organizations. Almost every year I donated to Susan G. Komen because everyone knows someone who has had breast cancer."
Shayna's commitment to her Judaism and Jewish Memphis continued while she was away at college at Tulane. Navigating a double major of Political Science/International Relations and Spanish, she still always found time to attend Shabbat dinners at the local Chabad. One summer, she participated in the inaugural cohort of Temple Israel's ConnecTI Fellowship, designed as a recruitment effort to bring young people back to Memphis. She interned at Baker Donelson where she in fact returned, now as a full-time lawyer.
Despite a demanding schedule, Shayna manages to balance her career and her urge to give.
"A year or so after I moved back, Rabbi Bess Wohlner at Temple Israel reached out with an opportunity to help Bar and Bat Mitzvah students with speeches," Shayna described. "I figured, given what I do, reading and writing for a living, this was a good way to contribute to my community in a way that's not monetary. I've enjoyed it and I love working with them. My grandfather helped me with my speech when I was thirteen, and I see this as a way of paying that forward."
Shayna's deep commitment to philanthropy and giving back was nurtured by her parents, mother Lisa Menuskin and step-father Neil Gibson and father Scott Giles and step-mother Kim Giles, all active members of the Memphis Jewish community who made the decision to teach Shayna and her siblings, through word and deed, about tzedakah and the importance of giving back. Lisa and Neil are recent donors to Memphis Jewish Federation's endowment campaign to support the Wendy and Avron B. Fogelman Jewish Family Service. Scott and Kim were very involved at Beth Sholom when Shayna was growing up, and Scott is the current Director of Facilities at Temple Israel.
Shayna's connections to the Memphis Jewish community run deep, and she sets a high bar among her peers by giving back to the community. Whether giving her time, treasure, or talent, Shayna is always happy to help those in need.
Total Page Visits: 664 - Today Page Visits: 1
Tags:
Annual Community Campaign
,
JCP Memphis
,
Jewish Community Partners
,
Jewish Foundation of Memphis
,
Jewish life in Memphis
,
Jewish Memphis
,
Memphis Jewish Community
,
Memphis Jewish Federation
,
Memphis Jewish life
,
Memphis Jewish Population
,
Memphis Jews
,
Shayna Giles
,
Young Donor