News
Jewish Foundation Offering Two Planned Giving Seminars September 19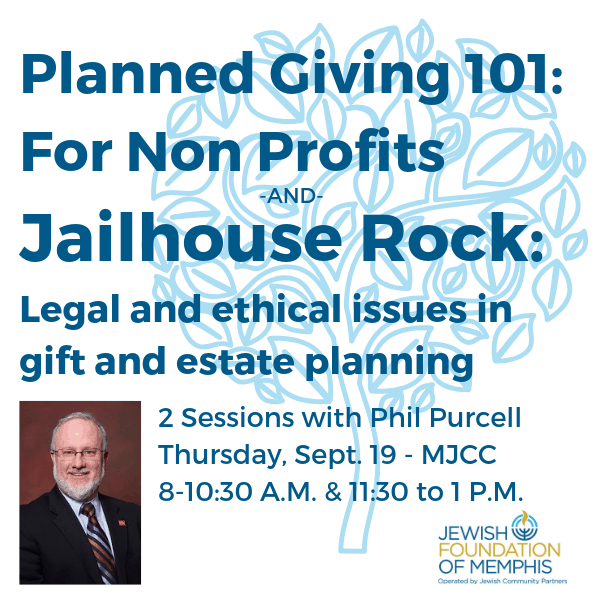 Are you an estate planning attorney? An employee at a non-profit organization? A board member of a Jewish agency in Memphis? Or someone who wants to learn more about fundraising and philanthropy?
If you answered yes to one of these questions, then the Jewish Foundation of Memphis has two events to offer on Thursday September 19, 2019: A breakfast session for nonprofits [Planned Giving 101] from 8:00 – 10:30 AM and a luncheon for professional advisors [Jailhouse Rock: Legal and Ethical Issues in Gift and Estate Planning] from 11:30AM – 1:00PM. Both sessions will be held at the Memphis Jewish Community Center and facilitated by Phil Purcell, a planned giving expert from Indiana.
Planned giving, also referred to as gift planning or legacy giving is any major gift made in lifetime to an endowment fund or at death as part of a donor's overall financial and/or estate planning. These include gifts of equity, life insurance, real estate, personal property, or cash. The Jewish Foundation of Memphis facilitates legacy giving, supports endowment development of its partner agencies, and maintains relationships with local professional advisors to encourage philanthropy with the mission of building and sustaining Jewish Memphis.
"The Jewish Foundation of Memphis is the trusted partner for charitable giving in the Jewish community. These events are an example of the resources we provide our agencies and donors and we are thrilled to bring Mr. Purcell to Memphis," said Anthony Morrison, Jewish Foundation Board Chair.
Planned Giving 101 is a breakfast for nonprofit employees and volunteers. This seminar, offering 2 CFRE credits, will provide an overview of a planned giving program, the most important planned giving vehicles, how to blend planned giving into a total development program, and marketing tools and techniques for success.
Jailhouse Rock: Legal and Ethical Issues in Gift and Estate Planning is a luncheon geared towards attorneys and financial advisors. Actual case studies from law and practice exploring the ethical and legal issues in gift and estate planning will be shared. The Model Standards of Practice for the Charitable Gift Planner will be used as the framework for the discussion. This seminar is approved for 1.0 hour of CLE in ethics.
Phil Purcell is the lead planning attorney for the Heaton Smith Group, a national charitable and estate planning consulting firm. He is Legal Advisor for the national Community Foundation Legal Help Desk and Senior Counsel for Philanthropy on behalf of the Fellowship of Catholic University Students. In addition, Phil loves to teach and give seminars around the country on law, philanthropy and planned giving. He is currently on faculty at Indiana University Maurer School of Law, Indiana University Lilly School of Philanthropy, and Long Beach State University's American Institute for Philanthropic Studies.
The Jewish Foundation of Memphis is excited to bring Mr. Purcell to Memphis in partnership with the Planned Giving Council of Greater Memphis and Momentum Nonprofit Partners. The cost for breakfast is $10. The lunch is $25. Dietary laws observed.
To register and learn more, go to https://jcpmemphis.org/foundation-events. If you have any questions, contact Sarah VanderWalde, Endowment Development Manager, at the Jewish Foundation of Memphis. She can be reached at svanderwalde@jcpmemphis.org or 901-767-7100.
Total Page Visits: 2011 - Today Page Visits: 3
Tags:
Jewish community
,
Jewish Community Partners
,
Jewish Foundation of Memphis
,
Jewish Foundation Professional Advisory Group
,
Jewish life in Memphis
,
Jewish Memphis
,
Jews in Memphis
,
Memphis Jewish Community
,
Memphis Jewish Community Center
,
Memphis Jewish Federation
,
Memphis Jewish Foundation
,
Memphis Jewish life
,
Memphis Jewish Population
,
Memphis Jews
,
Phil Purcell
,
Phil Purcell Planned Giving
,
Planned Giving Memphis