News, People
Jewish Foundation of Memphis Kicks Off Year-Long 25th Anniversary Celebration with Latkes & Vodka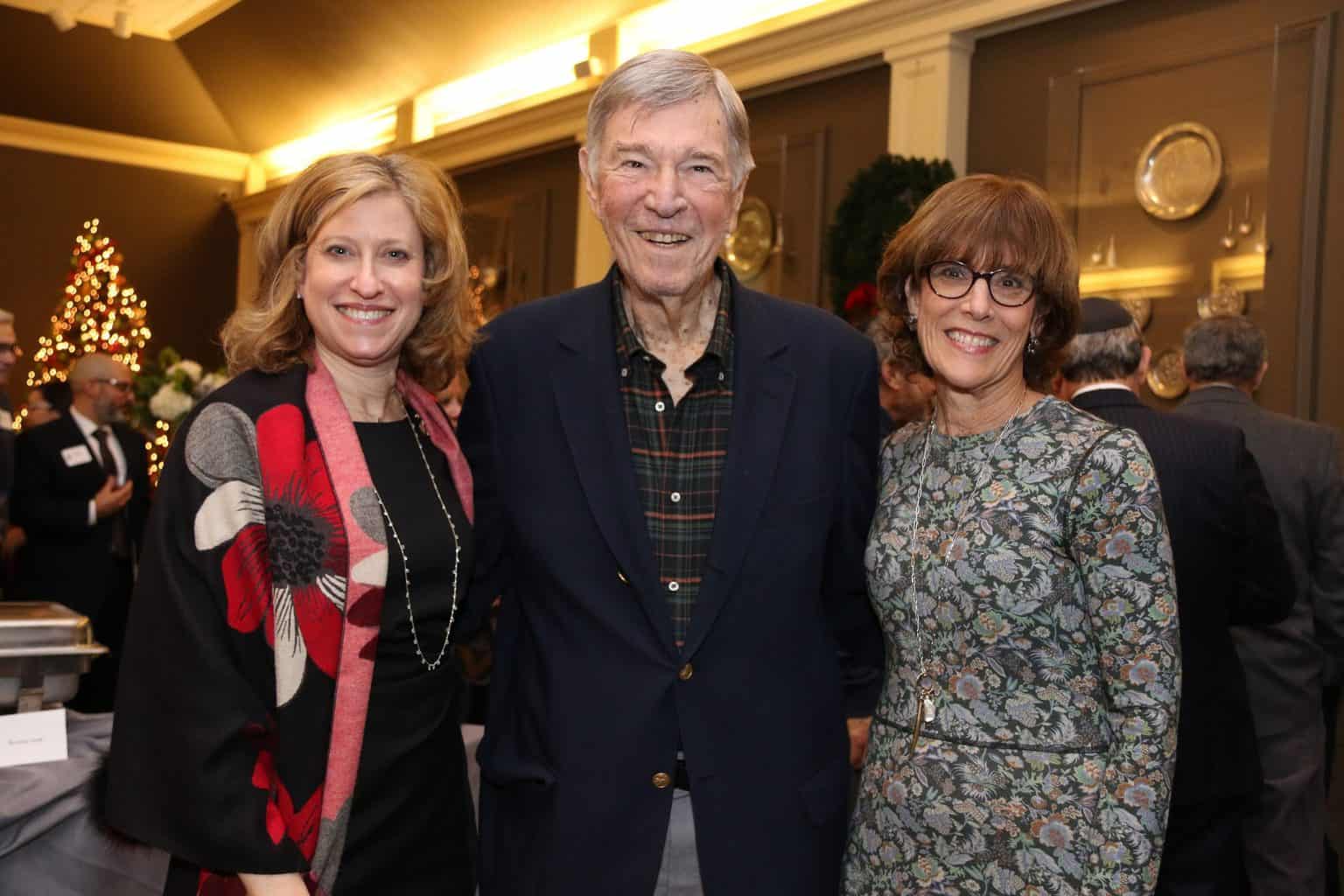 Twenty-five years ago, the Memphis Jewish community came together to create an organization that would work to ensure that our children and grandchildren would benefit from a thriving Jewish community. This invaluable resource evolved quickly into Jewish Memphis's trusted partner in charitable giving, the Jewish Foundation of Memphis. The Jewish Foundation kicked off its year-long 25th Anniversary celebration Tuesday, December 10, with Latkes & Vodka, an event at Dixon Gallery and Gardens honoring the Jewish Foundation's fund holders, professional advisors, and donors.
While the signature cocktails' names were clever – who could turn down a Legacy Libation or an EndowMint- the collective impact of Jewish Foundation donors over the past quarter-century is serious business. Since coming to life under the leadership of its first executive director Paula Jacobson and first board president Ronald Harkavy, the Foundation has worked to transform the philanthropic culture of the Memphis Jewish community to include legacy giving.
Launched in 1995 to help secure permanent financial solutions for ten partner agencies in the Memphis community- Anshei Sphard-Beth El Emeth, Baron Hirsch Congregation, Beth Sholom, Temple Israel, Margolin Hebrew Academy/Finestone Yeshiva of the South, Bornblum Jewish Community School, Memphis Jewish Federation, Memphis Jewish Home & Rehab, Memphis Jewish Community Center, and Jewish Family Service.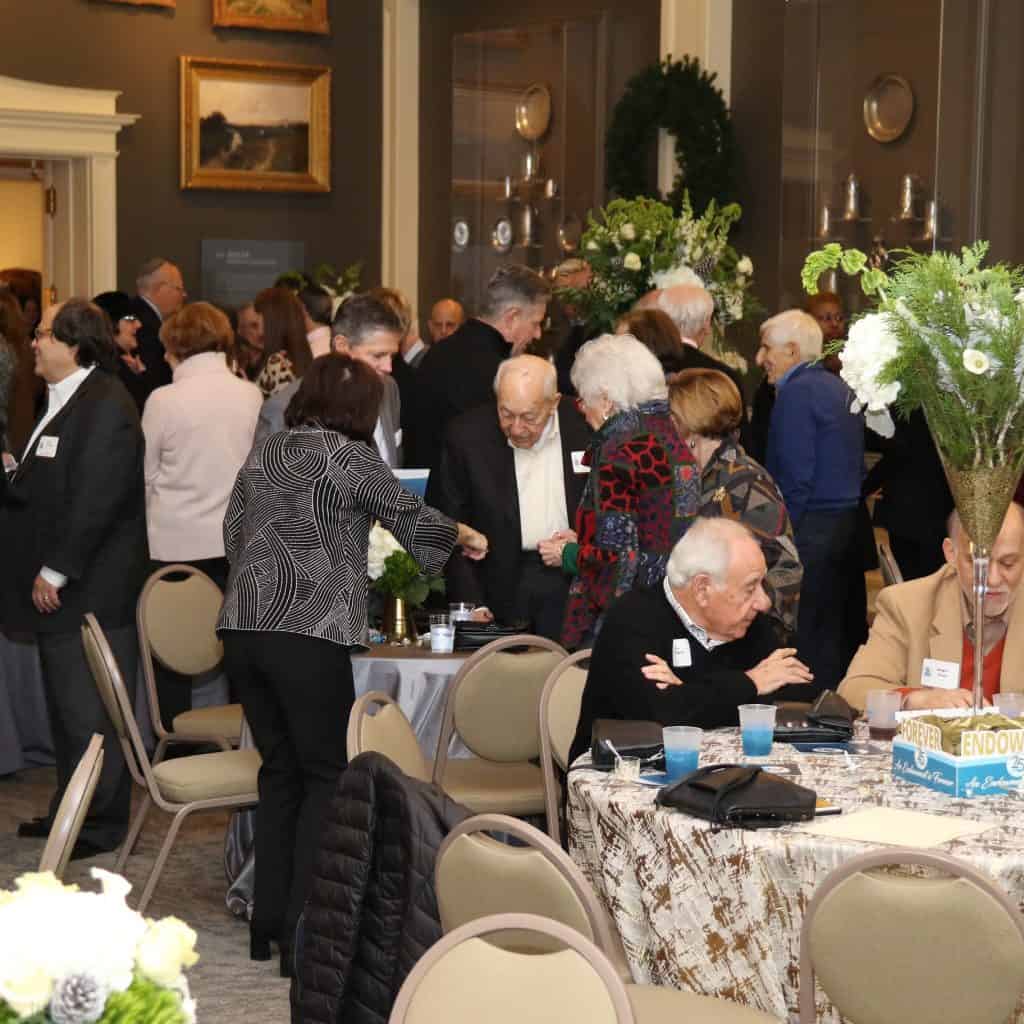 Check out the Facebook album for more photos.
Jewish Foundation Board Chair Anthony Morrison welcomed the crowd as the Latkes & Vodka program kicked off, recognizing members of the Professional Advisory Group (PAG) and its steering committee members John May, Morrow Baily, Mark Kaplan, Scott Bendure, and Shelby Peranich, and its chairman, Jason Salomon.
"We recognize the critical role a donor's attorney, accountant, and financial advisor play when they are considering a charitable gift," said Anthony. "The PAG has given us a way to involve more than a hundred such advisors." Each year the Foundation provides education programs and networking opportunities for the PAG members and serves as a philanthropic resource for the advisors and their clients.
Many Professional Advisors were on hand to celebrate the anniversary, as well as get a first look at the new Jewish Foundation of Memphis PAG Directory.
"I'm a new member of the Professional Advisory Group and was excited to see what the Professional Advisor directory would look like," said Lee Olswanger, Financial Advisor with Merrill Lynch Wealth Management. "It turned out great, and I can't wait to have extra copies in my office."
Laura Linder, President & CEO of Jewish Community Partners, the managing organization that operates the Jewish Foundation, spoke briefly, celebrating the quarter century of community-focused philanthropy that led to the Jewish Foundation growing into the engine that drives Jewish Memphis. In her remarks, Laura highlighted the important achievements driven by Foundation's work in its first 25 years, including Foundation's Legacy initiative, B'nai Tzedek teen philanthropy program, and the hundreds of donors who have partnered with the Foundation to achieve their charitable goals.
"Today, staff and volunteer leadership continue their work to keep endowment and legacy giving at the heart of our thriving Memphis Jewish community," said Laura. "Through these efforts, to date more than 500 legacy commitments have been made. This work will continue as we continue to build for future generations under the leadership of Foundation's powerhouse team of Sheri Gadberry and Sarah VanderWalde."
"For 25 years, the Foundation has worked with donors to meet them exactly where they want to be as philanthropists," Sheri Gadberry, director of operations for Jewish Community Partners said after the event. "We're trusted by Jewish Memphis's philanthropic community because our work is donor-centric, which means we strive to be as adaptable as possible, working with donors to help them achieve lifetime philanthropic goals."
According to Sheri, through its work with more than 500 fund holders, the Jewish Foundation serves as the "go to" organization in the Memphis Jewish community for charitably minded families. "With $93 million in assets and cumulative grants awarded topping $80 million, we have established ourselves as a major player in the Memphis philanthropic community."
Mimi Grossman closed the program by speaking about her own personal experience with legacy giving, citing her recent bout with cancer.
"Many of you may not recognize me if you haven't seen me in a while. This is what post chemo hair looks like." After the sympathetic laughter died down, she continued. "I'm grateful that my cancer was treatable and I am now cancer free and living every day to its fullest. But as I went through treatment, I found myself reflecting on questions like: What kind of legacy would I be leaving? What have I done to truly make a difference, not just to my children and grandchildren, but to my beloved community?"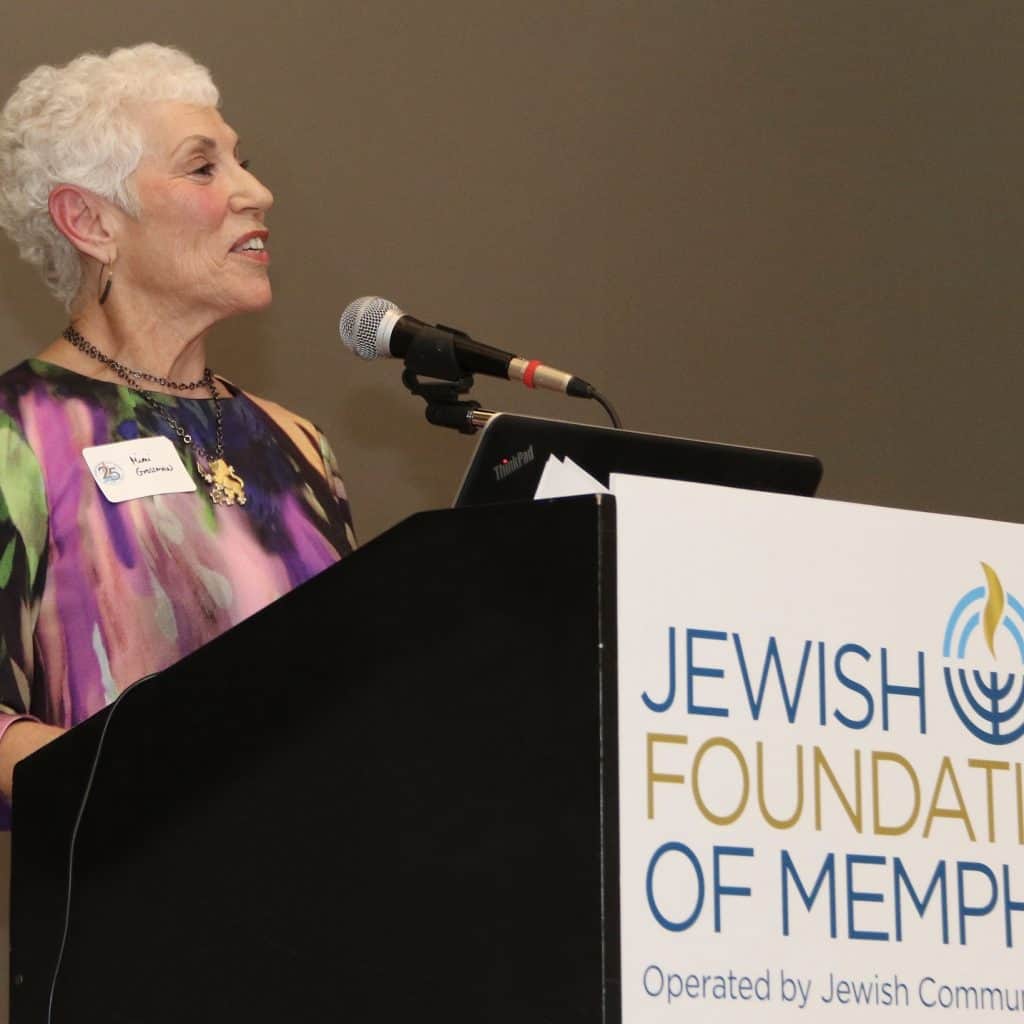 As the programmed portion came to a close, two powerful symbols served as visual reminders of what it means to leave a legacy. During the program, guests were surrounded by the stunning pewter collection of Justin and Herta Adler, of blessed memory, two devoted Memphis Jewish philanthropists whose descendants hold funds at the Jewish Foundation. And finally, to close the evening, Josh Lipman spoke about the philanthropic legacy of his father, Ira A. Lipman, of blessed memory, before leading the crowd through a tour of the temporary exhibit Friedel Dzubas: The Ira A. Lipman Family Collection. Touring the artworks after the program, it was impossible not to ponder what we will leave behind. Jewish Foundation of Memphis is there to answer that question for anyone.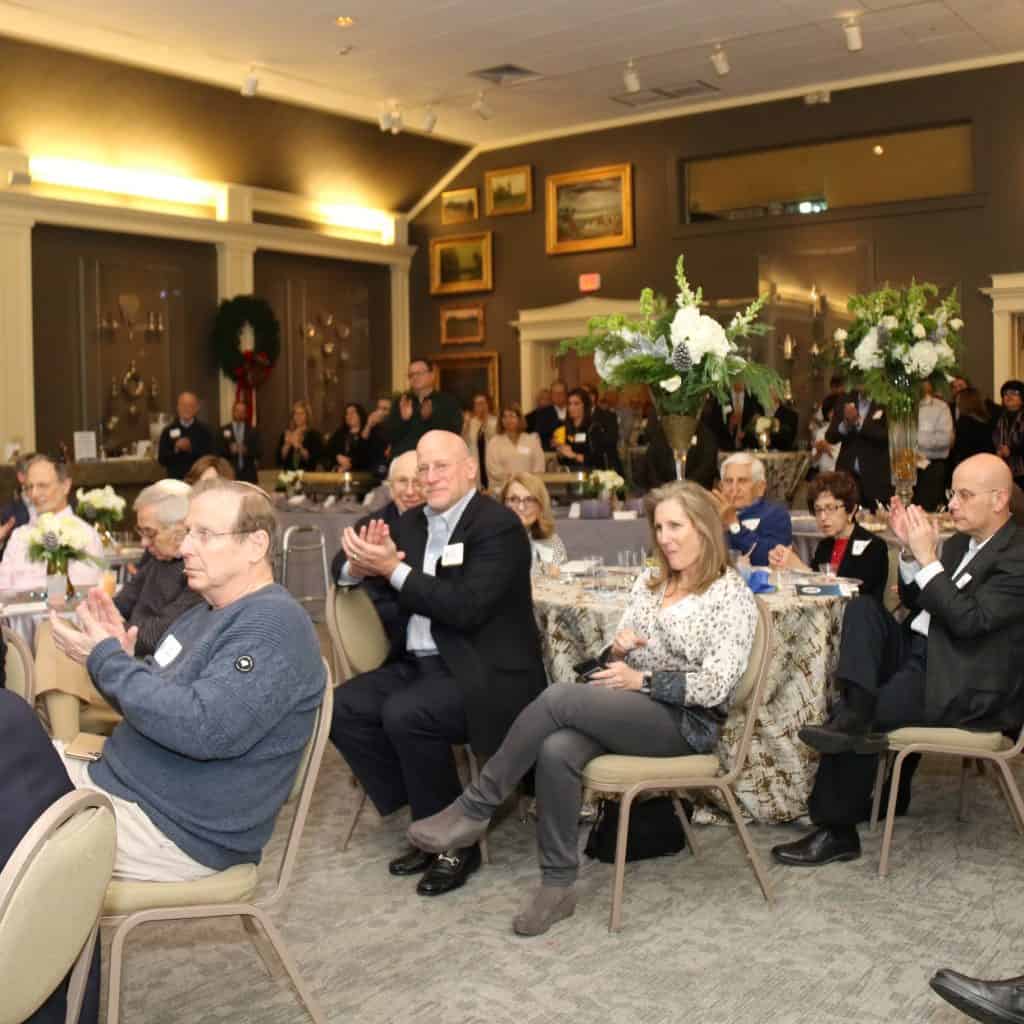 Total Page Visits: 5746 - Today Page Visits: 3
Tags:
Jewish community
,
Jewish Community Partners
,
Jewish Community Partners staff
,
Jewish Federation Memphis
,
Jewish Foundation Donor advised funds
,
Jewish Foundation of Memphis
,
Jewish Foundation Professional Advisory Group
,
Jewish life in Memphis
,
Jewish Memphis
,
Jews in Memphis
,
Latkes & Vodka
,
Latkes vodka memphis
,
Memphis
,
Memphis Jewish Community
,
Memphis Jewish Community Center
,
Memphis Jewish Federation
,
Memphis Jewish Federation Campaign
,
Memphis Jewish Foundation
,
Memphis Jewish life
,
Memphis Jewish Population
,
Memphis Jewish Seniors
,
Memphis Jewish teens
,
Memphis Jews
,
Memphis to Jerusalem
,
Professional Advisory Group