News, People
Jewish Foundation Inspires Legacy Giving to Memphis Nonprofits and Professional Advisors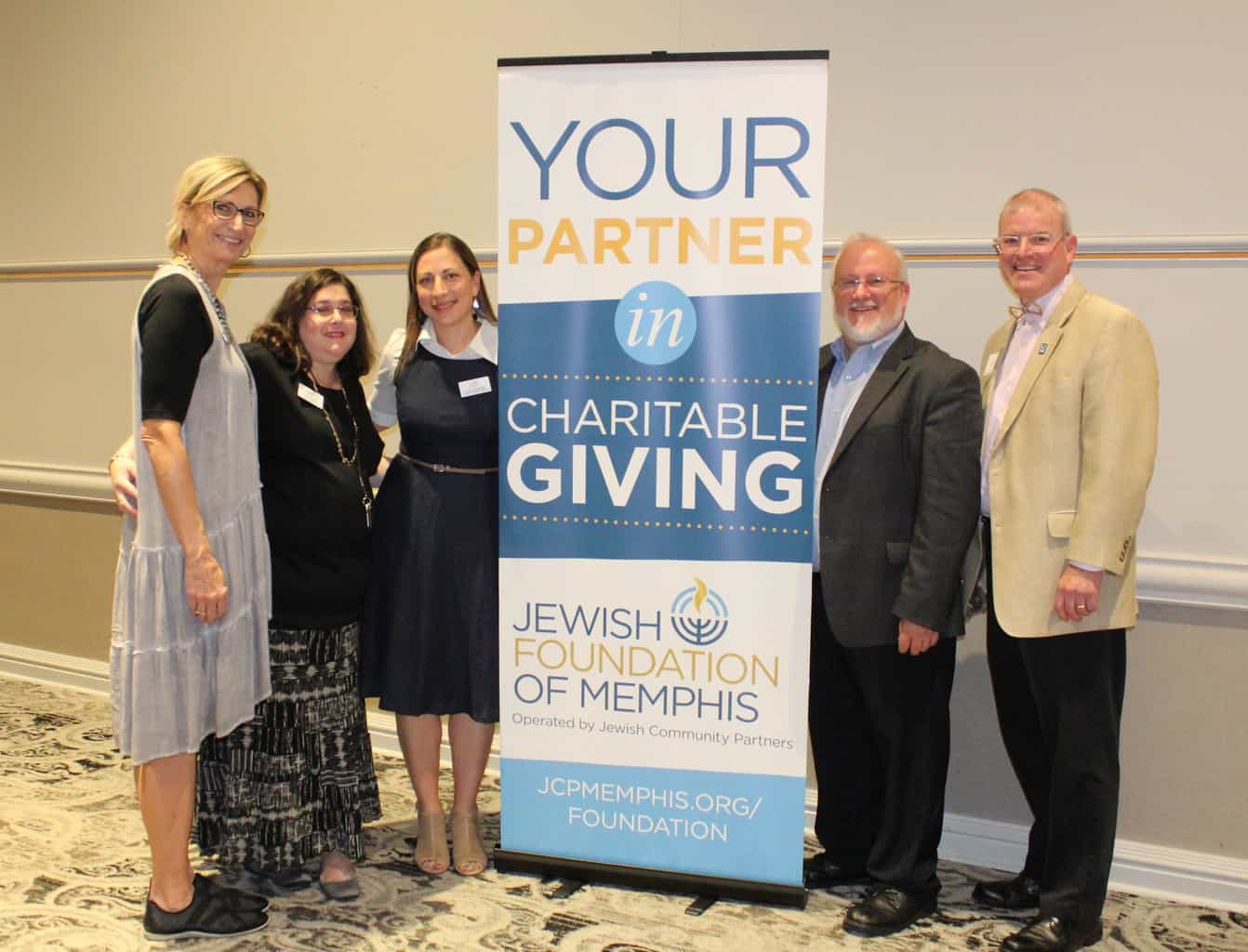 You have insured your valuables, now insure your values. This was the theme of a popular early morning seminar offered by The Jewish Foundation of Memphis in partnership with the Planned Giving Council of the Mid-South and Momentum Nonprofit Partners on September 19, 2019.
When someone dies, how do they want to be remembered? Do they want to leave a legacy to the organizations they care about most? Laura Linder, CEO and President of Jewish Community Partners (which operates the Jewish Foundation of Memphis) opened the morning session by speaking about the impact legacy giving has had on the Memphis Jewish community, citing 550 legacy commitments to local Jewish organizations through the Jewish Foundation.
Guest speaker Phil Purcell, an attorney and professor at Indiana University talked about gifts that help charities now and gifts that help them later, also known as "planned giving" to a captive audience of seventy non-profit professionals, lay leaders and advisors from both Jewish and non-Jewish organizations.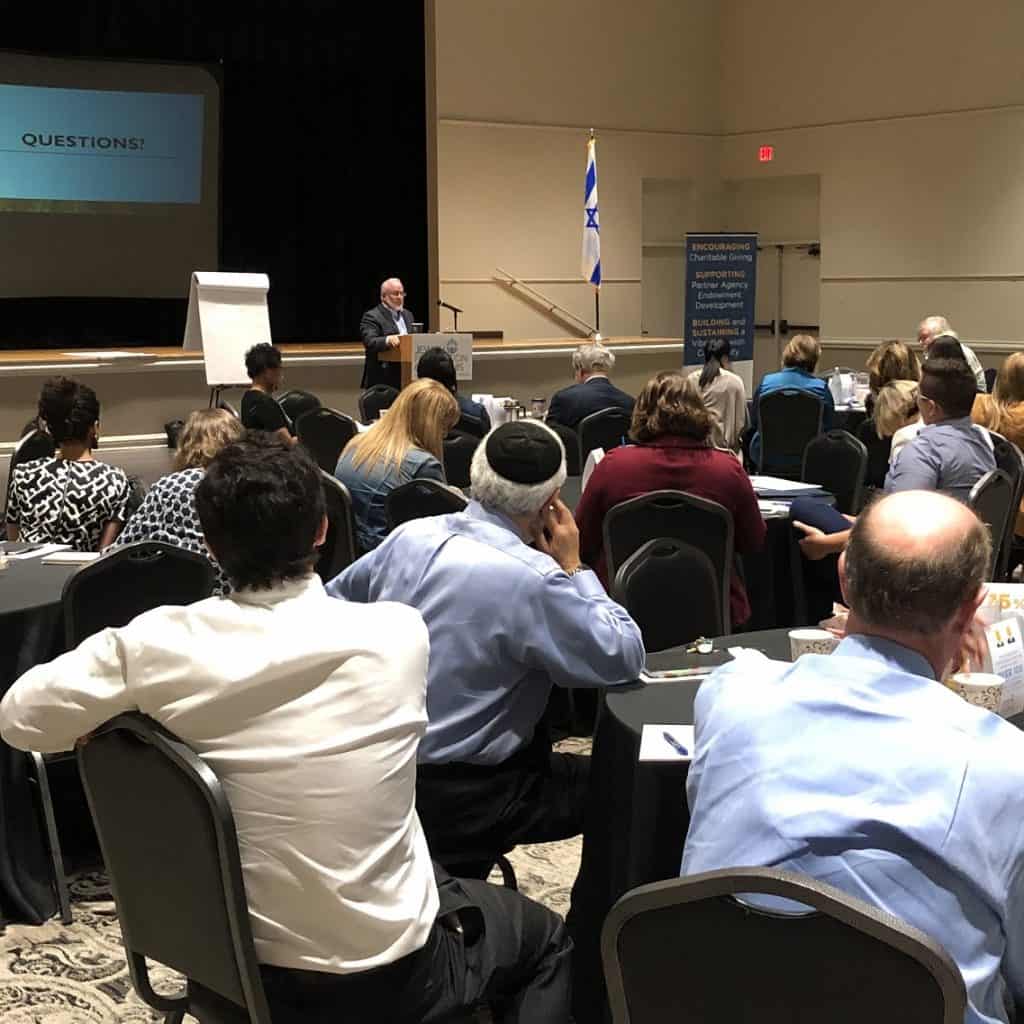 Representatives from Jewish Foundation's partner agencies included Anshei Sphard-Beth El Emeth, Baron Hirsch Congregation, Beth Sholom, Bornblum Jewish Community School, Margolin Hebrew Academy, Memphis Jewish Community Center, Memphis Jewish Federation and Temple Israel. Other nonprofits in attendance included Arts Memphis, Ballet Memphis, Campbell Foundation, Church Health, City of Germantown, Civil Rights Museum, Collierville Literacy Council, Community Foundation of Greater Memphis, Dixon Gallery & Gardens, Girl Scouts, Hope House, Humane Society, LeBohneur Children's Hospital, Literacy Mid-South, Madonna Learning Center, Memphis Child Advocacy Center, Memphis Symphony Orchestra, Metal Museum, OUTMemphis, Porter Leath, Regional Interfaith Association of Jackson TN, SRVS, Southwest Tennessee Community College, Soulsville Foundation, World Methodist Evangelism, and Youth Villages.
"I was pleased to attend the Jewish Foundation's seminar and learn techniques that we can use to encourage our supporters to consider planned giving when thinking about how they can support our school and help ensure a strong future for our community," said Margolin Hebrew Academy Head of School Rabbi Benjy Owen.
"I work with so many people who care deeply about Jewish education and want to support it financially," said Scott Ostrow, Development Director at Bornblum Jewish Community School. "We focus a great deal of attention on the here and now to meet the immediate funding needs of the school, but planned giving is about creating and executing a long-term strategy for Bornblum that will allow us to continue for generations to come."
Attendees, who were able to obtain two hours of CFRE credit, learned about the most important planned giving vehicles, how to blend planned giving into a total development program, and marketing tools and techniques for success.
Following the breakfast seminar, the Jewish Foundation, in partnership with the Planned Giving Council offered a Continuing Legal Education (CLE) course titled Jailhouse Rock: Legal and Ethical Issues in Gift and Estate Planning. Geared towards attorneys and financial advisors, actual case studies, including many from Tennessee courts, were reviewed by thirty-five professionals.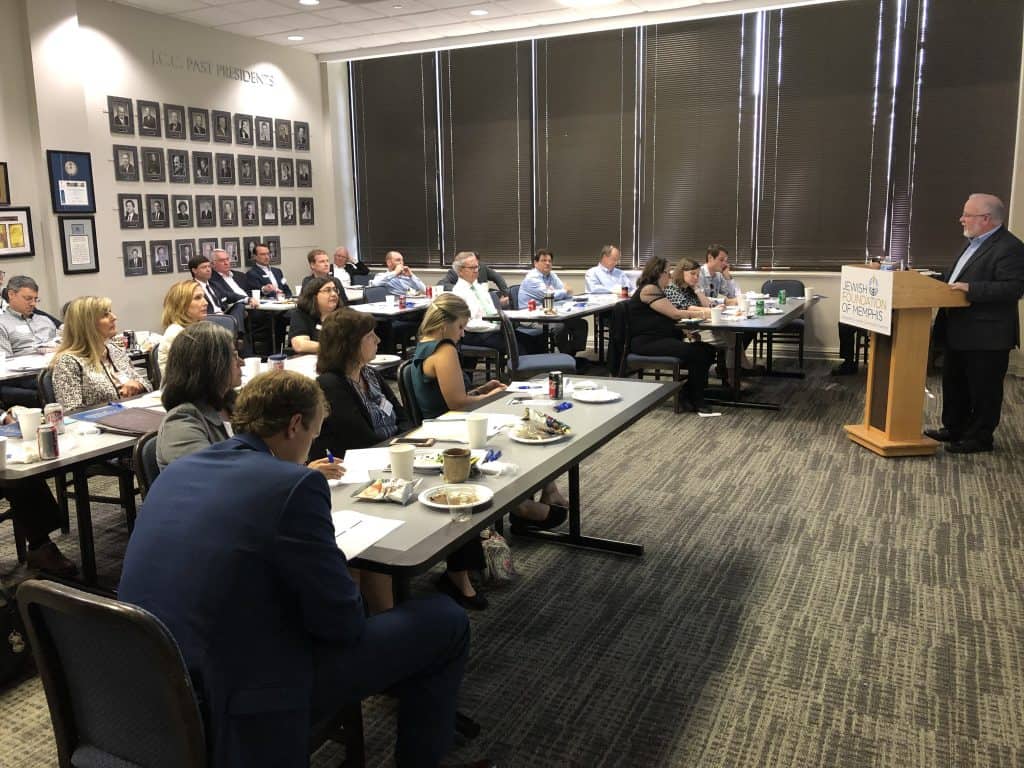 Sharon Hammer and Cynthia Tobin, were thankful for the CLE credit. Both of these women are members of the Jewish Foundation's Professional Advisory Group (PAG), which is made up of professionals in various legal and financial fields who support the mission of the Foundation. They assist the Jewish Foundation by promoting charitable planned giving, assisting with educational programs and consulting with and providing direction to the Foundation regarding technical tax and legal issues.
The Jewish Foundation credits Dan Murrell, President of the Planned Giving Council of the Mid-South and Carol Gaudino, Director of Network Engagement & Leadership at Momentum Nonprofit Partners for their contributions.
Programs at the Jewish Foundation, like the breakfast and luncheon with Phil Purcell, are geared toward the long-term vibrancy and sustainability of the Jewish community and beyond. With more than 400 funds and a team of professionals well versed in major gift and planned giving development, the Jewish Foundation helps donors reach their philanthropic goals. Since its founding, almost twenty-five years ago, $65 million dollars have passed from the Jewish Foundation to Jewish and non-Jewish charitable organizations in Memphis and beyond. For more information on future programs or how the Jewish Foundation can help you, contact Sarah VanderWalde, Endowment Development Manager, at svanderwalde@jcpmemphis.org or 901.767.0400.
Total Page Visits: 2957 - Today Page Visits: 1
Tags:
Jewish community
,
Jewish Community Partners
,
Jewish Community Partners staff
,
Jewish Federation Memphis
,
Jewish Foundation of Memphis
,
Jewish life in Memphis
,
Jewish Memphis
,
Jews in Memphis
,
Memphis Jewish Community
,
Memphis Jewish Federation
,
Memphis Jewish life
,
Memphis Jewish Population
,
Memphis Jews
,
Memphis philanthropy
,
Phil Purcell
,
Phil Purcell Planned Giving