People
Jewish Community Partners Promotes Staff Into Key Roles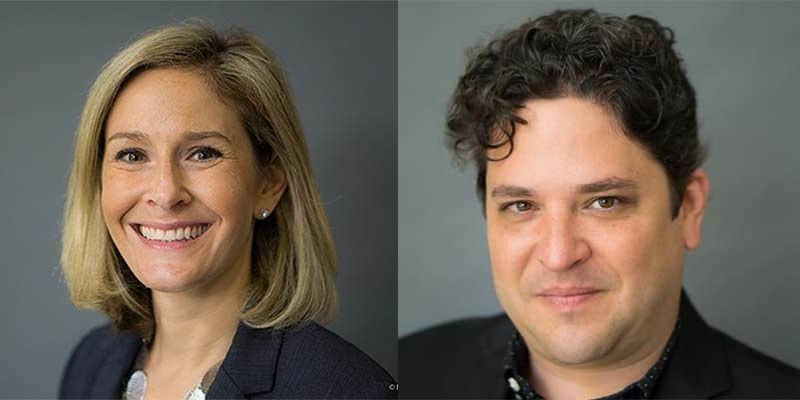 Matt Timberlake and Abbey Cowens officially stepped into new key roles at Jewish Community Partners (JCP), which operates Memphis Jewish Federation and Jewish Foundation of Memphis. Matt will serve as director of communications and Abbey as manager, campaign and corporate development.
Matt will lead a team of professional writers and marketers throughout the organization to help convey the message of Memphis Jewish Federation's and Jewish Foundation of Memphis's impact upon the Jewish community in Memphis, Israel and around the world.
"We are charged with the task of communicating the huge impact made by our donors and fund holders," said Matt. "The talented members of our organization will collaborate to bring fresh ideas and different points of view to the table.
"For every dollar raised through Federation's Annual Community Campaign, 83 cents goes to help people here and globally," he continued. "There is never a shortage of stories to tell about our generous donors and recipients of that generosity. With a great team, we now have the resources to share this impact with our community and beyond."
Matt came to Jewish Community Partners in 2016 to lead the marketing and communications efforts at JCP with a desire to help make a difference. "I made a commitment to myself long ago to help people through the world of nonprofit organizations," he said. "I never saw myself in the corporate world. I enjoy the emotional side of storytelling, helping to make a difference, and touching the lives of people connected through the organizations with which I've worked."
Previously, Matt worked in marketing at University of Memphis, and Pink Palace Family of Museums before venturing off as a non-profit marketing and public relations consultant serving The Urban Child Institute and Creative Aging Mid-South, among others.
Jewish Community Partners has been the perfect fit for Matt. When his mentor, friend and former JCP board member Susan Adler Thorpe, with whom he'd collaborated on several projects, recommended him, the hiring process went swiftly. "I am committed to this organization because of the close connections with its generous philanthropists who are invested in making Memphis and the larger community better for everyone," he said.
Abbey Cowens moved to Memphis from Cincinnati with her husband and two sons over five years ago. "I have been involved with Memphis Jewish Federation for almost the entire time I've lived here," she said.
Former Federation Young Adult Division (YAD) staff member Stacy Wagerman recruited her immediately and ignited her passion for philanthropy in the Jewish community. "Stacy asked me to chair a few events, and then I became involved in the allocations process, which I loved," she continued. "This really showed me where the dollars are used and how important Federation is to the community."
Abbey officially became an employee in April of 2017 as data analyst, and recently converted JCP to a new and extensive CRM (customer relationship management) database. This new system better helps Federation manage donor analytics.
"Many people don't realize the magnitude of how much goes on behind the scenes to keep the Jewish community churning," she said. "I knew I wanted to be part of that once I had a taste. I have eagerly jumped into my new role, and am excited about helping to educate the community about what Jewish Memphis needs, and what the Jewish world needs. Everyone should have the opportunity to help in any way they can. I'd love for every Jewish Memphian to know what we do. Come talk to us. Volunteer. We need you and the Memphis agencies that you love need you."
Total Page Visits: 1591 - Today Page Visits: 5
Tags:
Abbey Cowens
,
Abbey Cowens Memphis
,
Jewish community
,
Jewish Community Partners
,
Jewish Community Partners staff
,
Jewish Federation Memphis
,
Jewish Foundation of Memphis
,
Jewish life in Memphis
,
Jewish Memphis
,
Jews in Memphis
,
Matt Timberlake
,
Matt Timberlake Memphis
,
Memphis Jewish Community
,
Memphis Jewish Federation
,
Memphis Jewish Foundation
,
Memphis Jewish life
,
Memphis Jewish Population
,
Memphis Jews
,
Memphis philanthropy