News, People
Jewish Community Partners Announces New Roles for Two Veteran Staffers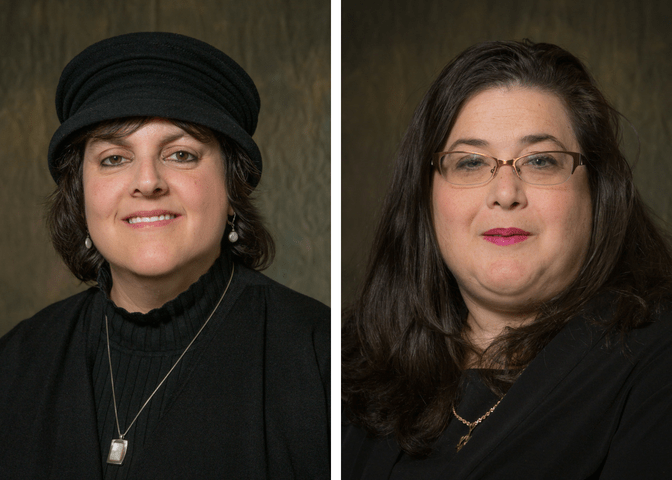 Bluma Zuckerbrot-Finkelstein and Sheri Gadberry have received much-deserved promotions and will soon grow into new and expanded roles at Jewish Community Partners, leveraging their skills, experience, and intellect for the benefit of the Memphis Jewish Community. Bluma is now JCP's Chief Strategy Officer and Sheri is now the organization's Director of Operations.
As Chief Strategy Officer, Bluma will oversee work that builds on the momentum sparked by 2014's Needs Assessment Study, which was conducted soon after Memphis Jewish Federation and Jewish Foundation of Memphis consolidated under the umbrella of Jewish Community Partners.
While that 2014 study identified service gaps in the Memphis Jewish community which led to successful efforts to close these gaps, the study was a snapshot of our community in 2014, and needs evolve. In her expanded role, Bluma will work with Jewish agency representatives, lay leaders, program beneficiaries, and others with key knowledge and insight to constantly redeploy the methods used in the Needs Assessment Study, staying ahead of needs as they become apparent and creating the necessary mechanisms to efficiently meet those needs and assess impact.
"I am excited about my expanded role and look forward to taking needs assessment and program impact to the next level in our community," Bluma said. "I am encouraged by the significant achievements of the Senior Services Collaborative and Fedovation Impact Grants — initiatives that respond to the service gaps identified in the Needs Assessment Study.  The breadth and depth of the community' response to the study was remarkable and I hope to build on that momentum of community participation in strengthening the Memphis Jewish community, Israel, and global Jewry."
In her new role as Director of Operations, Sheri will build on experience gained through almost two decades working with donors through their funds at Jewish Foundation of Memphis. While much of her work with JFOM was highly technical- managing large sums of money, managing different funds with diverse purposes and structures- she's also spent a significant amount of time working with the people behind the funds, acquiring skills she'll use internally working with JCP staff as Director of Operations.
Viewing JCP as a house of brands- from Memphis Jewish Federation and Jewish Foundation of Memphis to Hillels of Memphis and PJ Library- Sheri will work with colleagues to increase efficiency across collaborative projects and reduce redundancy where she's able.
"I'm not only a Memphis Jewish community professional, I'm a life-long member of this community with a deep love for the people and agencies with whom I share it," Sheri said. "Working with donors, agency reps, and beneficiaries through the programs of our brands and our partners is meaningful to me beyond simply punching the clock and putting in a day at the office. I cherish my work because I get to work with my friends making a difference in Jewish Memphis, and around the world."
1092total visits,2visits today
Tags:
Bluma Zuckerbrot-Finkelstein
,
JCP Memphis
,
JCP Staff
,
Jewish Community Partners
,
Jewish Community Partners staff
,
Jewish Foundation of Memphis
,
Jewish Memphis
,
Memphis Jewish Community
,
Memphis Jewish Federation
,
Memphis Jewish life
,
Memphis Jewish Population
,
Memphis Jews
,
Sheri Gadberry