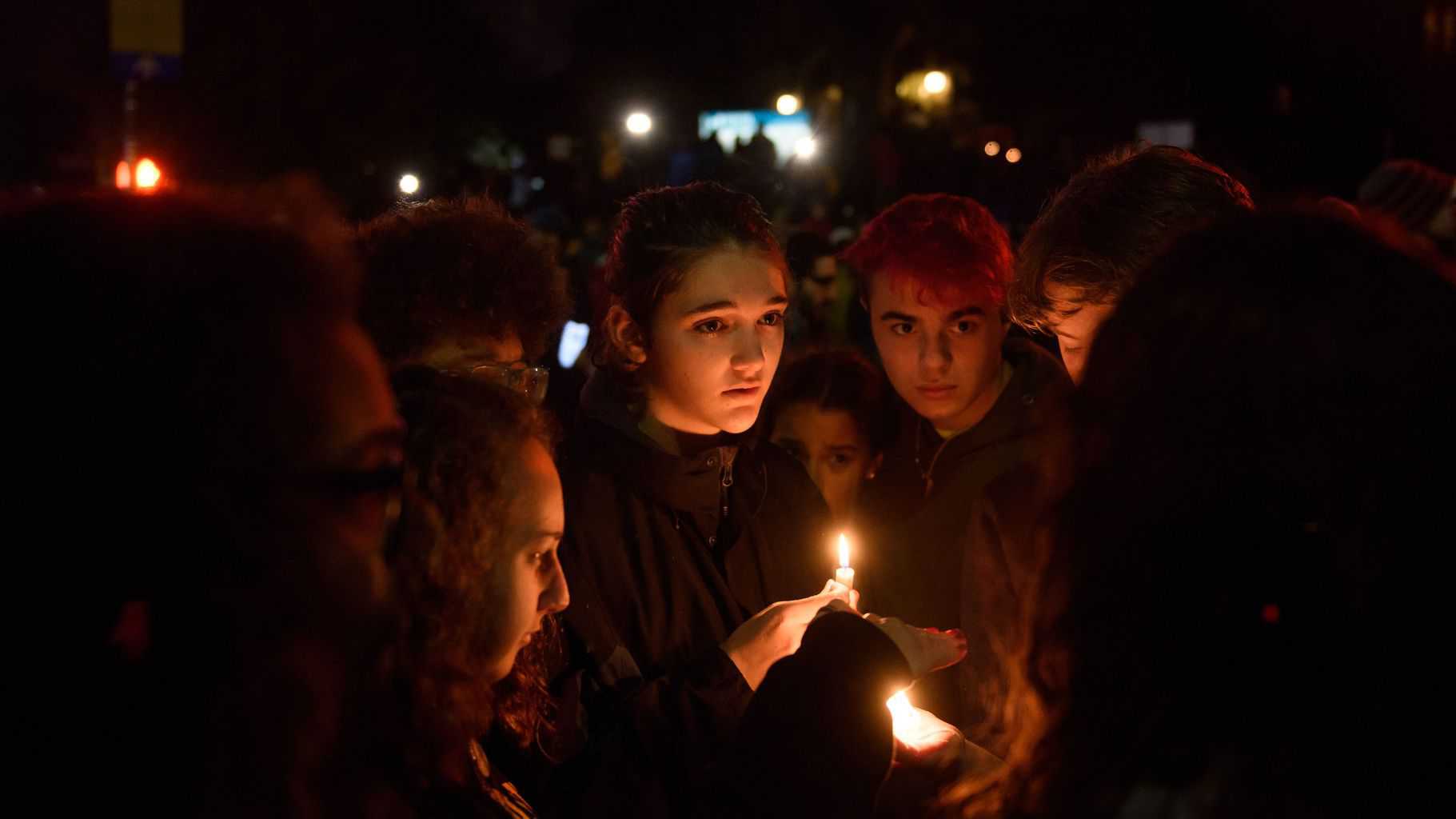 Support from Around the World
In the wake of the horrific violence at Tree of Life Synagogue in Pittsburgh's Squirrel Hill neighborhood, community gatherings like the one in Memphis Sunday evening have taken place across the country. Many, like ours in Memphis, were attended by Jews and non-Jews alike, perhaps most notably the clergy from other faiths, elected officials, and law enforcement professionals who attended these somber gatherings in a welcome sign of unity. To date, more than 65 communities have organized vigils and prayer services with more than 68,000 people in attendance. Read this article to the end for the next local opportunity to gather.
Jewish Federation of Greater Pittsburgh CEO Jeff Finkelstein was on a call today describing the outpouring of support from all corners of the Pittsburgh community including the interfaith, law enforcement, social service, sports and corporate communities. National airlines and hotel chains have donated flights and hotel rooms for family members attending the funerals of their loves ones. He noted that one day this week, the huge number of interactions with the link to donate funds to help the victims caused the server to crash. Over one million dollars has been collected so far. Jeff movingly described the incredible sense of achdut (unity) of the Pittsburgh Jewish community during this difficult time.
The response from Israel has been overwhelming as well. The Israeli Ministry of Foreign Affairs together with the Jewish Agency dispatched the Israeli Trauma Coalition to Pittsburgh in the hours after Shabbat ended in Israel; Israel's political leadership, from President Rivlin to the Prime Minister Netanyahu and Minister of Diaspora Affairs Naftali Bennett among others have all voiced their sympathy; Isaac Herzog, Chairman of the Executive of The Jewish Agency for Israel will be traveling to Pittsburgh this week;  in the day after the shooting, during a meeting of the Knesset's Aliyah Committee, its chair MK Dr. Avraham Nguise held a moment of silence, read the names of the victims, and recounted that just days earlier The Jewish Federation of Greater Pittsburgh's leadership attended the prior committee meeting. And here too in Israel a call has gone out for all to attend a synagogue this Shabbat in solidarity with Pittsburgh.
Our Shoham Steering Committee partners in Shoham, Israel (Memphis' partner city in Israel) sent us the photo below as an expression of their support.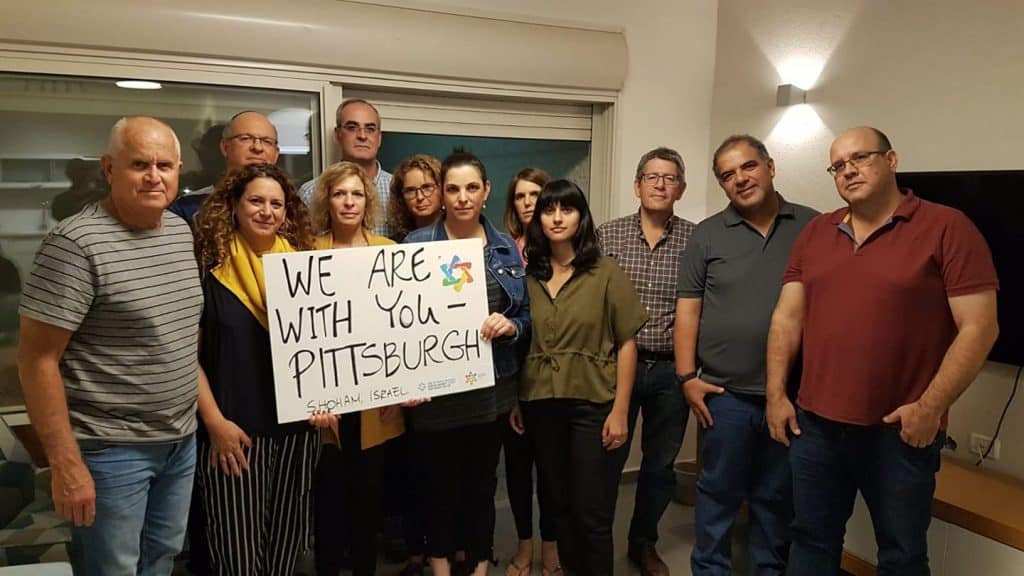 Support in Memphis
Attend Shabbat Services this Shabbat: This Shabbat, synagogues across the country are uniting behind Solidarity Shabbat: We Stand with Pittsburgh, a Jewish Federations of North America initiative to encourage Jews nationwide to come to synagogue this Shabbat. If you are not a regular Shabbat service goer, please consider coming this Shabbat to stand up and make a unity statement that we all stand with Pittsburgh, and despite the horrific tragedy in Pittsburgh, Jews will not be intimidated from attending Shabbat services.
Write a Condolence Card to the Families of the Victims: We will be collecting cards and sending them to the Pittsburgh Jewish Federation who will be forwarding all cards directly to the families. The victims are:  Joyce Fienberg, Richard Gottfried, Rose Mallinger, Jerry Rabinowitz, Cecil Rosenthal, David Rosenthal, Bernice Simon, Sylvan Simon, Daniel Stein, Melvin Wax, Irving Younger.  Please bring your cards to the JCP office.  At Super Sunday (November 4 at the MJCC), we will have a table with blank cards available from 11:30 am-2:30 pm for community members to express their condolences.
Donate to the Victims Fund: We are collecting funds, 100% of which will be sent to Pittsburgh to aid the victims' families with burial and other expenses moving forward. Donate now.
1442total visits,2visits today
Tags:
JCP Memphis
,
Jewish Community Partners
,
Jewish Foundation of Memphis
,
Jewish Memphis
,
Memphis Jewish Community
,
Memphis Jewish Federation
,
Memphis Jewish life
,
Memphis Jewish Population
,
Memphis Jews
,
Pittsburgh
,
Pittsburgh synagogue
,
Pittsburgh synagogue shooting
,
Tree of life
,
Tree of life Pittsburgh