Uncategorized
Federation-Funded Programs Keep Seniors Connected During Self-Isolation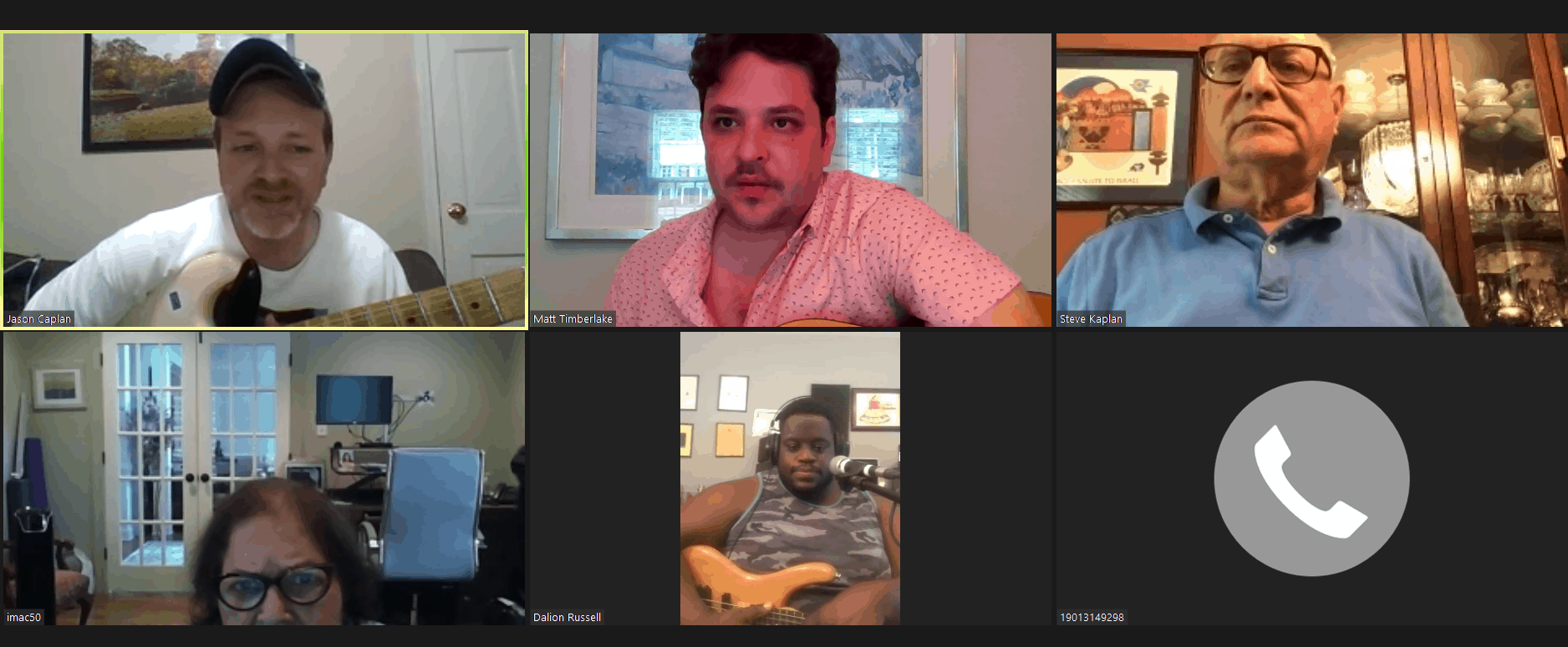 This Wednesday, we joined two online sessions with Memphis Jewish seniors, both supported by donor gifts made to Memphis Jewish Federation. First, we enjoyed the friendly conversation during the 12:00 P.M. daily Senior Lunch Bunch, followed by an interactive session with Jason Caplan's Universal Language Room, which teaches non-verbal communication and togetherness through improvisational music.
There wasn't much lunch being eaten at a recent Senior Lunch Bunch Zoom get-together, hosted by Steve Kaplan, Adult Services Coordinator at the MJCC. Instead, the dozen faces smiling from small digital boxes on our computer screen chatted about their grandkids, their tomato plants, the French Impressionist movement, and social distancing while running errands.
"Hi, everyone," said Annabelle Kaplan, waving to us as she joined the Zoom session. "I didn't think I'd get home in time to join. I had to take something I ordered online back to the store, so I called and they said, yes I could bring it to the store. When I got there I waited six feet apart in the line, and they said I had to get a mailing label and mail it in myself, all these extra steps. And pay postage both ways!"
The commiserating groans of understanding were like warm hugs across the digital divide.
The group, which varies in participants from day to day but consistently draws between 6 and 15 Memphis Jewish seniors, has been meeting online since March, when the MJCC closed to the public in the face of the COVID-19 pandemic. In the long weeks since, the Lunch Bunch has adapted to the digital platform, and now the sessions have a comfy, familiar feel, with casual conversations and friendly gossiping that builds from day to day.
"I really enjoy this, and they do, too," said Steve Kaplan. "It's a nice group of people and I can tell it means a lot to them. Particularly in the first weeks, when it was almost like after 9/11 and people were so uncertain about what would happen in the days ahead. The Lunch Bunch almost became a daily group therapy session."
An hour later, we logged into Jason Caplan's Universal Language Room session, where we found him waiting for us, tuning his white Fender Stratocaster.
This was a smaller session than the first, but Lunch Bunch regulars Dolly Mahante and Susan Meyers were there with their Boomwhackers, a hollow percussion instrument designed to play a note and rhythm with a whack against the palm of the hand. Universal Language Room provides these and other instruments to seniors.
"We've had sessions with this group since September, back when we could gather in person with sessions every other week. We've been online since March," said Jason. "With Steve's group, everyone started with Boomwhackers and now we've moved on to melodic instruments."

The program is not only about training people in music. Universal Language Room trains people to trust a non-verbal language that can develop through a musical rapport, empowering participants to spend time in the meditative state that Jason says typically happens at about minute ten.

"When we stay outside of language, it's so exciting. We all live together in the moment with music as our dialogue," he said. "There are two ways non-verbal togetherness affects a person. First is peace in the mind, so that our minds that run about all day thinking about this problem, and that happened in the past, and what happens in the future, get locked in the moment and the constantly changing music and you live in the moment."

"The second is that I feel our society is moving to a place where you can't have dialogue about things people disagree with. I want people to feel the joy of dialogue without disagreement," Jason said. "But if you learn to do this with music first, maybe you can get to a place where you can say, 'you know, I really like talking to you. We may disagree on important issues and agree on others, but I like talking to you.'"

"We need more of that right now," he said.

"We're all hoping we'll be able to get together in person soon, and we're all praying for that day," Jason said as he signed off from the session. The budding musicians smiled and waved, and agreed.

If you're a Jewish Memphis senior and would like to be part of the daily lunches or future Universal Language Room sessions, or know someone who does, email Steve Kaplan at stevekaplan@jccmemphis.org. You can also contact Steve if you need a mask. 
Total Page Visits: 6870 - Today Page Visits: 2
Tags:
Activities for seniors in Memphis
,
Jason Caplan
,
Jason Caplan Memphis
,
Jewish community
,
Jewish Community Partners
,
Jewish Federation Memphis
,
Jewish Foundation of Memphis
,
Jewish life in Memphis
,
Jewish Memphis
,
Jews in Memphis
,
Memphis Jewish Community
,
Memphis Jewish Community Center
,
Memphis Jewish Community Center events
,
Memphis Jewish Federation
,
Memphis Jewish Federation Campaign
,
Memphis Jewish Foundation
,
Memphis Jewish life
,
Memphis Jewish Population
,
Memphis Jewish Seniors
,
Memphis Jews
,
Memphis Seniors
,
MJCC
,
Senior services in Memphis
,
Steve Kaplan
,
Universal Language Room