People
Benjamin Mendelson: My Teen Israel Experience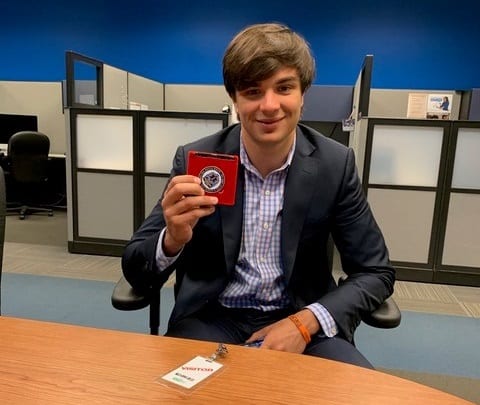 Benjamin Mendelson, the son of Tracey and David Mendelson, is a 11th grade student at Cooper Yeshiva High School for Boys. Memphis Jewish Federation's Lemsky Endowment Fund provided him with a Teen Israel Experience grant to help offset the costs of his Summer 2019 NCSY program in Israel. All rising juniors and seniors in the Memphis Jewish community are eligible for grants of up to $3000 to attend a recognized teen summer or semester program in Israel. Teen Israel Experience applications for summer 2020 are available at www.jcpmemphis.smapply.org.
(Photo: Memphian Benjamin Mendelson gave life-saving care to an Israeli man during his summer Teen Israel Experience, supported by a grant from Memphis Jewish Federation's Lemsky Endowment Fund. Here, he poses with a medal inscribed with the Talmudic quote, "He who saves a single life saves the entire world.")
During the summer of 2019, I went on the NCSY Hatzalah Rescue program in Israel. Not knowing anyone else going on the trip, or what to expect when I got there, I decided to go based on a classmate's recommendation. I had recently visited Israel for the first time with my family, so I was not nervous about traveling. However, I was worried about who I would live with for the next month and about making new friends. Little did I know that it would be one of the best summers of my life. I would make amazing friends and be given an opportunity to save a life.
When we met for the first time in JFK airport, I was scared to meet the strangers standing across from me with whom I would spend the next month. But after talking to them we were friends. I knew this was going to be a great summer. One thing I did not know was how impactful the experiences to come in Israel were going to be.
One of the best experiences of my life happened on this trip, on my 17th birthday. On an ambulance shift with another boy from my program, Jaden Jubas of Detroit, Michigan, we got a call for a semi-responsive man with chest pains. As we were driving, the man's condition worsened, and he fell into cardiac arrest. When we got to the man's apartment, there were already a number of paramedics who had arrived earlier and started an IV and CPR. I relieved a volunteer doing CPR, and after a few minutes, the man regained his pulse. Then his pulse was lost again, but Jaden used chest compressions to recover his pulse. After these tense moments, he was transported to the hospital. It occurred to me that I saved a man's life on the very same date I was given life, 17 years previously.
I don't know what happened to the man or his family afterwards. However, two things I know for sure came from this opportunity to participate in NCSY Hatzalah Rescue in Israel. I made a new network of friends across the United States that I talk to daily, and I learned priceless lifesaving skills.
The fact that I, a 17 year old from Memphis, saved the life of an Israeli man on my birthday is mind-blowing. Just as amazing is that Mr. Abe Lemsky, z"l, and his legacy made this possible for me and for that man and his family in Israel. I am not sure if Mr. Lemsky imagined this kind of scenario when he generously designated an endowment to Memphis Jewish Federation. What I have learned is that you can never truly know the impact of tzedakah.
I want to thank Memphis Jewish Federation and Mr. Lemsky, z"l, for helping create this Israel experience for me.
Total Page Visits: 3035 - Today Page Visits: 1
Tags:
Benjamin Mendelson
,
Benjamin Mendelson Memphis
,
Jewish Community Partners
,
Jewish Federation Memphis
,
Jewish Foundation of Memphis
,
Jewish life in Memphis
,
Jewish Memphis
,
Jews in Memphis
,
Memphis
,
Memphis Jewish Community
,
Memphis Jewish Federation
,
Memphis Jewish Federation Campaign
,
Memphis Jewish Foundation
,
Memphis Jewish life
,
Memphis Jewish Population
,
Memphis Jewish teens
,
Memphis Jews
,
Teen Israel Experience