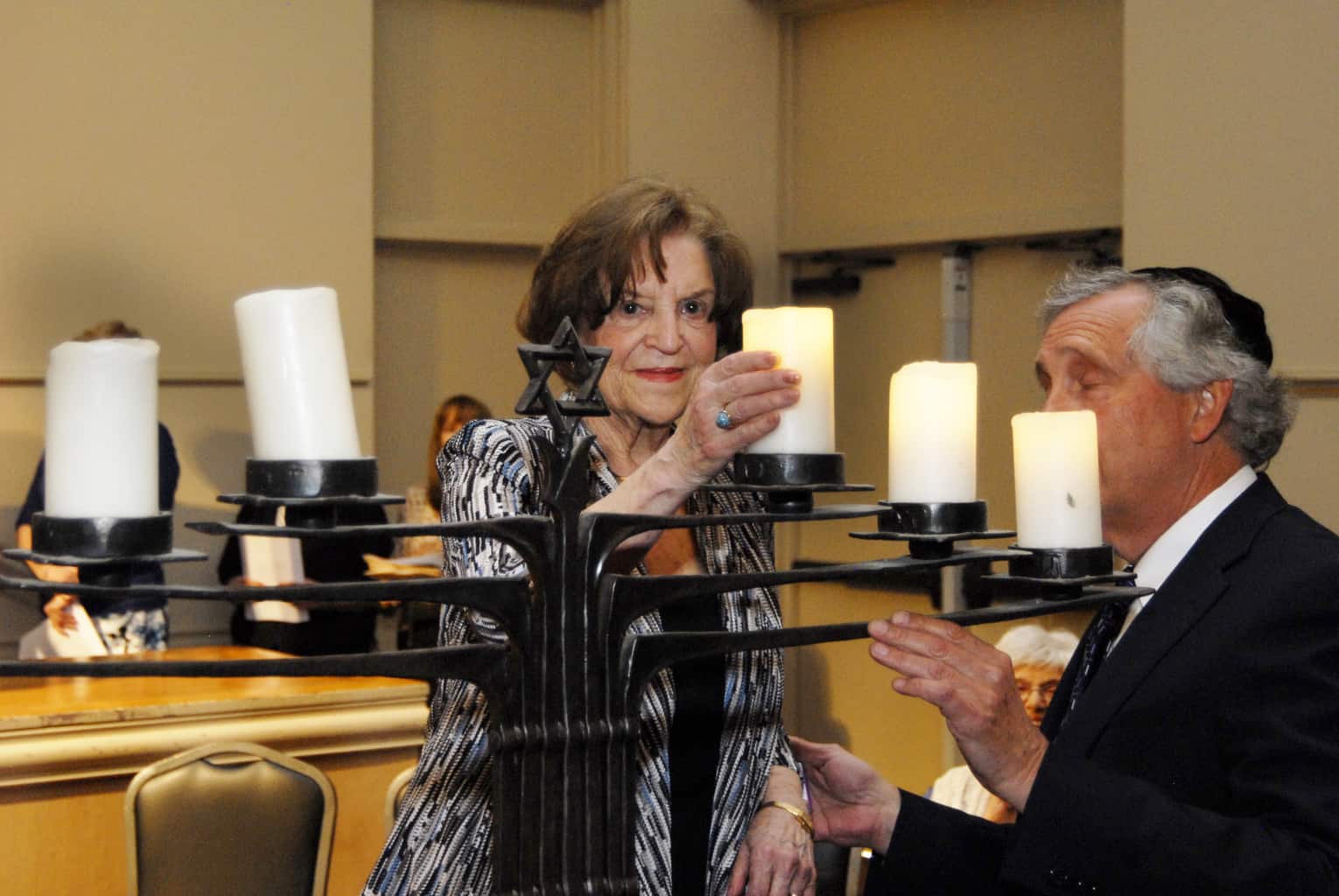 (Photos from Yom HaShoah 2016, Steve Conroy- photographer)
Laura Linder, President and CEO of Jewish Community Partners (JCP), announced this week that the Memphis Jewish community is invited to attend JCP's 55th annual Yom HaShoah observance, featuring Better Together's Names, Not Numbers program.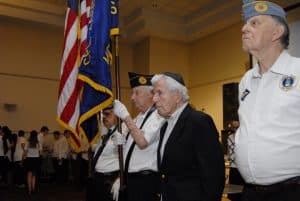 The event will honor Holocaust survivors living among us, remember those we have lost, and celebrate their legacy. The program will include the traditional candle lighting ceremony in memory of the six million Jews who perished in the Shoah, as well as special prayers, readings and songs. The presentation of colors will be made by the Harry Washer Post no. 121 of the Jewish War Veterans of the USA. Singing of the National Anthem will be led by the Temple Israel Youth Choir. Teens from BBYO will make a brief presentation at the beginning of the ceremony.
This year's keynote presentation is a screening of a new film highlighting local Holocaust survivors, in a nod to last year's focus on local survivors and the incredible community response that followed.
Yom HaShoah 2016 saw the premiere of Lives Restarted, a documentary film chronicling survivors' journeys to Memphis and the spirit of resilience that characterized their contributions to the community. Due to time considerations, only a handful of local survivors were featured in Lives Restarted.
Jack Cohen, Clark Blatteis, Warren Kramer, and Jeannine Paul— all local survivors who did not participate in Lives Restarted— have been interviewed and filmed by local students of Margolin Hebrew Academy/Feinstone Yeshiva of the South (MHA/FYOS) as part of Better Together's Names, Not Numbers project.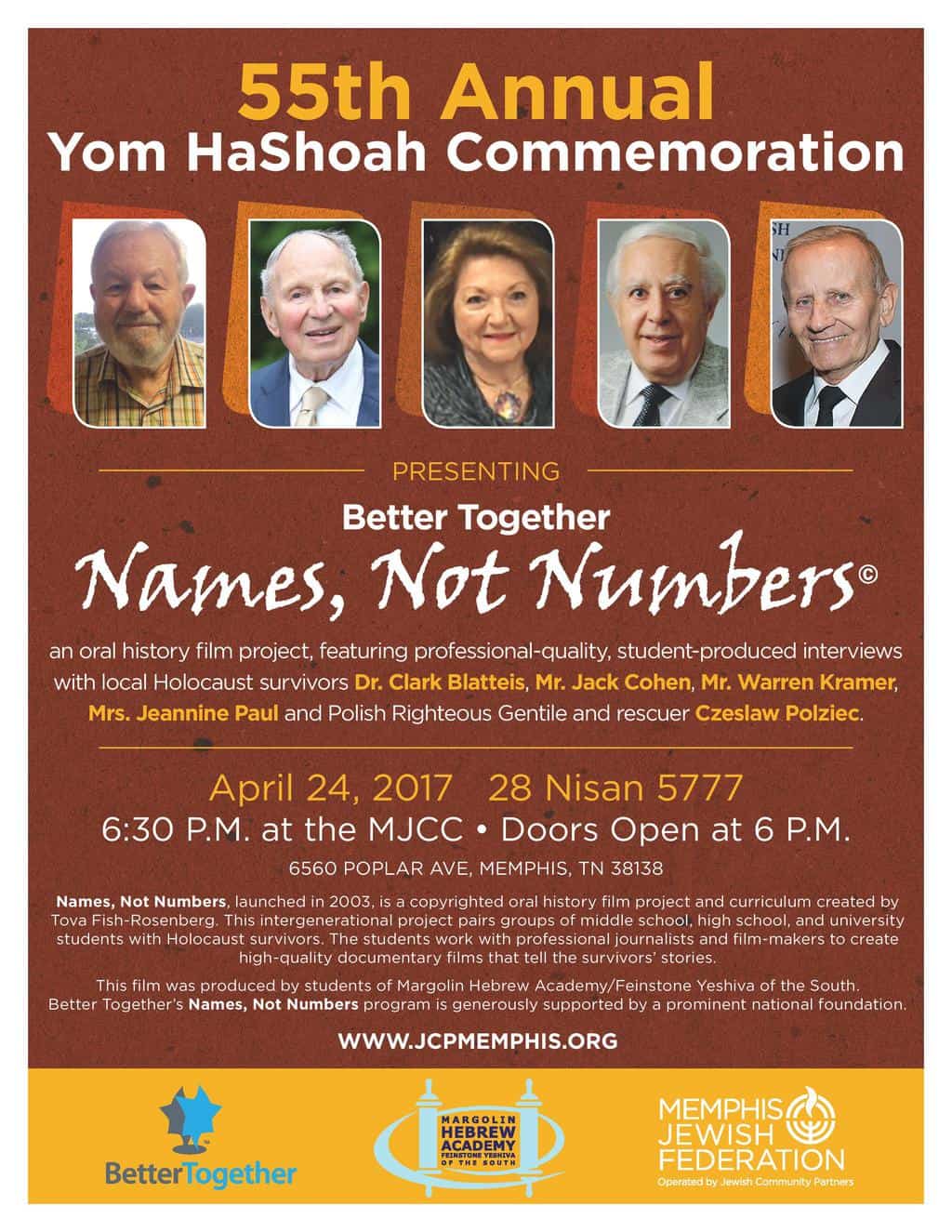 Names, Not Numbers, launched in 2003, is a copyrighted oral history film project and curriculum, created by Tova Fish-Rosenberg. This intergenerational project pairs groups of middle school, high school, and university students with Holocaust survivors. The students work with professional journalists and film-makers to create high-quality documentary films that tell the survivors' stories. The Better Together Names, Not Numbers program is generously supported by a prominent national foundation.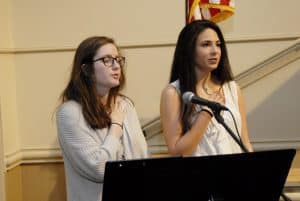 Mr. Cohen, Mr. Blatteis, Mr. Kramer, and Mrs. Paul each have a very different story to tell. All were children living in various parts of Europe (France, Germany, Greece) when war broke out. They experienced the Holocaust from different perspectives, but all eventually triumphed over the Nazis by surviving and making their way to Memphis, where they rebuilt their lives.
In addition to the four survivors, the film will also include interviews with Czeslaw Polziec, a Polish gentile who was a teenager when his parents opened their home to two Jewish families fleeing persecution from the Nazis. Among the Jews the Polziecs saved were a woman named Frieda and her young son Leon— who grew up to become the father of Rabbi Yonason Gersten, a longtime Memphian who currently serves as the 9-12 Judaic Studies Principal for MHA/FYOS.
"I have had the unique opportunity and privilege to hear stories from many Holocaust survivors," said Rabbi Benjy Owen, MHA/FYOS Head of School.
"Inevitably, something extraordinary has occurred in these interactions– I forged an instant and permanent connection with each of these great individuals. I am so pleased that our students– through the research, interview and film-making process– have also had the great fortune to form these deep bonds with the heroes featured in the film."
This year's commemoration is chaired by Elaine Stegman, a second generation survivor, longtime member of Memphis Jewish Federation's Holocaust Memorial Committee, and a previous chair of the committee. She will serve as emcee for the program.
As in previous years, the first place winner of Memphis Jewish Federation's annual Holocaust art contest will have her artwork featured prominently on the cover of the program booklet. This year, the first place winning essay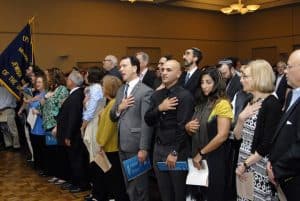 from the essay contest will also be printed in the program booklet.
This year's contest elicited an incredible 87 essays from high school students and 85 pieces of artwork from middle school students. Entries came in from a very diverse group of students from public schools, Jewish day schools, and private schools not affiliated with the Jewish community. Some entries came in from students in Nashville and Knoxville (the contest was open to all students in Tennessee and the Mid-South). The theme of this year's contest was "Degradation and Dehumanization: The Nazi Assault on Human Dignity."
The first-place essay was written by Akiva Finkelstein, a 10th grade student at MHA/FYOS. Second place went to Eli Gruen, an 11th grade student at Memphis University School. Nicolas Reed, a 10th grade student at White Station High School, and Yaseen Omar, a 12th grade student at Cordova High School, each received honorable mention awards.
Amidst photos from the Living On exhibit of Memphis-area survivors, both living and deceased, Holocaust survivors Miriam Cherny, Ruth Diamond, Nicole Lewis, Friderica Saharovici, Erika Sigel, and Freida Weinreich will participate in the candle lighting ceremony in memory of the six million Jews who perished in the Shoah. Aviva Freiden, a third generation survivor and member of MJF's Holocaust Memorial Committee, will recite biographies of each survivor as each flame is lit. Local Jewish violinist Diane Zelickman Cohen, Assistant Principal First Violinist with Memphis Symphony Orchestra, will provide accompaniment for the candle lighting ceremony.
Community Cantors Rabbi Cantor David Julian of Or Chadash; Cantor Ricky Kampf of Baron Hirsch; Rabbi Cantor John Kaplan, Cantor Emeritus of Temple Israel; and Cantor Aryeh Samberg of Anshei Sphard-Beth El Emeth will sing a musical selection, accompanied by pianist Claire Julian.
Holocaust survivor Sam Weinreich will sing the Ghetto Song, and survivor Ted Winestone will chant the Tehillim (Psalms) and lead the audience in recitation of the Kaddish. Cantor Ricky Kampf will chant the El Maleh Rachamim.
The annual Yom HaShoah observance is sponsored by Memphis Jewish Federation and coordinated and hosted by its Holocaust Memorial Committee. It is co-sponsored by the Memphis Jewish Community Center and supported by Anshei-Sphard-Beth El Emeth Congregation, Baron Hirsch Congregation, Beth Sholom Synagogue, Chabad Lubavitch of TN, Facing History & Ourselves, Or Chadash New Conservative Synagogue, Temple Israel, and Young Israel of Memphis.
(Visited 279 times, 1 visits today)
Tags:
Better Together Names Not Numbers program
,
Campaign
,
Feinstone Yeshiva of the South
,
Holocaust survivors
,
Jewish Community Partners
,
Jewish Memphis
,
Lives Restarted
,
Margolin Hebrew Academy
,
Margolin Hebrew Academy/Feinstone Yeshiva of the South
,
Memphis Holocaust survivors
,
Memphis Jewish Community
,
Memphis Jewish Community Center
,
Memphis Jewish Federation
,
Names Not Numbers
,
Rabbi Yonason Gersten
,
Tova Fish-Rosenberg
,
Yom HaShoah
,
Yom HaShoah Memphis
JCPConnect
(Visited 279 times, 1 visits today)